Two LA Guys Are Getting Local Uber Drivers More Money. Here's How.
Jason Hoffman/Thrillist
Jason Hoffman/Thrillist
Subsisting with your smartphone as your only employer isn't as easy as Uber wants to make it look, but -- as either you, your neighbor, or your best friend has surely already learned -- it's doable if you use the right tools. A whole industry has sprouted from that reality -- and two of its whiz kids are spinning out their solutions right here in LA.
First, a bit of background: it should be no surprise that LA's become ground-zero for the new side-hustle-as-day-job game. Long before Uber modeled the technology to farm out any service with a couple swipes, LA was already the proverbial home of the side job, since anyone who moved here with a bus ticket and a dream spent all their non-dream hours tackling odd jobs anyways.
Broke actors and musicians were often waiters, handymen, personal assistants, drivers, nannies, and general lackeys; since the advent of Uber, there's the ability to make some money working on those on-demand apps for everything: dog walking (Wag!), errands (TaskRabbit), grocery shopping (Instacart), takeout (DoorDash), every restaurant and retail random (Postmates), laundry (Washio), and many more. It was just a matter of time before someone took all these mini-industries -- and made an industry out of making sense of them. Which is where Harry Campbell comes into play.
The side-hustle blogger
The westside of Los Angeles is Harry Campbell's first and Uber's second home. The intensity of Campbell's experience as a new driver with Uber in the competitive Orange County and Los Angeles markets produced the teachable moments that eventually became his ride hail consultancy-in-a-blog, The Rideshare Guy, which provides advice for on-demand workers on what applications they can use to turn their side-hustle jobs into actual moneymakers. That includes advice for newbies on tracking mileage and receipts, previewing weather, and predicting taxes, among other things. In addition, Campbell also watches policy from both the companies and local governments. In publishing what he wished he knew when he was starting, he has ostensibly killed the learning curve for new drivers and for other gig workers whose tools overlap.
And through the blog, Campbell has become the unofficial business leader of ride hail drivers all over the country. "[Working it as a business] is not rocket science, but it's a little more complex than it seems," he said of the demand for his ever-growing library of best practices.
He keeps the site (mostly) free and open to all. The only paid content is a $97 maximum ridesharing profits course you can buy in one section of the blog, but you never hit a paywall -- Campbell keeps the site free with direct advertising, referrals, and marketing partnerships.
Campbell's not some fly-by-night hustler, either: he's articulate, self-propelled, and accomplished. And, like many gig workers, he veered into his new business unexpectedly: after graduating from college in 2009, he started a career in aerospace engineering, before tackling Uber on the side. In 2015, he quit the day job to fully dedicate himself to his blog.
Never a professional driver or writer, his ordinary-guy-figuring-it-out tone resonated. "A lot of people relate to that, because they're not experts, either," Campbell said.
Over time, though, he has acquired expertise. It's necessary in the LA market, which is, counterintuitively, a beast to navigate precisely because swiping for your next ride has become so popular.
Angelenos being fervent disciples of ride hail actually reduces demand, as more drivers join both Uber and Lyft, leaving fewer customers for each. And drivers have no control over rates. So Campbell tracks periodic incentives from the companies -- extra money to drive between certain dates, or above a certain number of rides per week -- so his followers can stay afloat. "A lot of Uber's promotions/guarantee offers are targeted, but when they aren't, you need to think about whether increased competition will hurt your chances of meeting the terms of the promotion," Campbell warned his readership in a post last March.
Ride hail is so important to LA that it's a political necessity: LAX's Uber and Lyft policy was a headline-grabbing portion of Mayor Eric Garcetti's April 2015 State of the City speech. The mayor promised airport pick up would be available, on his executive order.
Garcetti, for reasons of LAX negotiations and fees, and the general pace of change via City Hall, didn't get drivers of both companies in until late in the year. During the months when ride hail was allowed but not available, Campbell wrote for his readership's clientele, updating them on policy, priming them to become customers as soon as legally possible. In the interim, he and his readers devised an end game in an article's comment section: take a free shuttle just beyond the perimeter of the airport proper, then book your ride from there.
It was a simple solution, but one that forced those shuttle services to start checking receipts and passes from passengers, slowing down an already excruciating experience. Now, that Uber and Lyft are allowed at LAX, both passengers and drivers are far happier -- and Campbell's disciples are following every post to see what's in store next.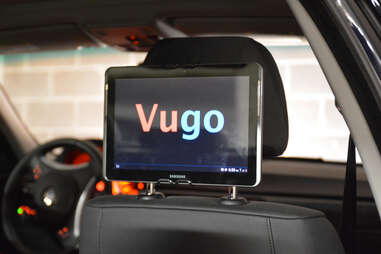 The guy who'll make your money make money
Every good business gets to a point where it needs to diversify its income streams, which, for new ride-hail drivers, is where Vugo comes in. Started by DTLA-based James Bellefeuille, Vugo hopes to be an advertising platform for mobility media -- think the screens you see in taxicabs, only using location data to target passengers in ride hail cars with custom ads -- and to add cold, hard dollars to new drivers' pockets.
"People are becoming passengers now more than they ever have before," Bellefeuille said in an August phone interview from his Downtown LA co-working space, on why he sees a strong future for his company.
Ride hail trends and demographics are on his side. A Pew Research Center study released in May showed that 10% of 18- to 29-year-olds, the generation that determines future technology and services adoption, currently use ride hailing on a daily or weekly basis in urban areas. Nationwide, it's 7%.
And frequent ride hail users are more likely to use a range of transit options. That is, there will be more and more of this group sitting where they might want to watch something, with little else to do.
Vugo works by running on any tablet that a ride hail driver purchases and installs in the backseat, acting as both a moving billboard and an entertainment center -- perfect for customers stuck spending time in traffic on the 405. Advertisers pay for ads that are "contextual," meaning displaying products nearby, or that someone making a particular trip is likely to buy, based on where the user is going.
Vugo also has a tip function for Uber drivers -- a longstanding issue for drivers, irked that high-quality service didn't necessarily boost their earnings. Vugo will have two modes of its technology available to advertisers, one more targeted than the other. Marketers can pay to display ads based on someone's location, or add on targeting based on how riders interact with the content on the tablet.
For example, approaching the airport, viewers might get ads for Brookstone, Samsonite, travel organizers, vacation packages, and restaurants in the terminal. But the people riding are all of different demographics with different income levels and buying preferences. Companies can pay to have ads calibrated to the tablet's use as an entertainment center, so that the frat boy with Kimmel skits on loop gets, say, beer and tech gadget ads, while the professor searching YouTube for an urban planning panel discussion gets laptop and enterprise software commercials.
For now, Vugo is in the final stages of testing. But Bellefeuille estimates there are over 60,000 active monthly drivers in the LA metro area that could start running Vugo when it becomes available in October.
As far as the entertainment component, Vugo has met with multi-channel networks (companies that agent for nascent content on YouTube, packaging and marketing it to compete against major media producers) and is targeting powerhouse rights holders like Disney and CBS for popular film and television.
All of this is sort of the ultimate irony: the likelihood that your Uber driver moved to LA to get into entertainment is high -- and now they'll be making their side-job money from Hollywood too, even if it's nowhere near the dream they came here with in the first place.
Sign up here for our daily LA email and be the first to get all the food/drink/fun Los Angeles has to offer.