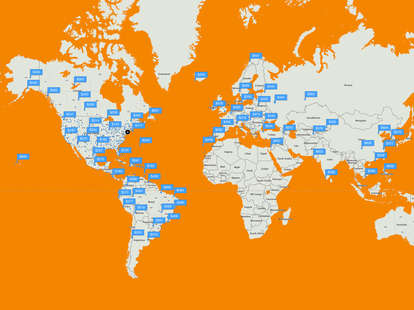 Screenshot via Kayak.com/Jennifer Bui
The Internet is packed with all colors of travel search engines, but I would argue (and you might, too) that Kayak is hands-down the best one out there. But even if you use it all the time to find flights and hotels, you may not be taking advantage of some of its lesser-known bells and whistles. Before you go booking your next bucket list adventure, consult these pro tips.
See exactly how far your money will fly you
One of my favorite features of Kayak is one I only recently discovered: the Explore section. This magical tool shows you all the places around the world you can actually afford to fly to on a given budget. Here's how it works: select a departure city, move the slider to suit your flight budget (anywhere from $10 to $2,000+), select a month or season, and watch as the world map is dotted with all the destinations you can jet off to. Oh, the possibilities!
If the wealth of options is a little overwhelming, you can even filter by climate, continent, or attractions. Click any of the blue dots to reveal more details (price, departure dates, airline, number of stops), and clicking Find Flights whisks you off to the booking process. As long as you can be flexible with your travel dates, it's a fun way to come up with your next vacation spot, and feels a bit like tossing a dart at a globe. Careful though, it's addictive.

Pay attention to the fare forecast so you don't book too early
Since everyone and their grandma uses Kayak, the site is uniquely qualified to study historical pricing trends and confidently forecast how a price's flight will fluctuate. So, while you're searching, pay attention to advice it gives you. On desktop, you'll see a line chart in the upper-left corner of the results page, and on the app, you'll notice a confidence percentage at the top of your screen when you first see your results.
Take advantage of the three-day flex search
Once again, if your travel dates are flexible, your chances of finding a cheap flight are much, much better. When you're looking up airfare, before you hit Search, click "Show flexible dates" to pad the timing of your departure and return trips up to three days on either end. This way, when you search you'll see prices neatly plotted on a handy grid, making it extra easy to spot the cheapest dates to fly.

Scope out Kayak's Travel Hacker for popular destinations
Before you book your next vacation, scope out the Travel Hacker section. Using data collected in the billion-plus searches it processes every year, Kayak curates lists of the most popular destinations, arranged by theme (Luxury, Family, Beach, etc.), then builds custom cheat-sheets for each destination. So, for example, if you pop into the top Luxury destination of the moment (right now it's Medellin, Colombia) it shows how airfare and hotel prices fluctuate over the course of the year, so you can identify the best time to book at a glance. And if you're booking a trip over Christmas or New Year's, there's a dedicated Holiday Travel Hacker section as well.
Set up price alerts to book cheap fares before they're gone
If you conduct the same flight or hotel search repeatedly, you'll probably get a pop-up asking if you want to set up a price alert -- regular email updates or phone notifications when the price goes up or down. But you can also proactively set up as many price alerts as you want. On desktop, sign into your Kayak account and head to the Email & Alerts section. On the app, just tap the Price Alerts tab and follow the prompts.

Use a VPN to find a cheaper flight
According to Gizmodo, it's possible to find cheaper airfare if you trick Kayak into thinking you're booking a domestic US flight from outside the country by using a VPN. There's no guarantee that it will work every time, but it's worth a shot since it can save you some serious scratch.
Sign up here for our daily Thrillist email, and get your fix of the best in food/drink/fun.
Joe McGauley is a senior writer for Thrillist. He's already booked two flights on impulse thanks to Explore.