Underrated Apps That Might Blow Up in 2016
We would never claim to be fortune tellers, especially when it comes to technology, but sometimes you just get a hunch. As we were putting together the 25 best apps of 2015, we couldn't help but wonder what might blow up to be the next Uber or Snapchat in '16. So, channeling our inner futurist, here are the apps that might make it big in the new year.
Screenshot via Beme/Shutterstock
What it does: Lets you watch people react to videos and photos you send them
Why it'll be big: Beme is the brainchild of filmmaker and social-media bon vivant Casey Neistat, whose street cred alone is enough to propel it to the next level. It's a little like Snapchat, in that it lets you record moments in real time and send them off to friends. However, it's armed with a couple game-changing differences. For one, you're not allowed to preview the four-second clips you've recorded before they send, and you can see people's reactions in real time when they're opened.
 
What it is: A carpooling service for coworkers
Why it'll be big: Dreamed up by Uber's founding CTO, Ride is designed to make your commute less expensive and shitty by matching you with carpools of similarly scheduled coworkers whose route to the office coordinates with yours. It's a simple concept, frankly, but one that might catch on as we start to care more and more about not totally killing the climate.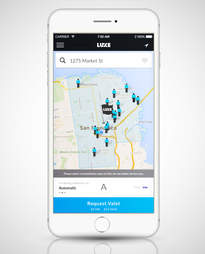 Screenshot via Luxe/Shutterstock
What it is: An on-demand valet and parking service
Why it'll be big: No one has the time to zigzag around the city searching for a parking spot, only to end up with a ticket when you come back two hours later. With Luxe, a valet picks up your car wherever you are and parks it in a nearby lot, then delivers it back to you whenever you're ready to bounce.
 
What it is: A 3D camera
Why it'll be big: Seene's been around for a couple years, but it's only now set to have its big moment. That's because consumer-grade virtual reality will be a big deal in the next year with Samsung Gear, Oculus, HTC Vive, and of course, Google Cardboard making their mark. And a slick app like Seene that's capable of capturing rich 3D scenes to enjoy in VR will likely be in high demand.
Screenshot via Lyft/Shutterstock
What it is: A ride-sharing app that isn't Uber
Why it'll be big: While Uber may have become the go-to verb for ride-sharing, Lyft is nipping at its heels as it expands its footprint to more and more new cities. Plus, Lyft rewards its riders with deep discounts on a regular basis, and drivers prefer driving for Lyft over Uber by a long shot.
 
What it is: A text-based shopping concierge service
Why it'll be big: Not only is it from a pair of Silicon Valley hotshots (an Uber co-founder and former Zynga exec), but Operator appeals to our collective laziness by offloading annoying and menial online shopping to experts who are at your beck and call any time you text them. 
Sign up here for our daily Thrillist email, and get your fix of the best in food/drink/fun.
Joe McGauley is a senior writer at Thrillist. He genuinely hopes Lyft obliterates Uber.