7 Gadgets That'll Actually Get You Excited to Work Out
Unless you've got the sociopathic intensity of Richard Simmons, hitting the gym on the regular is a pain in the ass. But by adding a few useful apps and gadgets to your exercise routine, you can make working out a little easier. Hell, you might even look forward to it.
Screenshot via Bodyspace/Shutterstock
What it is: A virtual personal trainer and social networking app for gym rats
It's easy to feel intimidated by meatheads grunting and throwing weights around, so it helps to keep a virtual personal trainer like BodySpace in your pocket. The app, available for both iOS and Android, is essentially a social network for gym rats, but it's also packed with customizable workouts to help even the most novice lifters feel more confident. To plot out your session, tap "Find a Workout" and plug in how much time you have, plus your goals and muscles you want to target, then pick from the long list of programs that match your needs. They even come with brief video clips you can follow along with on the sly.
 
What it is: A virtual-reality video game that attaches to your cardio machine
There's only so much SVU you can elliptical your way through. What if you could turn your cardio session into a video game? That's the whole idea behind Goji Play, which comes with a set of mountable finger triggers to transform your bike/elliptical/treadmill into a controller, where your movement affects your performance in a whole bunch of different games. 
What it is: A device that allows you to stream Spotify without your phone
Music is crucial for a good workout, but toting around your fragile smartphone the entire time is annoying -- which is why Mighty Audio is such a game-changer. It's a Shuffle-sized, Wi-Fi- and Bluetooth-enabled clip-on that syncs with your Spotify account so you can listen to streaming tunes while you exercise, without being tethered to your phone. 
 
What it is: Wireless earbuds that also store a ton of music
Standard earbuds are a recipe for disaster when it comes to working out, since any rogue tug or movement rips the cord out of your ear. And while there are a wealth of wireless earbuds out there, very few are actually any good. Dash's set themselves apart by not only offering top-notch audio quality and extreme comfort, but the ability to function independently as a music player thanks to 4GB of dedicated storage space. They've been out for less than a month, and people are already raving about them.
 
What it is: An armband that monitors your weight-lifting skills
Fitbit and other popular wearable activity trackers are great for keeping tabs on your overall movement, but they suck when it comes to your action in the weight room. That's where the PUSH band comes in handy. It's a small sweat-proof armband that measures your lifting intensity but also provides feedback, like letting you know when you need to adjust your form.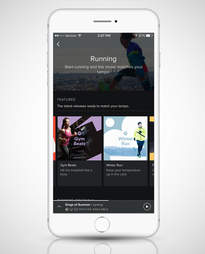 Screenshot via Spotify/Shutterstock
What it is: Automatic playlists that sync to your running speed
It's easy to get burnt out on your workout playlists -- after all, the same 20 pump-up jams on rotation can only pump you up for so long. That's what makes Spotify's Running playlists so brilliant. Spotify syncs with your phone's accelerometer and creates a customized set of tunes whose beats-per-minute tempo matches your pace. It's not all Tiesto and garbage EDM, though -- it's a grab bag of genres. To access them, tap the Menu button, select Browse, find Running, and tap the playlist you want.
 
What it is: An app that finds cool running routes and tracks your progress
If you're getting into running, MapMyRun is the virtual coach you need to stay on track. It records your progress and occasionally interjects to turn down your music and read out your real-time pacing stats, which sounds simple and ineffectual, but is actually a powerful motivator. Plus, if you prefer running outside instead of the gym, you can pull up the Route Genius feature when you're in an unfamiliar spot -- it'll plot out a variety of routes other users have tracked nearby.
Sign up here for our daily Thrillist email, and get your fix of the best in food/drink/fun.
Joe McGauley is a senior writer for Thrillist. He'll totally spot you, brah.