Some people rely on Yelp as their go-to food-finding app, some people use it to blow off a little steam and scathingly shame local businesses, and others just like to hear themselves talk. Err, write. But whatever the reason, you have to admit it's dang useful. Here are some lesser-known tips and tricks to help you get the most out of everyone's favorite crowd-sourced review site.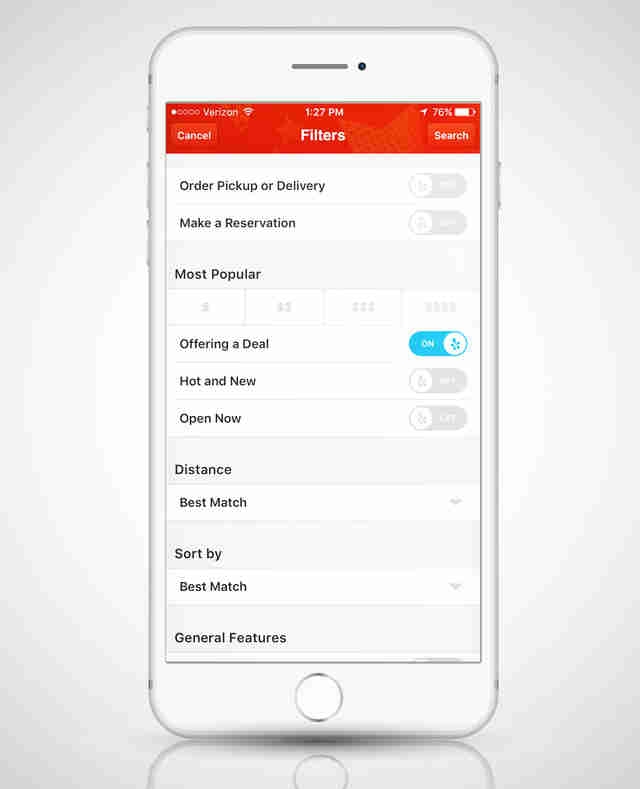 Save money by using the "offering a deal" filter
Next time you go searching for a bar or restaurant, hit up the Filters menu and enable the "Offering a Deal" option. Many spots offer Yelp-only specials that can save you a solid chunk of change on your final bill. Just a heads up that, like Groupon or Living Social, to get the discount you need to purchase the deal via Yelp and then flash the redemption code on your phone to your server.
 
Look for reviews with two to four stars
This may seem obvious, but when you're browsing reviews, try to ignore the ones with star ratings at either end of the spectrum (reviews with one or five). They often come with hyperbolic pronouncements like "it was the most amazing meal of my adult life" or "everything was abysmal and the server looked at me funny," which are less reliable indicators of an establishment's overall qualities. Look for middle-of-the-road ratings to get a better feel for the place.
Get free food and booze for submitting thoughtful reviews
Welcome to the scandalous lives of the Yelp Elite. The most engaged, active users on Yelp don't just bask in the smug satisfaction of publicly assessing every establishment they step foot in -- they get rewarded for it. This select set of users is given exclusive access to private parties hosted at up-and-coming hot spots in their cities.
You can't just slide into Elite status, though. To reach the upper echelons you must be nominated by a fellow user, and then assessed by an "Elite Council" that reads through your reviews for quality and consistency. It's not a tenured position either -- you'll be assessed each subsequent year once inside. Xoxo, Gossip Girl.
 
Get a new guide to your neighborhood every week
Whether you're in Fresno or Fargo, you can sign up to receive the Weekly Yelp newsletter that comes packed with hyper-local insider tips. It also delivers curated lists of the places in your area that excel at something special, whether it's the best cafes to grab a croissant, restaurants with the most delicious guac, or cheap eats that don't suck.
 
Look for video reviews
Back in 2014, Yelp rolled out a new feature that lets users add 12-second videos to their reviews in an effort to better capture the ambiance of the establishment. So if you're curious if the bar you're taking your date to is quaint and quiet, or if there's a pole and disco ball lurking in the corner, queue up the video to get a better idea of the vibe.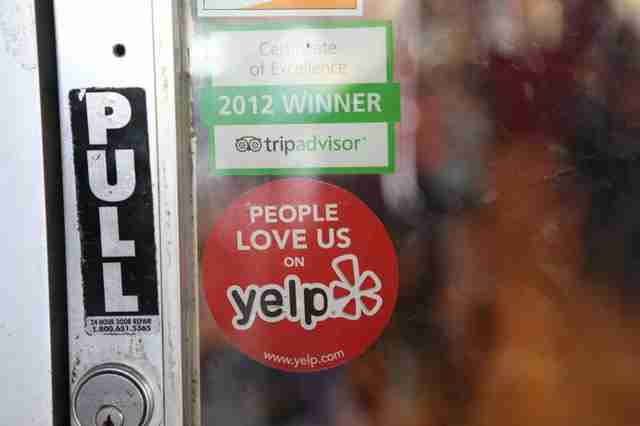 Trust local reviewers over tourists
Think about it: a tourist may have very different expectations when it comes to quality food or service, whereas a local New Yorker (or Angeleno, Chicagoan, etc.) is more likely to differentiate between good pizza, or BBQ, or what have you -- simply because they have a better idea of what else is in their area. It's not snobbish, it's just good sense.
 
Don't pay attention to users with only one review
Yelp reviews are like friends; it's kind of weird if you only have one. Be wary of any spectacularly negative or positive reviews if the writer only has one review under their belt. It's probably a fake account created by a slimy competitor or the owner themselves trying to boost their rating.
Sign up here for our daily Thrillist email, and get your fix of the best in food/drink/fun.
Joe McGauley is a senior writer for Thrillist and very certain that the new Yelp for people app is a horrific idea.