Things You Didn't Know You Could Do on Gchat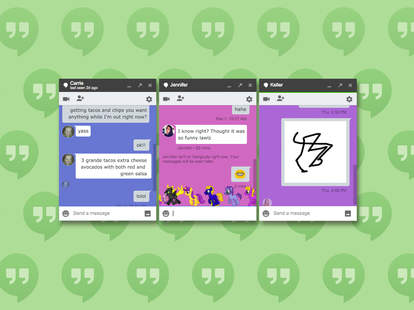 You probably know your way around Gchat by now -- unless, of course, you've been trapped in a freaky alternate universe where everyone's still curating their Buddy List on AIM. Even if you're logged in and chatting away all day, every day, you may not be taking full advantage of all the randomly useful stuff Gchat does to make your life easier. So, without further ado, here are nine tricks and tips to turn you into a master of Gchat and Google Hangouts.
Screenshot via Gmail
Move your chat list to the right side of your inbox
By default, your chat list is docked to the left side of your Gmail, but if you prefer a more streamlined look and feel to your Gmail, you can swap sides. Click the cog wheel to get to Settings > Labs, and enable right-side chat. Voila.
 
Change other people's avatars without them knowing
Maybe you're sick of staring at your coworker's Ron Burgundy avatar, or you keep confusing people in your contact list and want a better way to identify them. You can tack on a custom photo for anyone in your chat list without them even knowing. To do it, tap the contact search bar at the top of your chat list, look up the person, click "Contact Info," "Change Photo," and upload the shot you'd prefer.
 
Make your chat windows different colors
There's no panic quite like the one that accompanies sending a racy or inappropriate message to the wrong contact, and since all Gchat windows look pretty much the same, it can happen all too easily. Thankfully, there's a trick to add a colored background to each different chat window so you can distinguish them better. All you need to do is type "/bikeshed" into the window you want to differentiate -- it'll automatically add a background color.
Screenshot via Gmail
Go off the record if you don't want your conversation archived
Did you know every conversation you've ever had on Gchat is archived and easily accessible? Well, you do now! To take a walk down memory lane, tap More from the left-side Inbox menu, select Chat, and scroll through your sordid history of smalltalk. Of course, you can go off the record if you want. Open a chat window with the person in question, click the settings cog wheel, uncheck Hangout history, and speak freely (just remember, if the other person hasn't done this there's still a record of what you're saying somewhere).
 
Change font settings on the fly
Your witty quips and vicious scoldings don't have the same impact if you're not crystal clear how what you're writing should be interpreted, so here are some stylization hot tips: on a Mac, to activate bold, italics, or underlining press Command + b, Command + i, or Command + u, respectively. On a PC, it's Ctrl + b, Ctrl + i, and Ctrl + u.  Know them, love them, live them. Just keep in mind that you must type the command again in order to turn the formatting off.
 
Play around with Easter eggs
Like every good Google product, Gchat has its fair share of hidden Easter egg features. They're more fun and weird than useful, but worth exploring nonetheless. Here's a pretty solid list to get you started.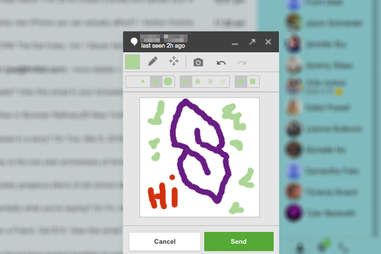 Screenshot via Gmail
Send on-demand doodles
Whether you're trying to illustrate something super specific to a coworker or just want to play tic-tac-toe, you can easily turn your chat window into sketch board (if you have a Google+ account). Hover over the picture icon in the bottom-right corner of the chat window, and you'll notice a pencil pop up -- click it and go wild. 
 
Have your conversation translated in real time
Are you trying to make casual conversation with your digital paramour from a foreign land? Don't bother whipping out your rusty high school Italian -- Google's got you covered with a couple dozen different language bots that'll automatically translate whatever you type to them. Here's the list of languages that are supported.
 
Call cellphones and landlines for free
If you're phone-less and desperately need to talk to someone (or want to try calling your misplaced iPhone), you can dial up any domestic number for free from a chat window. At the bottom of your contact list, tap the phone icon and follow the prompts.
Sign up here for our daily Thrillist email, and get your fix of the best in food/drink/fun.
Joe McGauley is a senior writer for Thrillist, and this conversation is off the record, K?