Everything You Can Do With Alexa, Amazon's Answer to Siri
When Apple's Siri hit the scene in 2011, we were all pretty pumped at the prospect of having a virtual personal assistant in our pocket. And yeah, she's pretty neat and occasionally a little witty, but she's far from infallible, sounds like a disembodied robot head, and could stand to be quite a bit more helpful.
Enter Amazon, which has been hard at work improving upon its very own virtual assistant, Alexa, ever since she made her grand debut with the Echo wireless speaker last year. Turn on the Echo (or the slightly smaller Echo Dot), and Alexa is like a personal assistant on standby in the room with you; she's voice-activated, so you call out her name and then say a command.
What exactly can she do, you ask? Here's how to harness her powers to make your life better.
Set her up with your music, calendar, commute, favorite sites, and more
In order to maximize Alexa's utility, she needs to get to know you first. That means linking her to all of your media and music accounts (Spotify Premium, iHeartRadio, Pandora...) via the settings section of the companion smartphone app. You can also customize what kind of news and sports updates she'll give you, based on your preferred outlets and teams you follow -- do this via the Account section of the app's settings page by tapping Flash Briefing and Sports Update, respectively. Oh, and don't forget to link your Google Calendar, too (which you can do via the Account section as well) so she can keep with your schedule.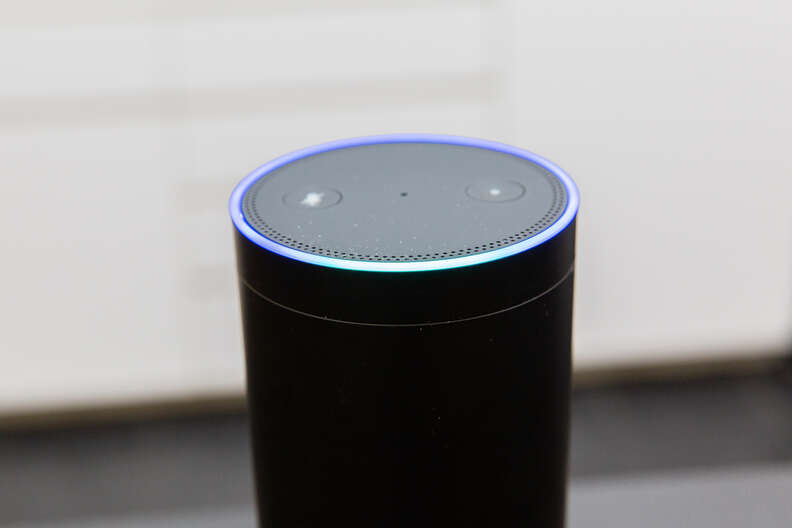 Play pretty much any song just by asking
If you've made the decision to sign up for Amazon Prime, Alexa will play you anything from Amazon Music's entire library. Ask her for something specific ("Alexa, play Adele's album 25"), or less so ("Alexa, play some smooth jazz" or "Alexa, play something calming"), and she'll abide.
When you link her to your other media accounts via the app, the breadth of available content expands tremendously -- all you need to do is ask for what you want along with with the service's name, for instance, "Play my after-work playlist on Spotify" or "Play the Radiolab podcast on TuneIn."
Get the lowdown on your schedule for the day
Like a living, breathing personal assistant, Alexa is trained to keep you up to speed on your schedule. As long as you've synced your Google Calendar, you can ask her what your day looks like, when your next meeting is, and what time you should leave for it.
Find out how your commute's looking
Once you've set where you live and work (via the Traffic tab in the app's settings), you can ask her what your commute's looking like at any time, and she'll let you know what the current traffic conditions are for your route.
Let her order an Uber for you
Alexa plays nice with a bunch of third-party apps, including Uber. Any time you need a ride, just ask her to request one ("Alexa, ask Uber to request a ride" or "Alexa, ask Uber to request an UberX"), and she'll dispatch a set of wheels to come pick you up.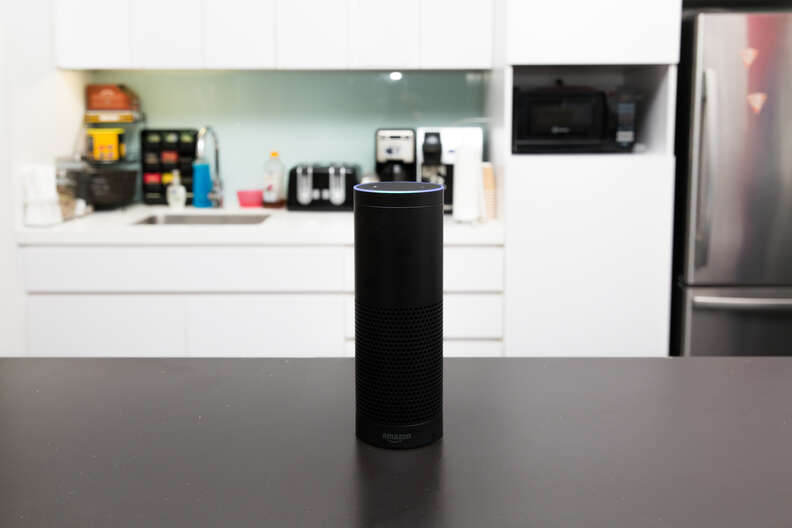 Use her as a reference guide for facts and trivia
Alexa is a trivia queen -- she has the answer to pretty much any random question you might have, whether it's how many teaspoons are in a tablespoon, the capital of Eritrea, or how long a 747 is. You can also ask her to look up any Wikipedia page that exists, by simply asking, "Alexa, Wikipedia subject X."
Keep a running shopping and to-do list
Apple's Notes app has some pretty handy list-building features, but Alexa makes it even easier to keep a running list of shit you need and shit you need to get done. Tell her to add particular items to either your shopping or to-do list. She'll not only read each list back to you when asked, but she'll update the lists via the Alexa app on your phone, so you can view them when you're out and about under the Shopping & To-do Lists tab.
Order anything you need instantly from Amazon
I mean, it should come as no surprise that Alexa makes it very easy for you to spend money on Amazon. Beyond building your shopping list, she'll do the shopping for you. For instance, you could say, "Alexa, buy trash bags" and she'll read off the name of the most popular product in that category on Amazon, then ask you to say aloud a unique four-digit code (which you can create in the app's settings) in order to confirm the purchase.
Change her name
If, for whatever reason, you have an aversion to using the name Alexa (bad breakup, huh?), you can switch up the "wake" word for the device to either "Echo" or "Amazon." Go to Settings > Your Echo > Wake Word.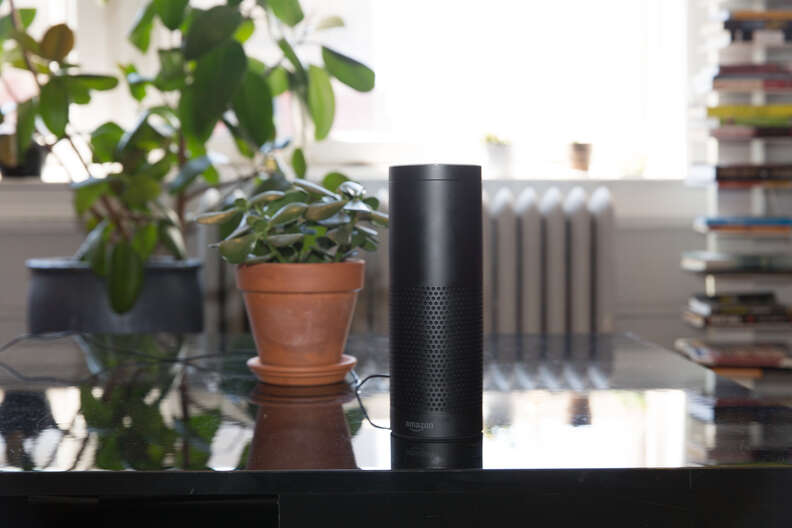 Control your whole home
If you've decked out your place with any Wi-Fi-enabled smart products, Alexa can most likely control them. She's compatible with a slew of smart-home brands, including Samsung SmartThings, Philips Hue, WeMo, and Wink. To enable them, go to the Skills section in the app's settings menu, then let loose with your commands, such as, "Alexa, dim the living room to 20%" or "Alexa, set the house temperature to 70 degrees."
Ask her about the weather
Want to know if you need an umbrella today? Or what sort of clothes to pack for your vacation? Just ask and she'll give you the full forecast for anywhere on the planet.
Get the latest news
Based on the sources you enabled under the Flash Briefing, she'll run through a series of pre-recorded stories from the likes of NPR, the BBC, Bloomberg, and other local affiliates. To queue one up say, "Alexa, what's my Flash Briefing?" If you want her to move on to the next story, simply say "next."
Listen to your favorite books
Have some audio books you've yet to crack in your Audible library? Queue 'em up while you're doing the dishes or cleaning the bathroom with, "Alexa, play the book Moby Dick," or you know, a book that wouldn't be a total waste of your time.
Tell her to turn herself down
If she's being a bit too noisy, you can ask her to turn down her own volume either to a numerical value between one and 10 ("Alexa, volume four") or a percentage increase or decrease ("Alexa, turn volume down 20%").
Set a timer or alarm
Whether you're cooking dinner or laying down for a power nap, just ask, "Alexa, set a timer for X minutes." If you have her in the bedroom, you can also turn her into your de facto alarm clock, e.g., "Alexa, set the alarm for 7am."
Explore Easter eggs
Alexa's abilities are constantly expanding, and like Siri, you can have some fun with her. Thanks to Echo users with way too much time on their hands, there are several resourcesdedicated to logging all of her weird and wonderful Easter eggs.
Keep tabs on the newest stuff she can do
Thanks to Amazon's Skills Kit, which allows outside developers to create custom commands, Alexa now responds to over 1,000 different third-party skills, introduced by big companies like Campbell's and Fidelity (who've added commands that will dig up dinner recipes and current stock prices, respectively), and intrepid developers alike. To stay up to speed, scope out the Skills tab under Settings and refine by "Newest Arrivals."
Sign up here for our daily Thrillist email, and get your fix of the best in food/drink/fun.
Joe McGauley is a senior writer for Thrillist. He asked Alexa to write this but she wasn't into it.