The Best Gadgets and Apps to Crush Your Weight-Loss Goal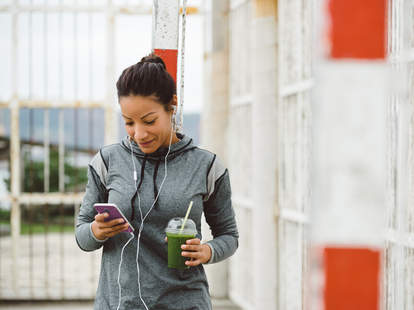 For as long as we humans have been capable of packing on extra pounds, we've been trying to lose them with ridiculous diets and cruel and unusual methods. It sucks! A lot! But unlike the spare-tired masses that came before, we've got ~*technology*~ on our side. But how should you harness it for the biggest payoff? Here's what you need to know.
Fitbit Flex
Price: $100
Why you need it: To get your ass moving
Fitbits, Jawbones, Apple Watches, they're everywhere right now. And while you may fall hard on the side of the anti-wearable movement for style reasons or otherwise, the truth is this: simply having one on your body has been shown to make people more active. Plus, when paired with a number of the apps further down on this list, they can make it much, much easier to know what it takes to reach your goal weight. The Fitbit Flex is a solid starter option -- it's low profile (no flashy displays!), lightweight, tracks a ton of data (steps, distance, calories burned, stationary time, sleep, etc.), and is relatively affordable.
Screenshot via Fooducate/Shutterstock
Fooducate
iOS:Free
Android:Free
Why you need it: To teach yourself to eat better
There's a reason this app has earned praise from the likes of the US Surgeon General, dietitians, doctors, and even Apple -- it's one of the easiest ways to not only keep tabs on what you're putting into your body, but also learn what you need to eat (and how much) to get to your goal weight. It's packed with convenient features, but one of the best parts is you don't even have to type in what you're eating most of the time since there's a built-in barcode scanner. 
SITU smart food nutrition scale
Price: $119
Why you need it: Because you suck at portion control, and how nutritious is this jumbo pretzel hot dog, really?
If you really want to take control over the crap you put in your body, and start eating less (or simply better), you should consider getting a scale like the SITU. Working in tandem with your iPhone or iPad, it evaluates a food item in both calories and nutrients -- so you can see the exact count of calories, sugar, salt, protein, vitamins, and minerals of whatever you place on it. Seeing precisely how nutritious -- or truly godawful -- whatever you're about to chow down on is for you can be just the nudge you need to stop yourself.
Screenshot via Lose It/Shutterstock
Lose It!
iOS:Free
Android:Free
Why you need it: You have a goal, but want to get it done in your own time
While Lose it! and Fooducate share a lot of similar features (robust meal tracking and calorie counting, etc.), the former is uniquely helpful when it comes to creating a personalized weight-loss plan. Plug in your height/weight/age/gender, enter a goal weight, and then decide just how quickly you want to shed those love handles. Then it'll generate a "daily calorie budget" to put you on track to get there by a specific date.
Withings Smart Body Analyzer
Price: $150
Why you need it: So you can track more than just your weight
Hopping on a scale when you're trying to lose weight is a masochistic move, but it's been proven that people who track their weight on a daily basis are far more likely to meet their weight-loss goals. And while this Wi-Fi-enabled smart scale will automatically log your weight stats every time you step on it (in a dedicated smartphone app), it's a hell of a lot more than just a boring bathroom scale. It can also measure your BMI, fat mass, heart rate, and even give you an idea of the air quality in your home.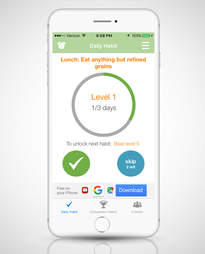 Screenshot via SimpleSteps/Shutterstock
SimpleSteps
iOS:Free
Android:Free
Why you need it: To develop better long-term eating habits, and because baby steps aren't just for babies
Lots of people trying to drop the paunch are convinced it requires a dramatic shift in their lifestyles -- salads for every meal and round-the-clock spin classes. And sure, that's one way to do it, but it's also by far the hardest. SimpleSteps' philosophy is to ditch full-blown diets for gently introduced "habits" that are more likely to take hold for the longer term.
Once you launch the app, you'll be asked a series of questions about your diet -- how frequently do you eat red meat? Do most of your meals contain one-third vegetables? How much water do you drink per day? Based on how you respond it will suggest some new habits to start working on. Once you've decided on your first habit (for instance, "eat anything except red meat"), it will ask you to check in every day for the next few days and acknowledge whether you adhered. Once you've successfully followed it for three days, it introduces another habit, and so forth and so on, and the next thing you know you're basically Gwyneth Paltrow.
Sign up here for our daily Thrillist email, and get your fix of the best in food/drink/fun.
Joe McGauley is a senior writer for Thrillist. He was a husky child.