The Best Bluetooth Headphones to Buy With Your New iPhone 7
Boy, did Apple rip us a new one or what? The iPhone 7 goes on sale today without a headphone jack -- a controversial move that has caused no shortage of whining, uproar, and conspiracy theories. If you can't squeeze another year (or two, or eternity) out of your current, wire-loving iPhone, you've little choice but to embrace the wireless future. Suck it up and grab a pair of Bluetooth headphones, because ain't no way we're walking around with a bulky adaptor to accommodate our old sound cans.
Open your hearts (and ears) to some of these top wireless selections.

Skullcandy Ink'd Wireless
Price:$39.99
That iPhone 7 doesn't come cheap, so if the budget calls for something less pricey, pick up these low-profile receivers. Skullcandy made them for active bass heads, delivering thunderous output with no distortion. Quite the feat for a pair of earphones marked lower than a Benjamin. Controls are easy to access and operate, with volume commands working in conjunction with the iPhone's master controls.
Beats Powerbeats 2 Wireless
Price:$80 (on Amazon)
Powerbeats are an audio staple at this point, and at this price tag, you may want to consider hopping on the trend. These feature a comfortable ear hook design for a super-secure fit, universal controls, multiple eartip options, and a heavy bass that amplifies your workouts. Buy now and save a few bucks, or wait for the Powerbeats 3 to launch later this fall.
Sony MDR-XB650BT
Price:$98 (on Amazon)
Fantastic battery life combined with good music quality and voice-calling support make Sony's headphones a smart budget-buy. With foam cushioned earpads, these babies have both Bluetooth and NFC connectivity for the best of both wireless worlds. The 30mm drivers do a solid job balancing sound, while Sony's EXTRA BASS technology encourages you to crank the volume up juuuust a wee bit more.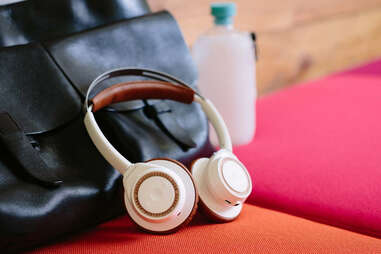 Plantronics Backbeat Sense
Price: $129.95
Cozy design. Intuitive wireless features. Superb sound. The Backbeat Sense is ideal for the low-key music lover fancying performance over style. Manage your iTunes playlist from over 330ft away, then connect and control two Bluetooth devices for up to 18 hours of wireless streaming. Even go iPhone-free with playback by pausing/playing audio when you remove/put on the headphones. A nice round of accessories complete the package.
Jabra Sport Pulse
Price: $150.79
Jabra delivers a pair of buds specifically for fitness freaks, with sweat- and water-proof construction and a built-in heart-rate monitor. The headphones come with an accompanying app that interfaces directly with your music library to make monitoring activity and music seamless. Connectivity and Siri integration runs smooth. A handful of earwing tips come bundled as well to ensure strong in-ear fit, so these don't go flying around when your workout gets rigorous.
Apple AirPods
Price:$159
Despite being ridiculed for looking like tampons without strings that you'll lose within an hour of purchase, the AirPods do have some pretty compelling specs. They're powered by the company's new W1 chip, which is engineered to improve Bluetooth pairing between all Apple devices, along with battery life and sound quality. Built-in accelerometers filter background noise, while microphones at the bottom of each earbud pick up your voice for calls or Siri use. Apple promises a good three hours of music playback on 15 minutes of charging, 5 hours on a full charge. But, will they stay in your ears? To be continued.
Jaybird Freedom F5
Price: $134.22 (on Amazon)
You're looking at the smallest and lightest pair of Bluetooth earphones on the audio block. Somehow, Jaybird stuffed a boatload of advanced tech into its micro-sized corded buds, from energetic-sounding drivers to multipoint Bluetooth 4.1 technology. Customization is the F5's modus operandi, allowing users to create sound profiles to their personal taste on the MySound app. Charging proves to be just as dynamic with a small micro USB cradle that doubles as a portable battery.
LG TONE Active+
Price:$179.99
LG takes credit for sparking the around-the-neck headphone movement. Now it's upped the ante with a more advanced model boasting external stereo speakers on each side to create your own personal surround sound system. This opens the lane to hear music discreetly at your cubicle, or anywhere for that matter, without plugging in the eartips. It's actually quite effective in execution, but going the more traditional route results in killer hi-fi sound.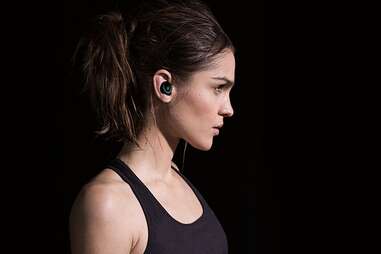 Bragi Dash
Price:$299
The Kickstarter favorite gives Apple a run for its money with a waterproof design, better features, and wide soundstage. A touch interface is programmed into each earpiece that relies on audio and haptic feedback commands like swipes and taps to control playback. Even cooler is how the Dash acts as a fitness tracker to capture activity, making your Apple Watch an afterthought at the gym. If anything, it compliments the look of that new Jet Black iPhone 7.
Beats Solo3 Wireless
Price:$299.95
All the hype around the iPhone 7 and AirPods waned Apple's other major announcement: Beats' new headphone lineup. The updated Solo3 Wireless support the Apple W1 chip, therefore bringing onboard Class 1 Bluetooth and up to 40 hours of battery life. Earcup controls let you activate Siri and manage music playback. Then come the signature colorways that compliment the phone's sexy shades from Jet Black to Rose Gold.
Bose QuietComfort 35
Price:$349
Audio quality alone is worth the recommendation, but there's more to these noise-canceling beasts than just resonant bliss. On top of killer sound cancellation, the QC35 doubles as a great headset for phone calls and delivers insane battery life with 20 hours of wireless listening per charge. Not to mention they're comfy as heck. They also function as wired headphones via an audio cable when the battery dies.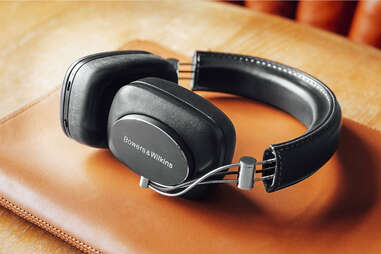 Bowers & Wilkins P7 Wireless
Price:$399.99
For high rollers, it doesn't get more lavish than a pair of B&W headphones. Perfect timing too, as the hi-end audio specialists just launched a wireless version of its signature headphone that maintains its classy design and immaculate sound, only this time integrating Bluetooth 4.0 and aptX technology for even better interconnected audio compression. A single charge packs up to 17 hours of wireless music, good enough to get you by on those luxurious first-class international flights.
Sign up here for our daily Thrillist email, and get your fix of the best in food/drink/fun.
Alex Bracetti is a contributor to Thrillist,
Complex
,
HOOP
, Man of Many, and several others. Follow him on Twitter: @AlexBracetti.