Why 2017 Is the Year You Need to Upgrade Your Router
We may be on the cusp of whipping around in self-driving cars and charging our phones just a few times a year, but many of us are still plagued by the scourge of shoddy Wi-Fi. Most standard routers can't keep up with the demand now placed on them by multiple devices hogging bandwidth (read: Netflix) in different parts of your home.
Thankfully, Wi-Fi has just taken a big leap forward with a new generation of far more "mesh" networking home routers from top-tier tech brands. These aren't simply W-iFi signal boosters or extenders, which stretch your coverage area from a single router often at the expense of connection quality. Rather, mesh networks are made up of multiple routers, placed around your home/office/sprawling doomsday bunker in order to both eliminate spotty signal areas and extend coverage to even the furthest corners of your space, without sacrificing speed or quality of connection. Translation: They make it possible to be gaming down in the basement, uploading photos to the cloud from the attic, and streaming your favorite TV shows out in the backyard without lag or a dreaded "buffering" buzzkill.
They're all quite a bit pricer than your run-of-the-mill routers, but they're leaps and bounds ahead of what was on the market even six to 12 months ago. Here's a rundown of the best of the new breed.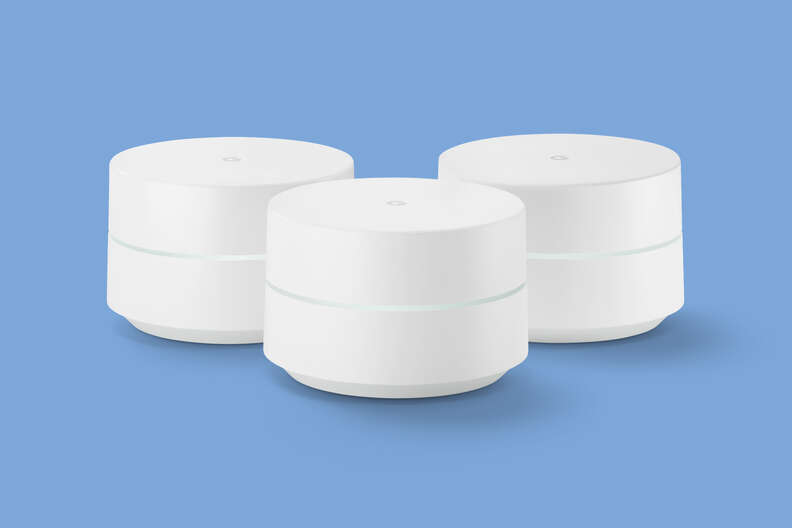 Google Wifi
Price: $129 to $299
Google's first mesh networking system was one of several new products it debuted alongside the Pixel phone last fall, and it not only shares Pixel's sleek looks, but is getting similarly positivereviews. Depending on your space, you'll need between one and three of its hockey puck-like "Wifi points" to ensure seamless coverage, and if budget's a concern, this is the most reasonably priced option on the list. It also features a companion app that allows you to prioritize connection to certain devices for better performance, or pause signals to others when you want to make sure your kids are sleeping instead of scrolling through their iPads.
NETGEAR Orbi
Price: $400
NETGEAR's Orbi is able to provide up to 4,000sqft of coverage (including through thick walls and other blockades that can typically muck up signal strength), using just two devices, each resembling a handsome abstract sculpture about the size of a textbook. What's more, it's beat out several others here in reviews, and is one of the only tri-band mesh systems on this list. Without getting too technical, that means it'll likely provide a faster connection when you're using lots and lots of devices simultaneously. The only downside is that each Orbi is significantly larger than any other device on the list, and the system itself is only available as a two-pack, meaning you'll have to shell out $400 to use it in any capacity.
eero
Price: $199 to $499
Like Google Wifi, eero's available as a one-, two-, or three-pack kit depending on the square footage of your space. It's also equipped with convenient features, including an app that allows you to set signal schedules for individual devices (again, to control how much time your screen-addicted kids are using them). It's also Alexa-compatible, which means that among other things, it can help you locate your misplaced phone, tablet, laptop, or any other device connected to the network by telling you which room it's in.
Luma
Price: $149 to $399
Luma's also available in one-, two-, or three-pack versions, and offers many similar features as eero (custom controls via app, Alexa integration). It does boast a couple other cool extras, though, including a helpful customizable setup wizard that'll guide you through where exactly to place each Luma in your space to achieve the best coverage and speed, and it gives you the option to order your devices in one of four different colors, ostensibly to better jive with your existing decor.
Linksys Velop
Price: $200 to $400
The newest entrant to the lineup, Velop just debuted at CES, but is already getting good marks, which isn't all too surprising. Besides the fact that it's from a trusted brand with deep roots in the Wi-Fi router game, it's also equipped with tri-band technology and comes packed with other familiar handy features, including easy customized setup, parental controls, and Alexa integration.
Sign up here for our daily Thrillist email, and get your fix of the best in food/drink/fun.
Joe McGauley is a senior writer for Thrillist and engaged in a perpetually rocky relationship with his router.