Online Discounts Every Student Should Be Taking Advantage Of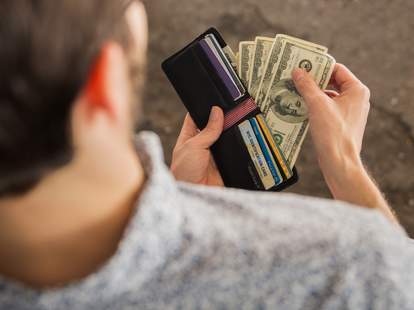 There are certain things you can only get away with in college, like eating burritos morning, noon, and night... passing off Popov vodka as a premium spirit at a house party... telling people you're "really into" Ayn Rand. But more importantly, your degree-earning years are the only ones in which you can take advantage of the wide world of student discounts.
The fun doesn't stop with cheap movie tickets, either. Not only is there a ton of free stuff on the internet to check out, there are plenty of online deals and discounts just for college kids. Here are the ones you should absolutely be cashing in on.
Before you cross the graduation stage into crippling student debt, take advantage of all the perks of Prime -- for free. In case you don't already know what's amazing about a Prime subscription, it gives you access to free two-day shipping, streaming of TV and movies, exclusive deals and perks, unlimited photo storage, and a $20 credit when you refer a new user. When your six-month trial runs out, you'll still only pay half the regular price of Prime for the remainder of your time in school. 
Also check out the slew of discounts in Amazon's "College Deals" section, where you'll find electronics and dorm essentials at slashed prices.
Ever since Steve Jobs launched an initiative to get a computer in every classroom, Apple's been championing the idea of making it easier for students to use its technology. To wit, the Apple Store for Education offers significant discounts on its computers (including MacBooks, iMacs, and the Mac Pro) and iPads -- between $50 and $200 off regular retail prices -- so long as you can prove you've been accepted or are enrolled in college.
Although the Premium version of this terrific streaming service -- which is ad-free and enables offline listening -- will set us already-graduated folks back a cool Hamilton every month, students can sign up and pay just $5. 
A subscription to Adobe's Creative Cloud of apps, which includes powerhouses like Photoshop, Lightroom, Dreamweaver, Illustrator, and 16 others, typically costs somewhere around $50 a month. However, students and teachers can subscribe to the same suite of creative tools for just $20 a month (it's just $10 a month if you're only interested in the photography apps). 
Staying up to speed on the latest goings-on is a whole lot cheaper when you're a student. The New York Times hooks you with its top-notch journalism before you enter the real world by offering students access to its full digital version for the shockingly affordable $1 per week. 
Cheaper cellphone bills for Sprint and AT&T customers
Although not every major wireless carrier slashes service prices for students, a couple of the big guys do. For those of us whose parents have kicked them off their amazingly cheap family plan, both Sprint and AT&T offer special rates on monthly bills to students attending discount-eligible schools. You'll have to do a little digging to find out if you can get in on the action, but it's well worth the effort.
If you're not married to an Apple laptop, Lenovo offers some pretty spectacular discounts on its catalog of computers, with some student rates up to 20% below regular retail prices. Simply select your school from the drop-down menu, and browse your heart out.
UNiDAYS is basically an online discount depot just for students, serving up exclusive daily sales from a whole bunch of brands for verified members. The majority of deals tend to be on clothes (e.g., American Apparel, Levi's, Urban Outfitters, ASOS), but it also regularly offers stuff from Microsoft, Motorola, and Apple. 

Sign up here for our daily Thrillist email, and get your fix of the best in food/drink/fun.
Joe McGauley is a senior writer for Thrillist and may or may not still whip out his eight-year-old college ID for the occasional cheap movie ticket.