The Highest-Rated TVs on Amazon Under $500
Look, once you get out of college, Netflix and chill on your laptop's 11in screen is no longer acceptable. However, if you're not even willing to shell out for a cable at this point, you sure as hell aren't going to invest in a top-of-the-line home entertainment center either. So to help in your search for the best budget HDTV, we scoured through Amazon's massive marketplace for the top selections under the $500 mark based on customer reviews, special features, and media services.
VIZIO D50-D1 D-Series Full Array LED Smart TV
Price: $481.99
Size: 50in
Rating: 4.3 out of five stars
The leading TV seller in the US has set the bar for killer performance at a cheap price with its D-Series line, which comes equipped with a 120Hz effective refresh rate for superb detailing and full-array LED backlighting that balances lighting. Built-in high-speed Wi-Fi connects you to a massive collection of pre-installed apps (Amazon Instant Video, Netflix, Spotify, etc.), so you can get in on that new Drake album or all that fresh Netflix content.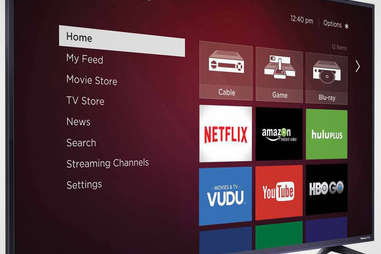 TCL 55FS3750 Roku Smart LED TV
Price: $499.99
Size: 55in
Rating: 4.3 out of five stars
Meanwhile, TCL is giving Vizio a run for its money. You won't find another 55-incher boasting 1080p picture quality, over 3,000 streaming channels, super-simple search functionality, and built-in Roku service at this value. Just make sure you brush up on your Roku hacks.
Samsung UN40J5500 Smart LED TV
Price: $497.99
Size: 40in
Rating: 4.3 out of five stars
Samsung's 40in panel flaunts a beautiful profile with a thin bezel and chrome accents that complement its full-HD 1080p output. Underneath its steel-like sheath lays a quad-core processor that boosts performance so you can stream the best Netflix exclusives and even browse the net in smooth fashion. Its ability to connect up to 12 compatible Samsung media devices transforms it into a full home theater system.
LG Electronics 43LF5900 Smart LED TV
Price: $397.99
Size: 43in
Rating: 4.5 out of five stars
If there's one product category LG knows how to get right, it is smart TVs. Full HD visuals combined with an intuitive webOS 2.0 interface that simplifies switching between apps, movies, and TV shows places this gorgeously designed telly at the top of its price range.
Sony KDL48R510C Smart LED TV
Price: $448
Size: 48in
Rating: 4.2 out of five stars
Sony's solidified its position as a global leader in TVs predating back to the '90s. This 48in LED TV comes stacked with high-tech features powered by the brand's Clear Resolution Enhancer picture engine, which reduces picture noise for greater onscreen details. HD wireless streaming blesses you with the best quality for all popular services like Netflix, Crackle, YouTube, and more.
Hisense 50H6B Smart LED TV
Price: $399.99
Size: 50in
Rating: 4.3 out of five stars
Never heard of this Chinese TV creator? Neither have we. What we do know is the company has built an impressive smart TV stocked with some amazing internals that should technically warrant a higher MSRP. We're talking a 50in, 1080p screen with full high-def resolution, two 10-watt speakers, optimized picture and sound modes, three HDMI outputs, and several pre-installed streaming apps at your disposal. Not bad for a newbie.
TCL 48FS3750 Roku Smart LED TV
Price:$349.99
Size: 48in
Rating: 4.3 out of five stars
Sharing the same features as its 55in sibling, this slightly smaller model is a steal at $100 less. Navigating through media channels becomes seamless using the accompanying Roku remote. Not to mention watchers can use their smartphone or tablet as a controller to browse and add new channels via mobile app, while also casting content from their iPhone or Android phone. That's over 300,000 movies and TV episodes at your fingertips without the need of a TV-streaming box. Preeeetty good.
Sharp LC-43UB30U 4K Ultra HD 60Hz Smart LED TV
Price: $499
Size: 43in
Rating: 3.7 out of five stars
Scoring a 4K TV at the asking price of five Benjamins is like finding The Godfather Collection Blu-ray in the bargain bin. Sure, its review rating might bring up some red flags, but most of the non-favorable comments seem targeted towards first-production units. Still doesn't take away from the set's insane ultra-HD visuals. The addition of four HDMI ports only sweetens the deal, making room for your favorite media-streaming sticks, be they Google Chromecast or the Amazon Fire Stick.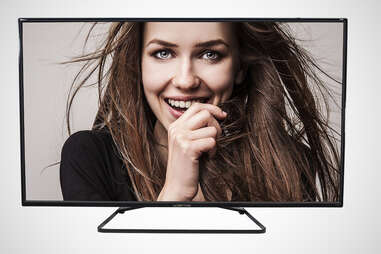 Sceptre E505BV-FMQK LED HDTV
Price: $349.99
Size: 50in
Rating: Four out of five stars
Those in search of a 50-incher that offers crystal-clear imagery and sleek aesthetics that blends into any decor, tada! Sceptre's black LED monitor supports MEMC 120 (Motion Estimation and Motion Compensation) for fluid playback on movies, video games, and live sports events. Rounding out the highlights are three HDMI ports, and an extra MHL port to connect your smartphone and bring your mobile experience to the big screen.
Samsung UN48J6200 Smart LED TV
Price: $417.34
Size: 48in
Rating: 4.2 out of five Stars
One of Samsung's less flashier models proves to be worth its weight in performance delivering 2x the clarity of a standard HD TV, along with improved moving picture resolution and quicker refresh rates courtesy of Motion Rate 120 technology. Integrated Wi-Fi and instant access to Samsung's entertainment hub are enough to fulfill your summer binge-watching appetite.
Sign up here for our daily Thrillist email, and get your fix of the best in food/drink/fun.
Alex Bracetti is a contributor to Thrillist,
Complex
,
HOOP
, Man of Many, and several others. Follow him on Twitter: @AlexBracetti.