Underrated Apps That Could Be Huge in 2017
It would be pretty cocky of us to presume we could predict the future with any certainty. However, one thing's for sure -- 2017 will usher in a fresh crop of blockbuster apps. Here are six that, while already available to download, are poised to be big in the new year.
What it does: Helps you file away the web to read later
Why it'll be big: If you've ever used the web bookmarking plugin Pocket, you'll understand why Stash has potential to be big. Apps like Pocket and Instapaper are incredibly useful, but Stash steps things up big time. For one, it automatically organizes the content you clip from the web into categories, so you have a section dedicated to videos, songs, articles, etc. It also makes it easy to push particular items you've clipped to another one of your devices (an article you found on your laptop to your phone, or vice versa), and allows you to set date and time reminders for individual links, to prevent you from letting all the stuff you squirrel away from piling up. It's growing so fast that the nascent app's actually paused new user sign-ups, but you can add your name to the wait list.
What it does: Enables the exchange of end-to-end encrypted messages
Why it'll be big: With the threat of widespread hacking looming larger than ever and an incoming presidential administration threatening some drastic changes to civil liberties, people are understandably paying more attention than ever to how to protect themselves from being unreasonably surveilled online. Signal has earned a solid reputation as one of the simplest and most secure encrypted chat apps out there (even Edward Snowden endorsed it), as it allows you to exchange private group text, photo, and video messages as well as phone calls, confident that no one is able to see or listen in. Considering it reported a 400% boost in downloads in the days following the election, there's good reason to believe it's only going to get hotter in the new year.
What it is: A group video chat app
Why it'll be big: From the team behind the now-defunct live-streaming app Meerkat, Houseparty allows you to video chat in real time with up to seven of your friends simultaneously, which essentially enables you to virtually chill with your squad anytime, anywhere. Sure it sounds crazy, but then again so did Snapchat in the beginning, plus teens are already obsessed with it.
What it is: A messenger app powered by Google's virtual assistant
Why it'll be big: Although Allo's received mixed reviews since it debuted in September, there are reasons to believe it may catch on over the next year. It currently doesn't offer a great deal more than other messaging apps out there, with one major exception: Google Assistant -- the same one baked into the Pixel. The super-smart, artificially intelligent bot's integration means you can get answers to all sorts of questions within your conversation without leaving, like where the closest sushi spot is, when the next showing of a movie is, or what the latest scores and headlines are. Expect Google to pack in even more features and functionalities that'll make it a must-download in 2017.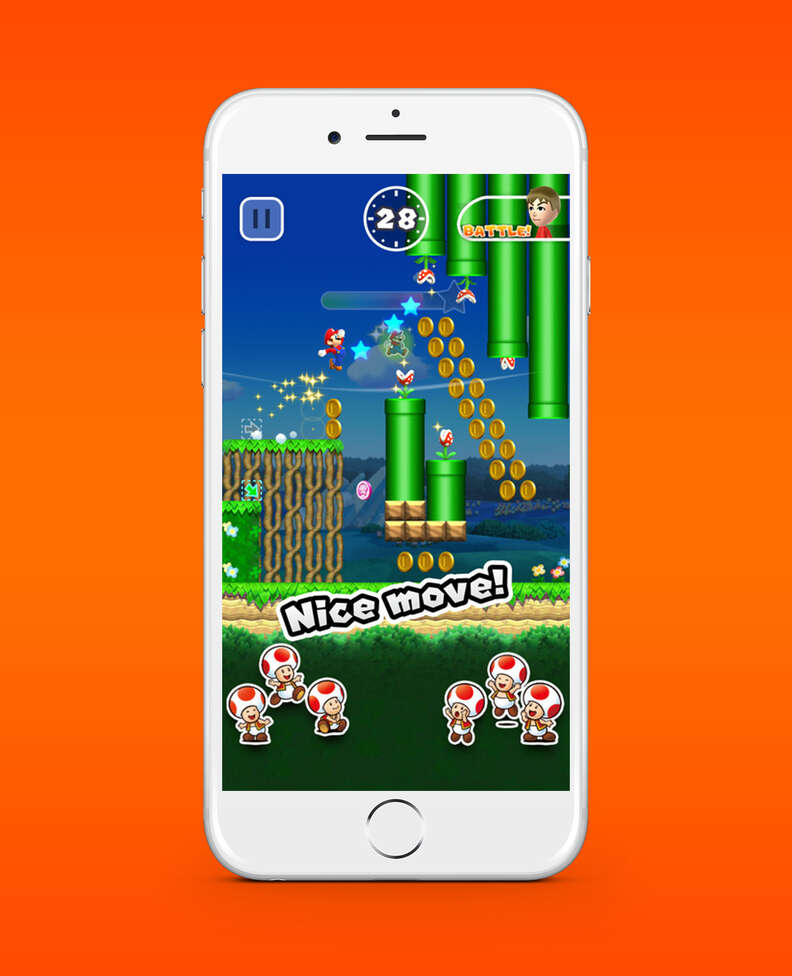 What it is: A new Mario video game you can play on the iPhone
Why it'll be big: Despite initial poor reviews that tanked Nintendo's stock price, it's much too early to write SMR off. The game, which has been hyped up since it was unveiled during Apple's big iPhone event in September, has a lot going for it, and a lot of potential. As long as Nintendo comes to its senses and brings down the controversial $10 price (or, alternately, adds significantly more gameplay), it could still be a hit. After all, the love for Mario is real, considering it garnered three times as many downloads as Pokémon GO did in its first day in the App Store.
What it is: A streaming service that provides affordable mobile access to live TV and on-demand programming
Why it'll be big: With streaming service options for cord-cutters growing more popular by the day, it takes a lot to stand out from the crowd, but DIRECTV NOW is poised to do just that. Like other live TV-streaming services Sling TV and PlayStation Vue, it provides live access to many broadcast and cable channels, but it gives you a lot more for your money, with various bundling options and an introductory offer that locks in access to 100 popular channels (including on-demand viewing) for just $35 per month. Add that to the fact that its parent company AT&T's wireless customers (as well as some on T-Mobile) can stream content via DIRECTV NOW mobile apps without eating up data, and there's plenty of reason to believe this has some serious potential to take off.
Sign up here for our daily Thrillist email, and get your fix of the best in food/drink/fun.