Robot Butlers and Other Crazy New Tech at CES This Year
Ethan Miller/Getty Images News/Getty Images
Ethan Miller/Getty Images News/Getty Images
The Super Bowl of technology, otherwise known as Consumer Electronics Show, is heating up the Las Vegas Convention Center right now. All the biggest names and up-and-comers in tech have gone on to debut their digital game-changers, bringing us closer to a future where robot butlers, dietary food scanners, futuristic eyewear, and virtual reality manage our everyday lives. Exciting, yet slightly terrifying times lie ahead of us.

Take a look at some of the absolute best new tech at CES 2016.
Hoverbutler
What it is: A hoverboard that transforms into a robot butler
Price: TBA
Release date: Mid to late 2016
Intel refers to it as a "personal transporter" that also doubles as an android. When it's not transporting you across the house, the machine takes on the personality of a servant with a front display that shows facial expressions and streams video. It can even be fitted with arms to perform standard tasks like opening doors. Could this be a preface to Skynet?
Fitbit Blaze
What it is: Fitbit's answer to the Apple Watch
Price: $200
Release date: March 2016
While it lacks the sexy finesse of Apple Watch, Fitbit's latest creation is poised to become the ultimate hybrid wearable that bridges the gap between its award-winning fitness bands and a smartwatch. In short, it takes the Charge HR up another level with GPS connectivity, on-screen workout instructions, and smartphone notifications.
HTC Vive Pre
What it is: The next big VR gaming headset
Price: TBA
Release date: April 2016
Industry analysts predict this is the year virtual reality will really take off, and HTC's second-gen VR headset has everything it needs to dominate the gaming market: a gorgeous virtual environment powered by surreal graphics that integrate with real-world settings, courtesy of a new forward-facing camera. The redesigned controllers add to its realism with responsive controls that can take on limitless forms.
Garmin Varia Vision
What it is: Google Glass for cyclists
Price: $400
Release date: March 2016
Yes, Google's smart glasses were far from a commercial success. But that didn't stop Garmin from developing its own waterproof augmented reality display headset, which attaches onto sunglasses to deliver pertinent information for cyclists, like cycling stats, smartphone alerts, turn-by-turn directions, and more.
LG rollable OLED display
What it is: A flexible screen that folds like a newspaper
Price: TBA
Release date: TBA
Bendable displays are nothing new, though LG's prototype points us to a future where we can roll up our display and pack it for everyday use. While specs still remain unknown, its capability to broadcast videos and serve as a digital newsreader sounds like a pipe dream come true.
Phase One XF and XF Pro
What it is: A modular 100MP digital camera system
Price: $48,990
Release date: Available now
Whoever said megapixels don't make a camera great has never strapped this beauty around their neck. Professional photogs (who have a near-50 grand burning a hole in their pockets) now have the luxury of shooting incredibly detailed images 10x more powerful than their iPhone 6s, thanks to its monstrous 100MP CMOS sensor engineered by Sony.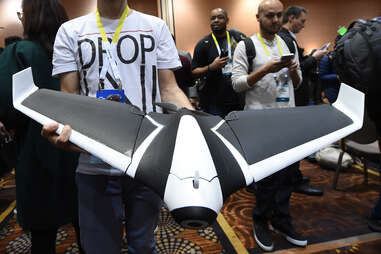 Parrot Disco drone
What it is: An autonomous, propellerless drone with wings
Price: TBA
Release date: TBA
Parrot's latest UAV ditches the conventional four-rotor design for the stealth bomber look, with two wings and single prop at the rear. Using the company's Skycontroller or Flight Plan app, users can either control the drone or set it to autopilot, all while viewing a live stream on their smartphone and capturing Full HD 1080P video at up to 50mph.
Withings Thermo
What it is: A futuristic thermometer that takes temperature readings via infrared
Price: $100
Release date: March 2016
The health sector is advancing at a rapid pace on the technological front. Withings, the innovative consumer electronics brand, has broken new ground with a smart thermometer that uses infrared sensors to read accurate body temperatures. So much for faking the flu to escape work.
Tipron
What it is: A transforming projection cyborg with wheels
Price: $1,000-$2,000
Release date: May 2016
How does this sound: a robot with a built-in projector that can convert any room into a movie theater. Answer: fucking amazing. The Tipron is programmed to display different kinds of content -- calendar updates, news stories, and YouTube clips just to name a few -- on any flat surface up to 80in in size. Not even the Jetsons got this much out of Rosie.
Sony PS-HX500 Turntable
What it is: A hi-res turntable that digitizes your record collection
Price: $580
Release date: April 2016
Surprisingly, vinyl players had a big presence at this year's show, more than headphones and speakers. Leading the nostalgic brigade was Sony with its newest hi-tech turntable, which plays records and coverts them into digital copies without compromising sound quality. There's also an accompanying desktop and mobile app that lets music lovers edit converted files on the go.
SCiO DietSensor
What it is: A cutting-edge food scanner that determines the carbs and calories of food
Price: $249
Release date: September 2016
Ever wondered what the nutritional value of your dinner was last night? This molecular food scanner can determine the chemical makeup of what you eat and drink through the use of near-infrared spectroscopy. After a full scan, the DietSensor app can then interpret the data and build a meal profile with nutritional facts and suggestions to improve your diet.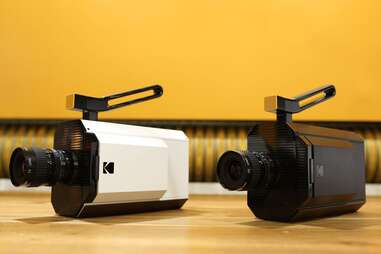 Kodak Super 8 camera
What it is: A modernized Super 8 video cam "merging analogue magic with digital convenience"
Price: $400 (est.)
Release date: TBA
Kodak's retro-inspired shooter marries analogue filmmaking functionality with digital technologies to create modern clips. The device offers two media options in the form of digital copies or 8mm film that's viewable on a projector. We can see totally Tarantino filming his next classic with this baby.
EHang 184
What it is: An autonomous personal helicopter
Price: TBA
Release date: TBA
This jacked-up drone is essentially a pilotless helicopter, designed to carry actual people from place to place, autonomously. The Chinese drone company behind it claims that passengers will simply step in, input a destination (up to 10 miles away), and sit back while the 1,100lb quadcopter whisks them up, automatically avoiding any obstacles it may encounter along the way. Understandably, experts are a bit skeptical about its consumer viability (and frankly, its safety), but we're praying they figure this out because this thing is cool as hell.
Sign up here for our daily Thrillist email, and get your fix of the best in food/drink/fun.
Alex Bracetti is a contributor to Thrillist, Complex, HOOP, Man of Many, and several others. Follow him on Twitter: @AlexBracetti.