Online Shopping Hacks That'll Save You Boatloads of Money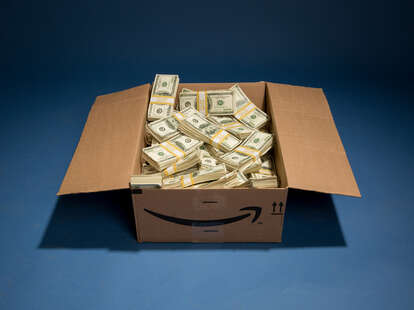 Unlike Mary-Kate Olsen, most of us have shopped online at least once. Hell, some of us haven't had a retail-related human interaction in years. But even if you've lined your home with Amazon Dashes and scoured the darker corners of eBay for weird deals, you still may not be taking advantage of all the tricks that save you serious money. So, without further ado, here are 10 online shopping hacks that'll help you get the most bang for your buck, with the least amount of effort.
Find out if there's a lower price on a different site
PriceBlink is a completely free Chrome browser extension you should download immediately. It automatically scans 11,000 different online merchants, and whenever you look at a particular item online, it will alert you if it discovers a cheaper price elsewhere. Even more, it'll serve up any applicable coupons it can find so you can drop in discount codes without leaving the page.
Find discount codes on Twitter and Instagram
Brands will offer up special discount codes exclusively for their fans on social media. But if you don't feel like following them and mucking up your feed, simply search Instagram or Twitter for some combination of the brand name and "discount" or "code." Of course, many times they'll be expired or maxed out, but it doesn't hurt to spend a minute or two to try.
Get deals on items that are sitting in your shopping cart
Most websites keep tabs on the stuff you put in your cart, even if you don't complete the transaction. That way, they can better serve up recommendations next time you visit, and occasionally, they'll entice you to come back and buy what you were looking at a few days ago by throwing in a discount.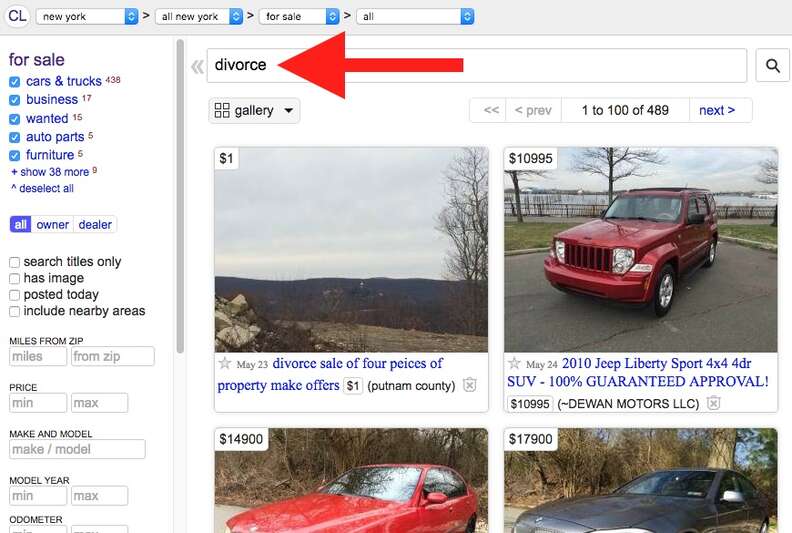 Know how to spot desperate sellers on Craigslist
Craigslist is a true crapshoot when it comes to spotting a good deal. And while best offers are entertained here more than they are pretty much anywhere else online, it's wise to know how to find the most motivated sellers. Here are a few key words to plug into your search to dredge up amazing deals: "moving," "must-go," and of course, "divorce."
Use FatFingers to cash in on other people's eBay spelling mistakes
Occasionally, clumsy eBay sellers will misspell the item they're trying to sell, which means no one can find them, and subsequently, they end up with no bids. That's where FatFingers comes in. This specialized search engine helps you uncover these hidden gems. Just type in the correct spelling of the brand or item you're looking for, and it'll retrieve a whole bunch of misspelled matches.
Use CamelCamelCamel to get the best deals on Amazon products
If you're dead-set on snagging a particular product on Amazon but don't feel like paying the current price, CCC lets you set up a price alert that will tip you off when the price drops. Even better, you can also scope out that item's price history, which should give you an idea if -- and how often -- its price will fluctuate.
Keep tabs on fashion must-haves with Shoptagr
This browser extension functions like CamelCamelCamel, but for fashion labels. Once it's downloaded, you can freely build wish lists of stuff you're eyeing from over 400 different high-end brands (Prada, Gucci, Marc Jacobs...), and Shoptagr will keep tabs on everything and shoot you an alert the moment it drops in price, is low in stock, or has come back in stock.
Chat up the customer service reps
You most likely ignore those little chat windows that pop up on select retailers' sites. That's a mistake. Many times, the people on the other end are privy to special discount codes or promos you might not otherwise find out about. You'll never know unless you ask!
Sign up for promotions using a gift card instead of a credit card
So you signed up for a free trial of Tidal to listen to "Lemonade," but then forgot to cancel it like a fool. Here's the trick: rather than use your actual credit or debit card to unlock that free trial or special promotion, keep an unexpired (but depleted or near-depleted) Visa, AmEx, or any other credit card-like gift card on hand and use it instead. That way, once they start charging, you won't be on the hook.
Never miss a coupon again
Yet another free browser extension, Honey aggregates all the coupon codes currently applicable to the site you're shopping on and automatically applies them, so you're not leaving any money on the table before you check out.
Sign up here for our daily Thrillist email, and get your fix of the best in food/drink/fun.
Joe McGauley is a senior writer for Thrillist. He's very sorry to hear about your divorce, but would you take $20 for that Vitamix?