Screenshots via Instagram / Thrillist
Screenshots via Instagram / Thrillist
There was a very clear period of time when the selfie -- much like the duck face, or taking photos with iPads -- was still a relatively new phenomenon prone to widespread public ridicule. Early pioneers of the selfie charged ahead into this brave new world even as the rest of us hung back and hurled self-righteous insults their way. Alas, we all leave the Garden eventually. We realized that selfies get more likes, Kim Kardashian published a book of selfies, and Apple gave us a specific photo album on our iPhones to house our selfies. We begrudgingly accepted them into our cultural vernacular.
But no matter how cool we are with selfies, #DrivingSelfies will never, ever be cool. #DrivingSelfies are dumb and dangerous, and Instagram should ban them.
According to the NTSA (that's the National Highway Transportation Safety Administration, y'all), at any given moment during any given day, 660,000 people are using their phones while they drive. Four in 10 of those people are on social media. Fourteen percent of those people are on Instagram, and posting selfies with imbecilic hashtags like #HopeIDon'tDie.
Is this OK? Nope! Nope, nope, nope.
A recent study by Auto Insurance Center, which monitored five years of Instagram posts, found a massive spike in the usage of driving-related hashtags, like these: #drivingselfie, #selfiewhiledriving, #hopeidontcrash, #ihopeidontcrash, #drivingtowork, #drivinghome, and #drivingtoschool. The study showed an 80% increase in driving posts from 2014 to 2015, and this year, drivers have already posted more than half of 2015's total.
I shouldn't have to state the obvious, but I will, for clarity's sake: using your phone behind the wheel is wildly dangerous (it's banned in 14 states). It's a huge factor in distracted driving, which kills over eight people and injures over 1,000, per day, in the US. Taking a selfie, filtering it, captioning it, and posting it on Instagram while simultaneously operating a 4,000lb piece of machinery is a practice that we -- the royal we, meaning society, but also Instagram as a company -- shouldn't be condoning.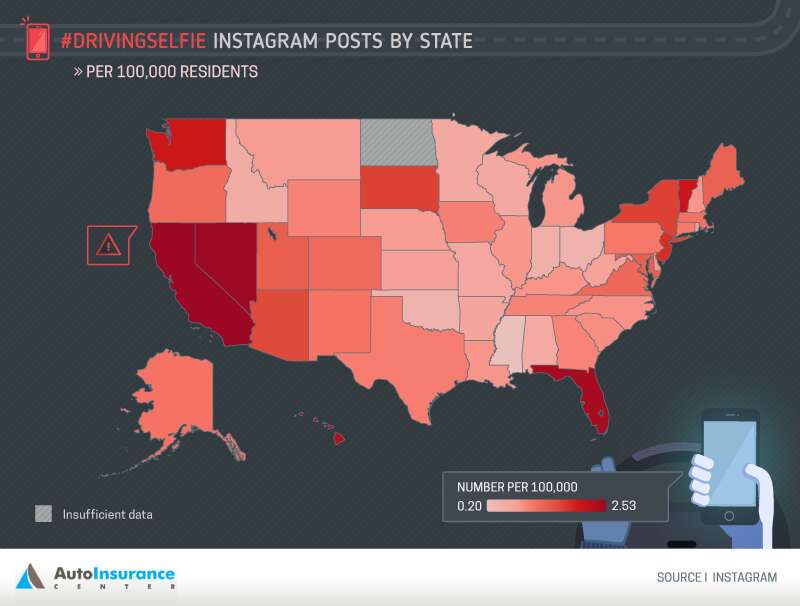 The biggest offenders by far are California, Nevada, Florida, and Hawaii -- easy-living states with plenty of sunshine, scenery, and slot machines. Especially if you're a big dumb tourist or a spring breaker (driving selfies tend to spike in March), I guess it's tempting to get a pic of you #livingyourbestlife out on the road. Vermont, Washington, New Jersey, New York, South Dakota, and Arizona round out the top 10.
Will Instagram do anything about it?
Instagram monitors hashtags and removes inappropriate content that violates its "Community Guidelines" -- which means no nudity or female nipples (unless it's art!) or posts that promote hate, violence, or self-harm. Yes, the effectiveness of this approach is highly debated and has been likened to a Whac-A-Mole game -- ban one negative hashtag, and five others pop up. But shouldn't a photo that risks the lives of others be lumped under the harmful, inappropriate, straight-up idiotic category?
A female nipple puts exactly zero people in danger, but the same cannot be said of a driving selfie. According to AAA, snapping a selfie takes your eyes off the road for two seconds -- the time it takes your car to travel the length of two basketball courts at 60mph. But when's the last time you took just one selfie? Odds are you're taking one, changing poses, taking like 12 more, then closely examining them to pick the best one -- all while attempting to turn left. Not to mention those of you posting 60-second Instagram videos, or Snapchatting. Jesus, it's giving me anxiety just writing about it.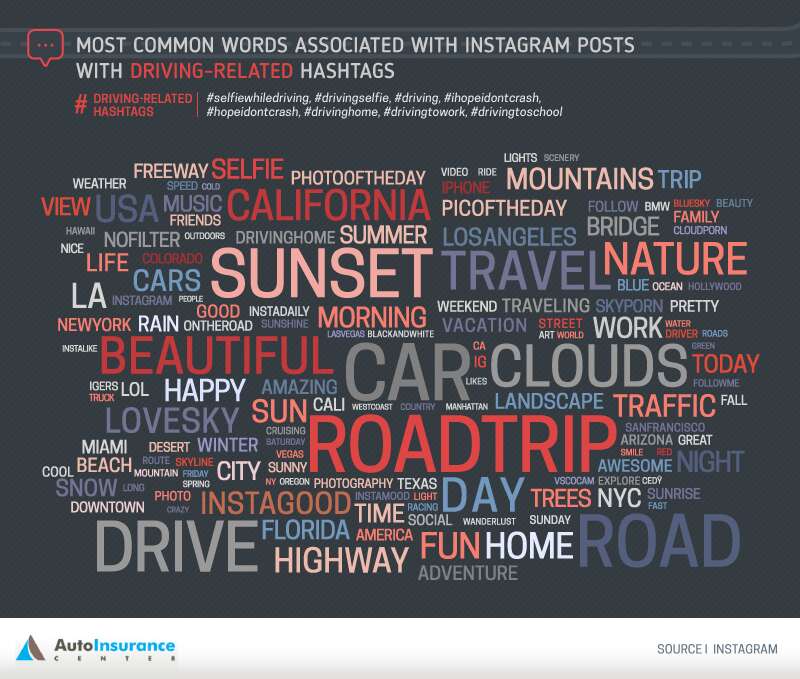 It's an interesting exercise to open Instagram, search for driving hashtags, and get a good look at these soon-to-be Darwin Award winners. Honestly, I can understand the impulse -- your Spotify driving playlist cued up, wind in your hair, that indulgent feeling of total control as you levitate through traffic. A good drive can make you feel mighty fine -- as evidenced by the most common words in driving selfie captions: road trip! Beautiful! Summer! Clouds! Sunset! Nature!
Unfortunately none of those natural attractions you describe are ever even physically visible in your selfie. In fact, as a third-party viewer sitting in my office under very stationary circumstances, I'm finding it difficult to feel your #vibes. Really, this is just a picture of you and your cloth-covered headrest not paying attention to what you're doing, endangering yourself and others.
Brilliant idea: don't post driving selfies. Another brilliant idea: don't like posts of driving selfies. It's not just another picture in your feed of your ex-co-worker's mediocre Eggs Benedict that you casually HEART. Agreed? Cool.
Sign up here for our daily Thrillist email, and get your fix of the best in food/drink/fun.