It's not just in your head, everyone and their mom is on Tinder, and they're swiping left and right more than 1.4 billion times every day. But how are you supposed to score dates with strangers when you're unbelievably rich, beautiful, or a C-list celebrity? Surely, you'd never slum it with the simpletons on Hinge, Bumble, or OkCupid. I mean, can you even imagine???
Luckily, there's a whole subset of exclusive dating apps catered to elite clientele that restrict access only to users who meet certain standards. Here's a peek at how the desperately single other half dates.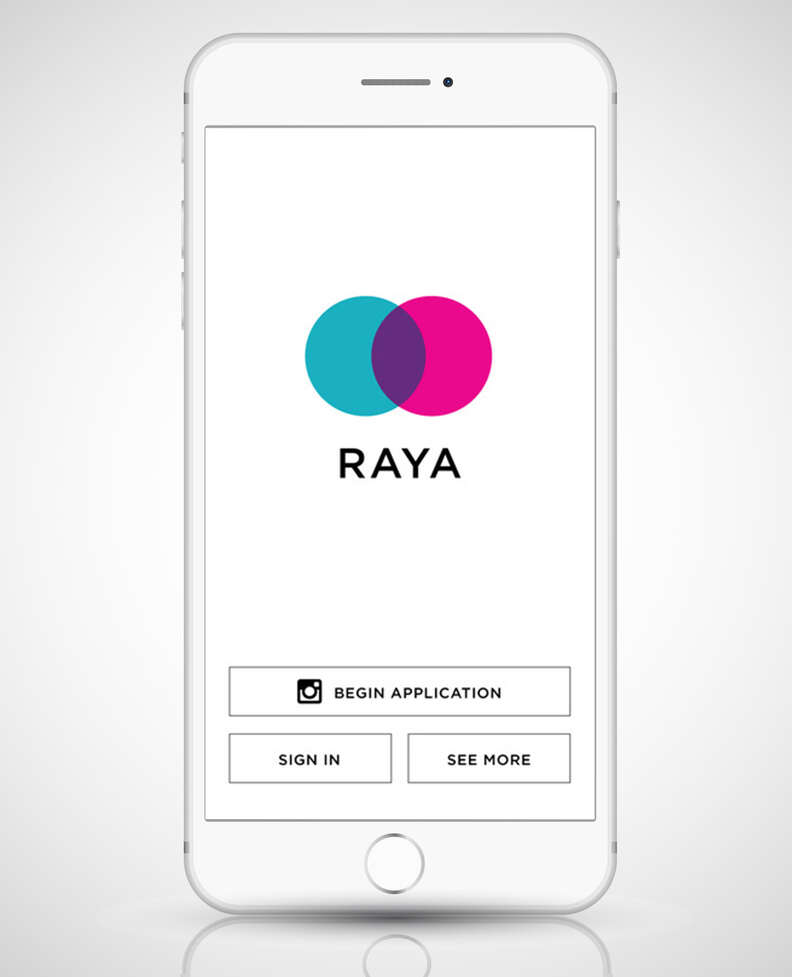 Who's it for: "Celebrities" and "influencers"
You certainly don't earn a reputation as the "Illuminati Tinder" by letting in any old schmo. Gaining access to Raya involves an extensive application process, where a committee weighs a combination of factors, including your "overall Instagram influence" and who recommended you, before voting you in or out.
If you're worthy enough to be accepted, you'll be swiping through stock that includes everyone from Kelly Osbourne and Patrick Schwarzenegger, to Elijah Wood and Trevor Noah. You better not go around bragging to everyone that you matched with some semi-famous Sports Illustrated swimsuit model, though; any attempt to screenshot a prospective match's profile and you'll get an alert threatening to throw you off the service if the photo ends up online.
Who's it for: Ivy League snobs
Sparkology sells itself as a luxury matchmaking service for "well-intentioned men and women," where the dudes are all verified grads of top-tier schools, and you can only join if you're invited by the site's team or referred by a current member. Some other interesting details: guys have to pony up a virtual currency to initiate conversation with a lady, and the app provides a concierge service that will help you boost your profile and even plan out a whole date when you're ready to take things offline.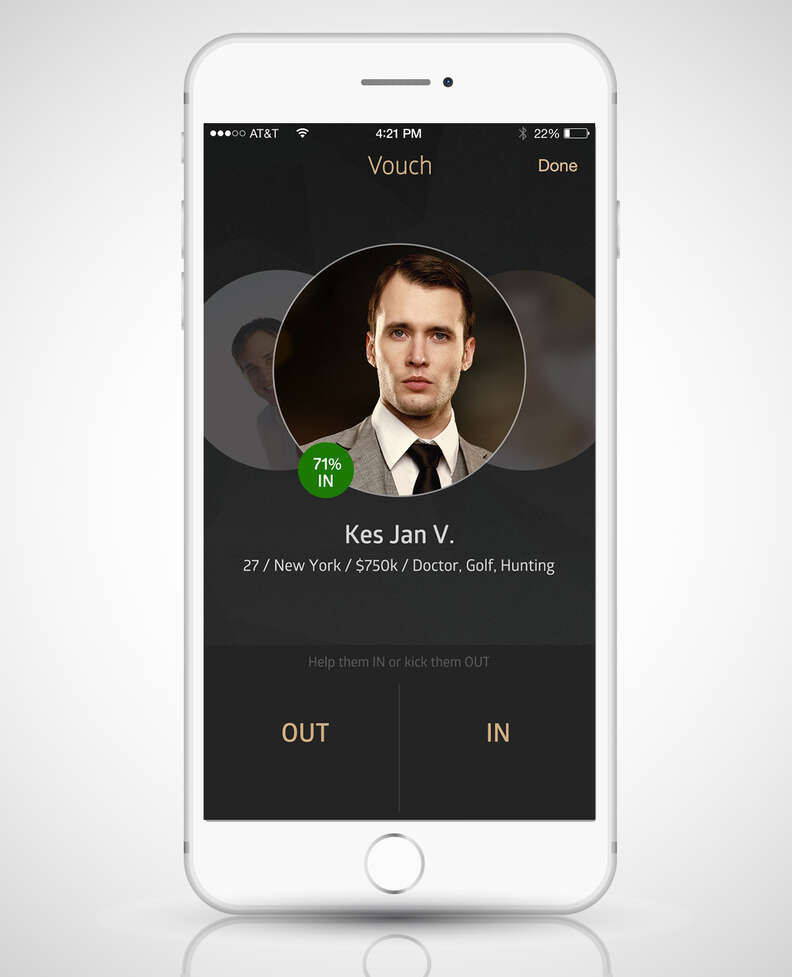 Who's it for: Rich Patrick Batemans and their admirers
The self-described "Tinder, minus the poor people," Luxy caters to douchey wealthy singles seeking other douchey wealthy singles, weeding out the poors and posers by verifying user income via tax returns. How romantic!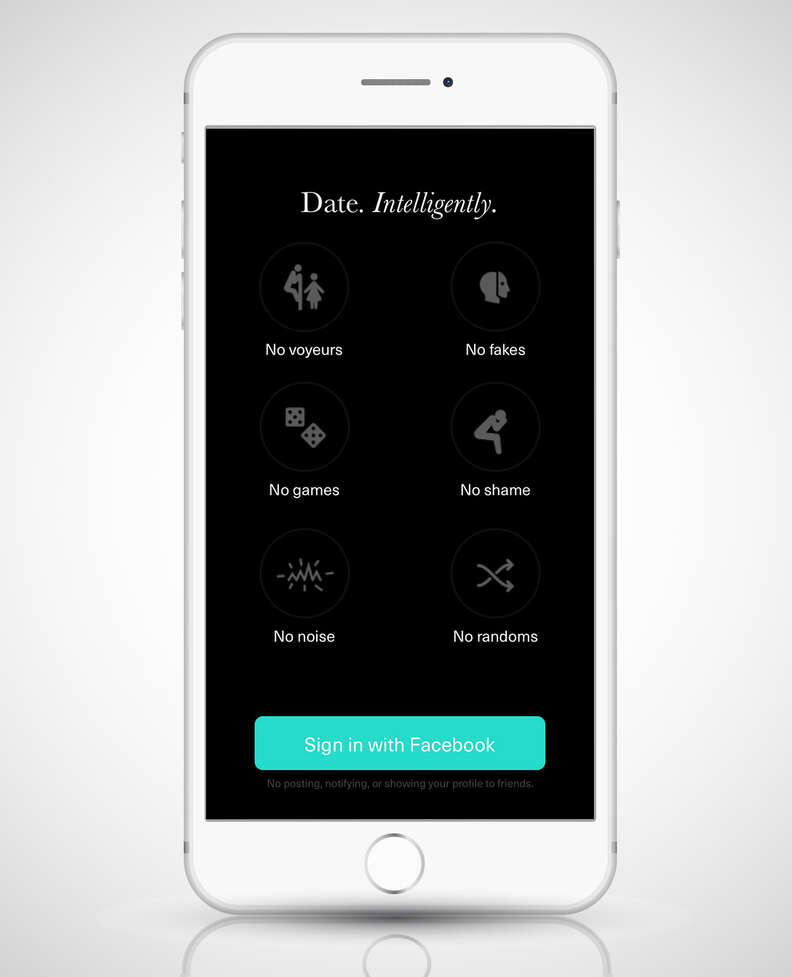 Who's it for: Sorority girls too proud to admit they're on the prowl
"You don't need a dating app to get a date -- you're too popular as it is." Interesting tagline for a dating app, huh? The League claims to screen users via some mysterious algorithm that "keeps [the] community well-balanced and high-quality," while somehow hiding you from friends, "business connections," and coworkers. It also promises no bait-and-switches ("You'll never have to wonder if that Harvard hottie is too good to be true"), but who cares, you're too popular as it is, anyway!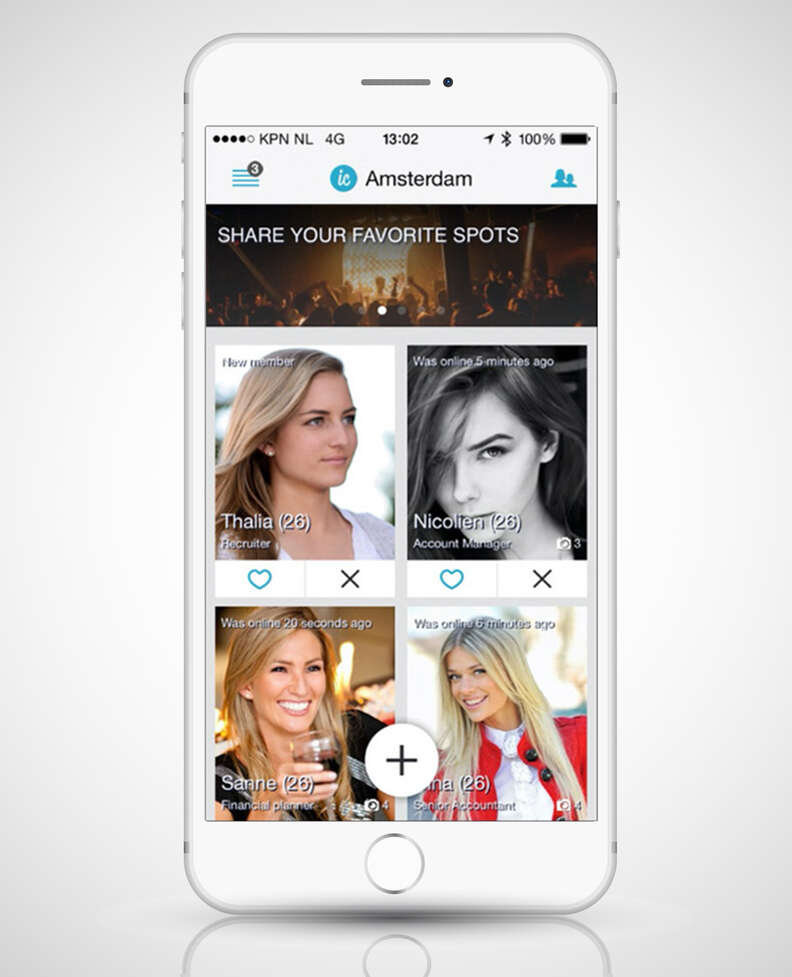 Who's it for: Ambitious European playboys and party girls
This London-based network stands by a strict invite-only policy, screening people to make sure they'll jive with the "exclusive community of inspiring singles" it's curated on the app. Unlike the other services, though, Inner Circle makes it easier to mingle with fellow members by throwing exclusive invite-only events for users around Europe.
Who's it for: Young, vapid gay guys who are over Grindr
It's not hard to figure out why this "renowned private gay network of like-minded guys" has earned a reputation as the Mean Girls version of Grindr, considering to even peek at any of the dudes who're DTF in your proximity, you first must submit what you have to offer (read: shirtless selfies) for consideration -- and be voted in by at least three current members. So what are your chances of making it through? Unless you're an Adonis, not good: eight out of 10 guys are rejected.
Sign up here for our daily Thrillist email, and get your fix of the best in food/drink/fun.
Joe McGauley is a senior writer for Thrillist, and totally comfortable with the fact that he'd never make it on to any of these apps.