Facebook Will Now Filter Out Your Bad Memories So You Don't Have To
Do you remember that time I took Jenny Roccaforte to prom, only for her to ditch me and bang Joey Rotunda [Ed. note: names have been changed] in the limo that I rented with my own money? Yeah, me neither.
Well, previously, the only way to erase the past was a full frontal lobotomy, but now -- thanks to a new feature -- you can block unwanted photos, statuses, and relationships from popping up on Facebook's nostalgia-fueled "On This Day" option, without the discomfort of serious brain surgery.
Thus, none of your bleaker moments will be summoned and plopped on your lap, ruining your day, and reminding you of how much the past can suck. It's like the social media equivalent of Eternal Sunshine of the Spotless Mind.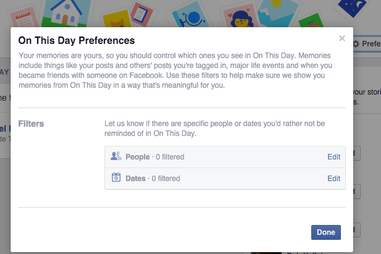 Screenshot via Facebook
In all seriousness, Facebook rolled out the new measure so people could get neck-deep in nostalgia, without the risk of running into overly painful memories (deaths of loved ones, divorces, etc.) -- this has been an issue for users since the nostalgia option was rolled out in March of this year. 
Just search "On This Day," pull the page up and go to your preferences. From there, you can filter out specific days, or certain people all together.
Though, in my opinion, unless you have a traumatic experience lurking in your digital past, it's best to filter out only the best parts of your life. That way, your life -- however pathetic -- can only go up from here.
I don't know, just a thought. Feel free to erase me from your memory.

Wil Fulton is a Staff Writer for Thrillist. Please don't filter me out of your past. Follow him @wilfulton
Sign up here for our daily Thrillist email, and get your fix of the best in food/drink/fun.