This New iPhone Keyboard Makes Texting So Much Better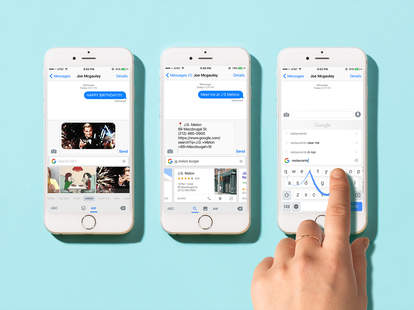 Screenshots via Gboard / Thrillist
Considering it's one of Apple's biggest rivals, you wouldn't think Google would go out of its way to make life easier for iPhone users, but here we are. The Gboard is a shiny new keyboard developed just for iOS users that allows you to do a ton of useful stuff within a text message. After just a few days using it, I feel confident proclaiming it will completely change the way you text, for the better.
Install it just like an emoji keyboard
To get the Gboard you'll need to download it from the App Store. When you open the app for the first time, it'll walk you through a series of steps and automatically add Gboard to your list of keyboards. Once you've followed the instructions, open a text, tap the mini-globe icon in the bottom-left corner (as you would to toggle to your emoji keyboard) until you see a QWERTY keyboard with the Google "G" icon in the upper-left corner. Tap that G and get started.
Send links and locations to your friends without having to switch apps
Tapping the G icon opens a Google search bar, embedded right there in the keyboard. You can easily look up specific locations, or do a general search for "restaurants near me," or coffee shops, or museums, or basically anything you'd use Maps for. Gboard pulls in search results from Maps and the web for you to scroll through. Tap one and text the info to a friend, who can instantly pull up the location in their Maps app.
And no more of that tedious copy & pasting links to articles or YouTube videos either. While you're texting, you can now simply look them up in the search bar, scroll through results, and click "send." Any time you want to search simply tap the Google G. Genius.
Find the right emoji instantly
The right emoji can really tie a text message together -- and there are plenty of underrated emojis you should be using, if you aren't already. But scrolling through the emoji board to track one down can take way too long. Gboard's got your back. Tap the smiley face icon in the bottom-left corner to access emojis, and you'll see a search bar -- type in a keyword to find your emoji of choice, like "eggplant" or "frown" or "poodle."  You'll also notice that when you're texting, typing an emoji keyword will pull that emoji up in the list of suggested words below your text box.
Type ultra fast by swiping your fingers across the keyboard
Android users (and iPhoners who've paid for Swype) have long enjoyed the ability to compose words by simply dragging their fingers around the keyboard, but Gboard brings it to the masses. Of course, it still responds to the traditional pecking of your fat fingertips, but once you get familiar with the motion of gliding your way through sentences, you'll never look back.
Search for the perfect GIF directly from your keyboard
There's nothing better than sending the perfect GIF at the exact right moment -- the faster the draw, the better. But leaving your text app to search for the one you want, then having to copy and paste it, is a royal pain in the ass and usually ruins your comedic timing. Now you can send GIFs directly from your keyboard. Tap the smiley face to go back to the emoji section, then toggle to the "GIF" tab at the bottom of the screen. You'll find a stash of glorious GIFs divided up into broad categories that may suit your current situation ("high five," "sorry," "mic drop," etc.), or search for something super specific and send away.
Sign up here for our daily Thrillist email, and get your fix of the best in food/drink/fun.
Joe McGauley is a senior writer for Thrillist and is feeling [INSERT GIF HERE] about Gboard right now.