How to Uncover Google's Secret Tricks and Easter Eggs
It takes a special kind of brilliance and nerdom to make it as a Google engineer, but once you've been handed the keys to the most influential and important search engine on the planet, it has to be pretty tempting to toss in a few weird surprises here and there. Google famously encourages its employees to spend some of their on-the-clock time working on special side projects -- and it's paid dividends to those of us who get a kick out of secret little tricks hiding in plain sight. Wonder what sort of weird details Googlers have baked into the site over the years? Here are some of our favorite Easter eggs.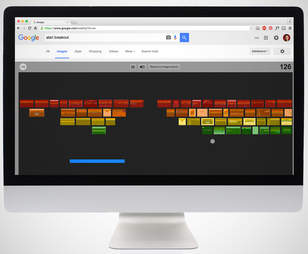 Screenshot via Google/Marco Scisetti/Shutterstock
Play Atari Breakout
Travel back to the halcyon days of consoles and try your hand at one of the very first uber-popular video games by doing an Images search for "Atari Breakout." 
 
Discover the answer to life
If you've read Hitchiker's Guide to the Galaxy, then you already know the answer to life, the universe, and everything is the number 42. As it turns out, Google knows that, too. Just search "what's the answer to life, the universe, and everything."
 
Celebrate Festivus
Seinfeld fans: if you don't have the equipment necessary to construct your own unadorned aluminum pole, no worries. You can celebrate around a virtual one by searching "Festivus."
Screenshot via Google/MarcoScisetti/Shutterstock
Do a barrel roll
Watch your entire screen roll upside down. Search "do a barrel roll." 
 
See things sideways
If you'd prefer a slight tilt to a full roll, type "askew" and watch the screen go off-balance before your eyes.
 
Play with one of the most iconic elements of Super Mario Bros. 
Search for "Super Mario Bros.", everyone's favorite turtle-smashing brother-plumbers, and on the far right side of the results page, you'll notice a mini animated question mark coin box. Watch and listen to what happens when you click it.
Screenshot via Google/Marco Scisetti/Shutterstock
See what Google looked like back in the day
Can you even remember how different Google's homepage looked 18 years ago? Take a trip back in time and search "Google in 1998" in the query bar.
 
Watch a code get cracked
As an homage to Alan Turing and a bunch of other super-smart codebreakers in England who helped intercept enemy intel during WWII, search "Bletchley Park" activates a message-decoding animation on the results page.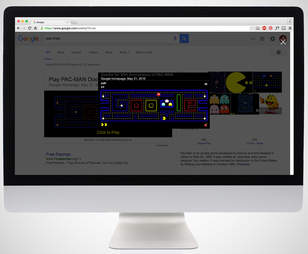 Screenshot via Google/Marco Scisetti/Shutterstock
Play Pac-Man
Turn your screen into a mini arcade when you search "Pac-Man." It pulls up the special interactive Google Doodle it created for the 30th anniversary of the game back in 2010, which you can control using your arrow keys. For that matter, you can see the full collection of past Google Doodles right here.
 
Find the loneliest number
If you totally space on the lyrics to that Three Dog Night song, ask Google "What is the loneliest number?", and it will promptly let you know.
 
Encounter a 'Zerg Rush'
While you may not understand what the hell a Zerg Rush is (it's a reference to a particular large scale attack against an opponent in the video game StarCraft, duh), you don't need to be fluent in gamer lingo to appreciate what happens when you search "Zerg Rush." Get ready to dodge the falling O's by clicking them, or prepare to deal with a page full of devastated search results.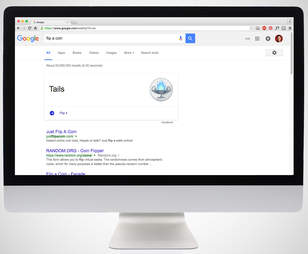 Screenshot via Google/Marco Scisetti/Shutterstock
Flip a coin
Since no one carries coins any more -- I mean, they're filthy and gross and pretty much worthless -- next time you need to "flip" one, do it virtually. Search "flip a coin" and it'll randomize the outcome every time.
 
Find any Bacon number
Because there should be a definitive reference tool when discussing how many degrees of separation a given actor is from Kevin Bacon, type any celebrity's name + "bacon number" and it'll not only give you the number, but also map out the filmography used to determine it.
Sign up here for our daily Thrillist email, and get your fix of the best in food/drink/fun.
Joe McGauley is a senior writer for Thrillist. His Bacon number is definitely higher than 6.