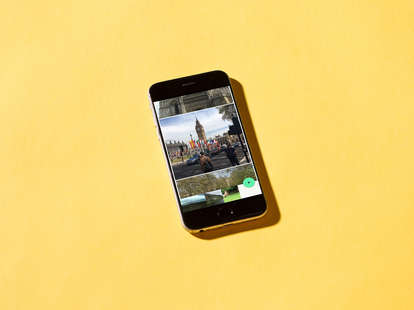 Capturing Live Photos was heralded as one of the hallmark features of the iPhone 6s back when it was announced a year ago, but a whole lot of people are still unsure why they're a thing, and what -- if any -- greater purpose they serve. Hell, you can't even share them with people who don't have an iPhone or iPad.
Now, it seems Google's figured out the way to make them cool for everybody, creating a new free app that quickly transforms your Live Photos into smooth, shareable GIFs and movie clips. Meet Motion Stills.
If you're unclear what Live Photos even are, they're like regular photos, except when you hit the shutter button the camera captures a still photo, plus about 1.5 seconds of video before and after it. To view it, you press down on the photo and the whole scene comes to life. They're pretty damn neat, except that Live Photos you take in motion usually come out pretty jerky. Motion Stills solves that issue – even better, it turns them into a looping GIF.
The first time you open the app, it'll pull together a library of all the Live Photos you have on your phone (so even if you don't have a 6s, but have been sent Live Photos from people who do, they'll show up). As you scroll through, you'll notice the app has automatically turned them into GIFs, and smoothed 'em out by running them individually through special video stabilization software. Suddenly, that Live Photo you took while jogging looks like it was shot on a Steadicam. If you want to see just how much smoother they are, tap on any and hit the semicircle icon in the bottom-left corner to remove the corrective stabilization effect.
If you want to show one off, tap the share button and share the GIF via text/email/Twitter/carrier pigeon -- finally making it easy to show off the full effect of your Live Photos with iOS-less pals.
The app also enables you to string together a whole bunch of different Live Photos into a looped "movie." To make one, pick a Live Photo you want to include and swipe it to the right. This will add it to a little film-strip that appears at the bottom of the screen. You can add subsequent Live Photos to the mix by swiping right on them as well, and they'll drop into that bottom section. To edit the order, press down on them individually and move them into the proper place, then hit the green play button to watch a preview of your short film. Hit the share button, and you can text/email/tweet them, or even upload them directly to YouTube.
So what's the deal with sharing Clips instead of GIFs? This makes it easy to swap Clips you might want to build into larger movies amongst friends who also have Motion Stills. Want to create a "movie" version of that bachelor party in Mexico or your buddy's wedding? Get people to send you the Live Photos they shot there as Clips and you've got a ton of raw material to turn into a montage way better than any stodgy slideshow.
Sign up here for our daily Thrillist email, and get your fix of the best in food/drink/fun.
Joe McGauley is a senior writer for Thrillist and somehow managed to successfully explain Live Photos to his parents.