If Spotify Playlist Descriptions Were Actually Honest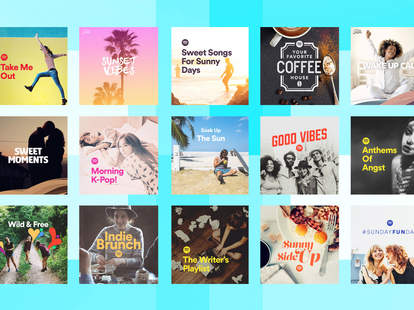 Screenshots via Spotify / Oren Aks / Thrillist
Let's admit it. We all love Spotify playlists, but their actual contents don't always add up with what the hi-res filtered art and vague descriptions would have you believe. Who can say for sure what really awaits me on the other side of "Running Thru a Field of Smiles" and "Lush Life"? Let's call a spade a spade, Spotify.
Songs to Sing in the Shower:
Songs to Drive My Roommate Out of the Apartment
Your Favorite Coffee House Mix:
My Favorite Public Place to Pretend is My Living Room Mix
Morning Commute:
A Playlist for the Full Hour I'll Be Sitting Next to That Guy Whose Cologne Smells Like Balsamic Vinaigrette
The Ultimate Indie Playlist:
Soundtrack to My Whimsical, Quirky Life as an Unpaid Intern
Soak Up the Sun
Summertime Classics I Would Really Enjoy If I Weren't So Worried About That Weird Mole on My Thigh
Young, Wild and Free:
My Parents Pay for my Spotify Premium Account, My Rent, and Literally Everything Else
At Work:
My Earthly Vessel May Be Trapped in a Windowless, Fluorescent Hellscape but My Soul is Still Pantsless at My Apartment Listening to These Songs
Power Workout:
Pump Up Jams for Carrying Groceries Up to My Sixth Floor Walk-Up
Breakup Songs:
I Have Terrible News for You and I'll Tell You What Right After This 30 Second Ad for Sam Adams Summer Ale Ends and The Cure Starts Playing
For Those About to Rock:
For Those About to Try to Relate to Their Teenagers... Good Luck
Songs for Coping with Loss:
Songs for Coping with the Loss of My Debit Card, My Mailbox Key, and My Bike, Which I Tipsily Locked up Somewhere Two Weeks Ago
All the Feels:
I Just Double Texted and Now I Totally Get What Joan Didion Went Through
The Writer's Playlist:
I Spent All Day Writing a Bad Review for My Uber Driver Who Wouldn't Let Me DJ My Trip with These Songs
On Fleek:
My Grandson Sent This Playlist to Me and I Hope "On Fleek" Doesn't Mean Something Racist or Weird
Soul Coffee:
May These Tunes Soothe My Soul While I Am Stuck in the Bathroom Because the Hot Barista Told Me to Try the Coldbrew
Living in My Headphones:
Going to Turn This Up Real Loud So I Can't Hear Men Shouting at Me to Smile as I Walk Down the Street Because I Am a Woman and This is the Way the World Is
Atmospheric Acoustic:
Not Sure If You Heard Me Reply "No Fucking Way" When You Asked If I Wanted to Hear Your Acoustic Cover of 'Hotline Bling'
Walk In Like You Own the Place:
This is What Was Playing at That Very Cool Bar When I Dropped My Phone Into the Toilet
Top Party Jams:
Songs I Put on to Look "With It" When I'd Rather Be Listening to Yanni on a Windy Moor
Sleep Sounds: Waterscapes
White Noise to Drown Out the Sounds of Police Sirens, Honking Trucks, and Overnight Construction Work Because I Live Right Next to the Brooklyn-Queens Expressway Because This Is the Only Studio Apartment I Can Afford
Catherine Cohen is a writer/actor/voice-over artist living in Brooklyn. She performs on a house sketch team at The Upright Citizens Brigade Theatre and hosts the monthly variety show "It's a Guy Thing" in Williamsburg. She is part of the New American Comedy collective and performs stand-up all around NYC. She graduated from Princeton University with a degree in English and theater. Follow her for Instagram poetry and tweets: @catccohen.

Steven Markow is Brooklyn-based writer, comedian, and creator of the New American Comedy Collective. He tweets @Steven_Markow and is decidedly not Instagram-famous @Steven_Markow.