Craigslist has long been the go-to portal for those of us trying to furnish our apartments on the cheap, or sell off some junk we'd rather not schlep down the stairs ourselves, or find a good deal on a used car. It can be a hugely helpful resource, but it's also lousy with scammers and schemers, who rely on the anonymity of the platform to rip people off.
In the new age of Uber, Airbnb, and other sharing-economy behemoths, we have higher expectations when it comes transacting with strangers -- by providing convenient ways to easily exchange goods and services transparently, where both parties' reputations are on the line. That's where Facebook Marketplace comes in -- with more transparency and better usability, it is threatening to knock Craigslist off its perch.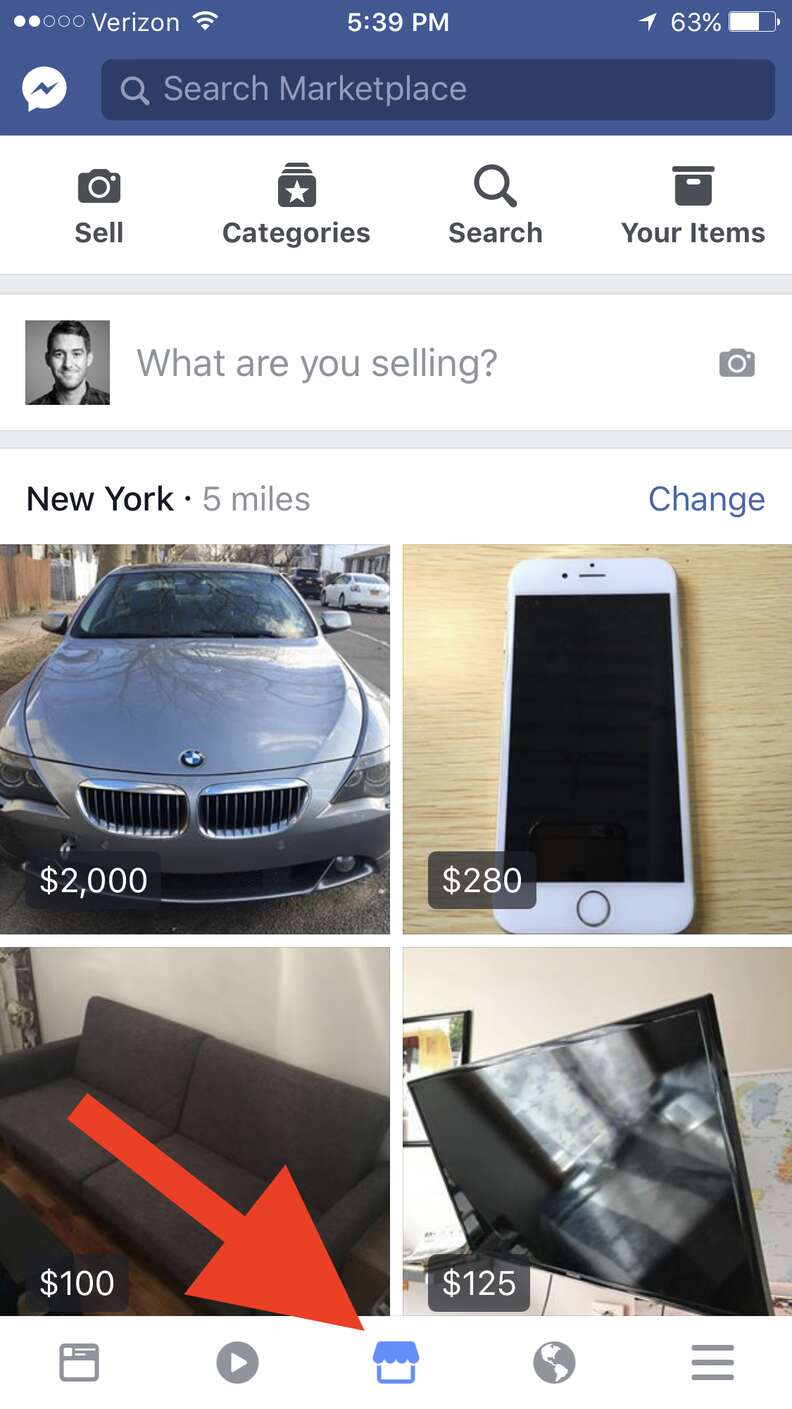 How does Facebook Marketplace work?
Launched just a few months ago, Marketplace is only accessible via the little storefront icon on the bottom rail of the Facebook app (you can't get to it on desktop... yet).
Pull up the page and you'll see a selection of goods -- which you can search for directly or browse and filter via categories like Home, Vehicles, or Electronics -- based on items for sale within a one- to 100-mile radius of your (or any) location. Clicking an item brings you to its page, complete with more info, photos, pickup location, how long it's been on FB Marketplace, how many people have viewed its listing, and how responsive the seller is. Most importantly, though: It also links out to the seller's Facebook profile.
Of course, a seller's public Facebook profile doesn't necessarily provide the level of intel you'd need to decide whether you can fully trust a person, but it does at least put a face with a name before you even consider exchanging a message -- which is more than you can say for Craigslist. You can also see what, if any, other items the person is selling.
If you have more questions about an item, you can shoot the seller a message. But if you just want to buy it you simply click Make An Offer (you can submit any number you want). If the seller accepts, you'll coordinate pickup/delivery within the app. Once you meet up, you can easily facilitate payment via Facebook's own Venmo-esque encrypted money-sending service.
Particularly if you're buying a car, Facebook has its advantages over Craigslist
Would you hand over $10,000 to an anonymous stranger who you have known for all of 15 minutes? What about $1,000? $100? Of course you'll say no, but that's basically what you're doing when you buy a car from a Craigslist ad. Greater insight into who you're actually buying from is much more important when you're spending thousands on a car, but it's not the only reason Facebook is appealing as an auto market.
Outside of Marketplace, you can find highly specialized Facebook groups that have a keen interest in what you're buying or selling. Want a Toyota Land Cruiser? There are tons of groups out there with sellers who can show through their public timeline just how dedicated a car owner they have really been.
More importantly, Facebook ads can also include disclosures that Craigslist oftentimes flags; we're talking major things like links to CARFAX reports or enthusiast forums that can give you a deeper dive into what to expect to go wrong for a particular model as it ages.
You can find sellers who are building a reputation almost like a brick-and-mortar dealership
There are certain sellers on Facebook (full disclosure: I've become one of them) who have built a reputation for selling used cars that are worth keeping for the long haul. When you put your real name, face, and reputation out in the open when selling a used car, you are putting a lot of skin in the game. Removing the shroud of anonymity is a great thing when it comes to buying and selling cars. By putting actual buyers and sellers face-to-face, Facebook makes it easier to eliminate uncertainty and provide full disclosure when it comes to selling almost anything.
By comparison, Craigslist is the Wild Wild West. The very, very few well-put-together ads out there are often flagged by competitors who don't want a rival to succeed. The anonymous nature of Craigslist lets a lot of sellers engage in such nasty behavior, and sometimes even in downright criminal activity.
Don't be surprised if Facebook becomes an equal to Craigslist within the next two to three years. It's already far, far better.
Sign up here for our daily Thrillist email, and get your fix of the best in food/drink/fun.
Steven Lang is an auto auctioneer, car dealer, and former part-owner of an auto auction near Atlanta, Georgia. Feel free to reach him directly at his Facebook page.
Joe McGauley is a senior writer for Thrillist. He found his current kitchen table on CL, and you know what? It's pretty great.