How to Protect Yourself From Facebook Stalkers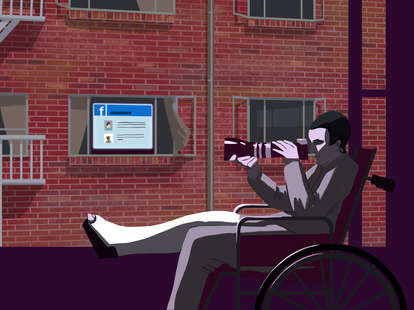 It's a well-worn cliché at this point that you should be careful what you broadcast on Facebook, since the ways people can Facebook stalk you are seriously creepy and you never know when something might come back to bite you in the ass. But as long as you're smart about your privacy settings, you should feel free to rant and rave and post those kegstand pics with reckless abandon. Or don't, because you're a goddamn adult. Anyway, here's how to safeguard yourself like a pro.
First, run a privacy check
Privacy settings are confusing as hell. Facebook knows this, so it went ahead and built a widget that walks you through your current settings and shows you how to tweak things along the way. On a computer, log into Facebook and click on the padlock icon in the upper right-hand corner of your homepage, select "Privacy Checkup," and follow the steps. This should cover some of the big bases, but there's a whole lot more to pay attention to, so keep reading.

See how your profile looks to other people
Curious what exactly strangers see when they stumble across your profile? Go to your profile page on a computer and select "View As" from the button with three dots at the top right. This gives you the option to see what part of your profile is visible to the public, as well as to specific individuals.

Control who's seeing your stuff on a case-by-case basis
If you'd prefer to restrict your audience for a particular status update, photo, or video post, it's easy. Click the menu at the top of the post and you'll notice the option to select between Public, Friends, Only Me, or a custom group. And while we're at it, it's worth mentioning that if there's a particular status/photo/video/etc. you want to deploy without it posting to your timeline, select "Hide From Timeline" from its drop-down menu.

Post to a specific group of friends
If you find yourself frequently broadcasting to a particular crew (co-workers, teammates, etc.), you can create custom Friend Lists, which essentially become mini LISTSERVs. To make one, click on the Friends section on the left side of your screen (while logged in on the desktop version of the site), and click "Create List," at the top.
Control who sees the photos you post or are tagged in
When you tag anyone in a photo, you're expanding its viewable audience to include everyone they're friends with. So if your buddy has some friends in high places, consider choosing the "Custom" option from the drop-down and uncheck "Friends of Friends" before posting anything PG-13.
To control which of your own friends get to see what other people tag you in, go to your Settings > Timeline and Tagging and under "How can I manage tags people add and tagging suggestion," you're free to tweak or restrict who's allowed to see posts you're tagged in. Just remember that they could end up seeing them anyway, if they're also friends with the person who posted it, or if someone else is tagged in it.

Untag yourself in photos, or have them taken down altogether
Maybe it's an unflattering angle, or maybe you just don't want your mom to see it -- whatever the reason, untagging yourself is simple. Just select "Remove Tag" from the post's drop-down menu and no one else will be allowed to re-tag you in it. If you'd prefer the nuclear option and want it removed entirely, select "I don't like this post/photo." You'll then be prompted to explain why you don't like it, and it sends a message asking the person who tagged you to resolve the issue.

Review tags before they show up on your timeline
If you don't want to be blindsided by some scandalous photo or post showing up on your timeline, in the Timeline and Tagging section you can opt to get the chance to review them before they go up.
Make it harder for people to hack into your account
Under the Security settings, you can opt to get an alert if your account is accessed on a new device or browser. Add an extra level of protection with Login Approvals, which require that you enter a special code -- which is texted only to your phone number -- when attempting to log in somewhere new.

Block bullies and creeps
If you're fed up with harassment or annoying messages from a particular person, you can go beyond un-friending and block them from even attempting to communicate with you. Go to their profile page, click the menu on the far right, and choose "Block."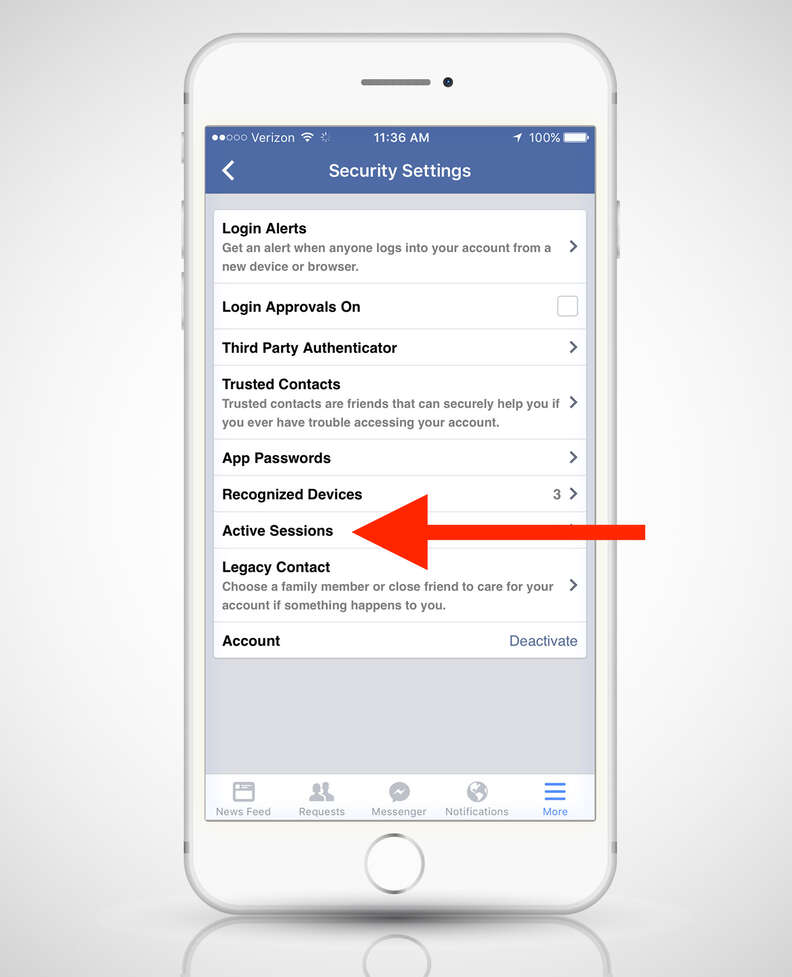 Forgot to log off Facebook on someone else's computer? Log off remotely.
Since you can log in from multiple computers and phones at the same time, Facebook keeps tabs on all of your current active sessions and allows you to shut them down remotely. To see where you're logged in, go into your Privacy Settings tab and tap "Active Sessions." This will give you a rundown of the dates, locations, and devices used to access your account in the last year.
It's also a good way to see if someone's been surreptitiously logging into your account -- just keep in mind that some of the geographical locations may seem unfamiliar since mobile sessions can connect through local cell towers. That said, if you haven't been anywhere near a particular place where it says you're logged in, terminate that session immediately.

Restrict what advertisers and apps can do
To control what info about you is available to certain apps you've connected to through Facebook, find the Apps tab under Security settings and tweak the intel you're willing to provide. Under the same Security tab you can control how Facebook targets ads for you, and how advertisers are allowed to use your information in their posts.
Sign up here for our daily Thrillist email, and get your fix of the best in food/drink/fun.
Joe McGauley is a senior writer for Thrillist. He has made many unsuccessful attempts at quitting the big bad FB.