How to Take Control of the Ads You See on Facebook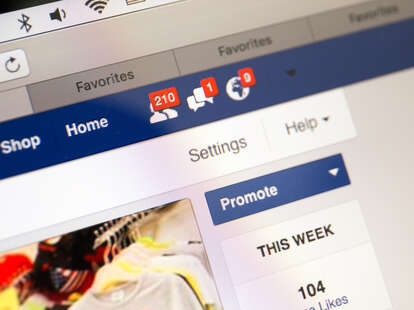 tuthelens / Shutterstock
tuthelens / Shutterstock
If you weren't already aware, Facebook is watching you. All the time. They're tracking both your activity within Facebook and elsewhere around the web, then using that intel to curate a custom profile of your "interests." Then, they use that profile to better target you with advertisements, both on Facebook and within its "Audience Network" of mobile sites and external apps.
Unless you want to start cutting a portion of your monthly paycheck to Zuck and co., being inundated with ads on Facebook is a necessary evil. The problem is, you end up getting served a bunch of crap ads that are totally irrelevant to you and your actual interests. It's all too easy to end up with a skewed profile, especially if you do a lot of random online research.
Luckily, you don't have to take it lying down -- you have the power to customize the types of ads that pop up in your feed, and restrict how much Facebook (i.e., The Man) can use you to help them advertise to other users.
To override Facebook's system, head to your account settings, either on desktop or mobile, and click on the Ads tab. First, you can stop Facebook from seeing what else you do online and recommending ads based on your browsing behavior. Tap "Can you see online interest-based ads from Facebook?" and select "No."
Next, tap the bottom-most option "Manage the preferences we use to show you ads" and then click "Visit Ad Preferences." Here, you'll see all of the topics Facebook thinks you're interested in, divided up first by broad categories, then hyper-specific items (for instance, under my News and Entertainment category it got a lot right, but wrongly thinks that I'm interested in both Cirque du Soleil and post-hardcore). You can uncheck as many items as you want, or add others you think are missing. Ultimately, here you have full control over the sort of promoted stuff you'll see.
You can also use this opportunity to tweak how Facebook uses your name to promote ads to your friends. You've probably seen those sponsored posts in your News Feed accompanied with the names of people you're friends with who've "Liked" that particular company or product. Go ahead and click Edit next to "Ads with my social actions" and choose "No one" from the drop-down menu. Now you won't look like you're a puppet for The Man.

Sign up here for our daily Thrillist email, and get your fix of the best in food/drink/fun.
Joe McGauley is a senior writer for Thrillist, and may actually be interested in Cirque du Soleil if anyone wants to hook him up with tickets.