There's a special kind of anxiety that washes over you when you feel the "bzz bzz" of your phone in your pocket while sitting through an important work meeting, first date, or any other situation where even quickly checking the screen is an iPhone etiquette faux pas. Is it your dentist texting to remind you of your cleaning appointment tomorrow? Is your grandma dead? Wait, did your friend finally score those group tix to Beyonce?!?
The suspense can be debilitating, but mercifully Apple's designed a way around it. Anyone who went to middle school knows how to set custom ringtones for your friends, but you can also create custom vibration alerts, so even if your phone is on silent, you can know who's calling or texting without even looking at your phone. Here's how to set 'em up.
First, decide which contacts are worthy enough for special alerts. Consider prioritizing those who'd make you drop everything if they called or texted, even in the most inappropriate situations: particular friends, parents, your spouse, bosses... Beyonce. 
Next, find their name in your contacts and tap "Edit" in the upper-righthand corner. Scroll down and you'll see "Ringtone" (where you can select a custom ringtone for them if you want) and then tap "Vibration." It will probably be set to the default setting.
You can select one of the standard vibration options, but if none of those floats your boat, scroll down and tap "Create New Vibration." This launches the page where you'll compose your custom lil' ditty by tapping your finger on the screen like it's a mini drum pad. You can retry as many times as you want, but once you're satisfied, hit "Save" and give it a name. That's it: you've successfully assigned your first custom vibration.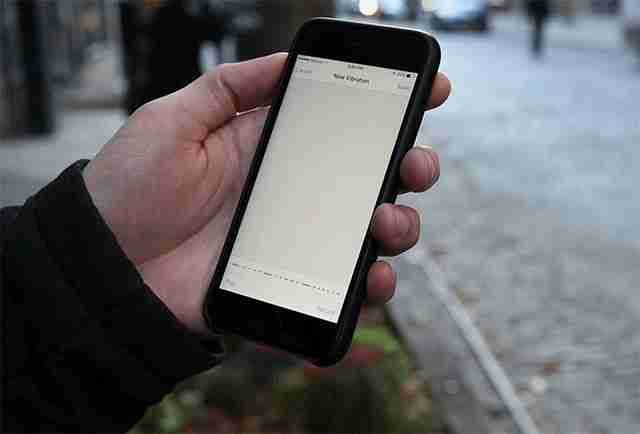 To always know when this very special person texts you, set a custom "Text Tone" and "Text Vibration" (you do it from the edit section of their Contact page as well -- it's just below the Ringtone option). If you want to keep things uniform, simply select the custom vibrate pattern you already created for their ringtone (it'll be saved in the Custom section), or create something new and different altogether. Just keep in mind, the whole point is to make sure you can easily identify who is trying to contact you without whipping out your phone, so you may want to keep things simple.
Sign up here for our daily Thrillist email, and get your fix of the best in food/drink/fun.