You Can Download Your Entire Facebook History
If you're anything like me or Mark Zuckerberg, your earliest Facebook activity was... not flattering. In fact, I'd prefer my angsty status updates and blurry party photos were purged from the interwebs entirely. That's why I was so horrified (but also very, very curious) when I discovered there's an easy way to see the entirety of my Facebook activity to date -- from relationship statuses, to pokes, to direct messages, and all the other stuff that's changed or been deleted from my profile in the last 12 years. Dare to dig up ancient e-history? Here's how to download a copy of your full Facebook archive.
Step 1
To start, you'll need to log on to your Facebook profile in a desktop browser. Then, head to your Settings and at the bottom of the page, click "Download a copy of your Facebook data."
Step 2
When prompted, enter your password, then click "Start My Archive." It will take a few minutes for Facebook to organize everything into a neat little downloadable bundle, but you don't have to wait around -- you'll get an email with a download link once it's finished.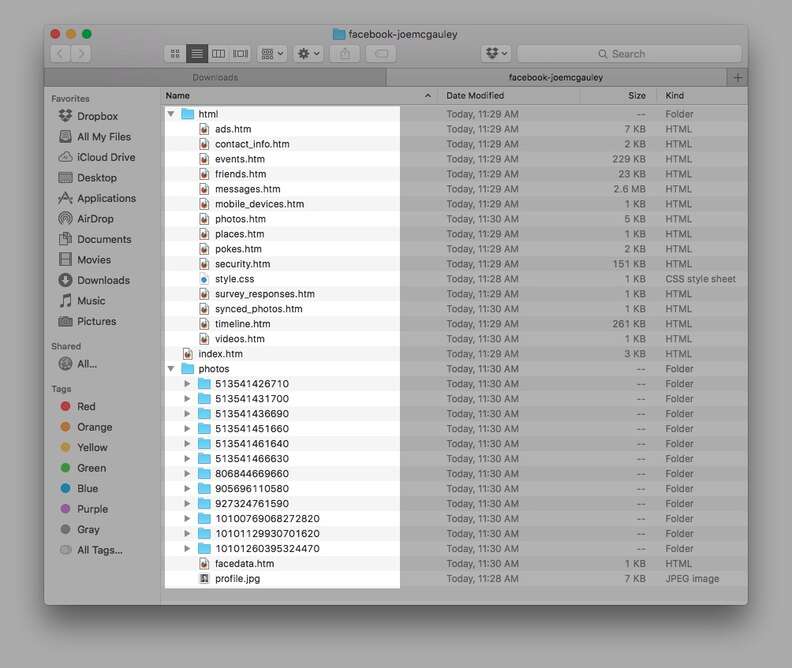 Step 3
Unzip the file, and you'll see a collated digest of files divided up into two folders: "photos" and "html."
The "photos" folder contains every photo album (and thus every photo) you've ever uploaded to Facebook, including the ones that were automatically created, like albums of profile pics, cover photos, Instagram uploads, etc. You'll have to sort through to see what's what though, since the folders are confusingly labeled with numbers instead of names. If you're curious what facial-recognition intel Facebook has on you, click "facedata." Here, you'll see the numerical "templates" its created to identify your unique facial features (if you've ever wondered how the site seems to magically suggest photo tags of people, this is how).
The folder labeled "html" is where most of the fun stuff is. Click on any item in there and it'll pull up a web page with a digest of the relevant info. So, for example, click on "ads" and it pulls up a list of ads or promoted pieces of content you've clicked on in your Newsfeed (only in the last two months-ish). Similarly, "events" shows you a list of every Facebook event you've ever been invited to, as well as how you RSVP'd to it. There's a ton of other stuff to explore, too. Here's a handy little guide:
ads: Ads you've recently clicked on
contact_info: Every piece of contact info available in your profile
events: Name, description, and RSVP status for every event you've ever been invited to
friends: A list of every person you're currently friends with, as well as the names of people you've unfriended, plus pending requests
messages: A rather haphazard transcript of every Facebook chat you've ever had (including the stuff you've sent via the Messenger app)
mobile_devices: Something about "mobile network connection quality." Frankly, I have no idea what this is about.
photos: Again, a round-up of all the photo albums you've uploaded to Facebook
places: The names and locations of any "places" you've created on Facebook
pokes: Your poke history (although mine seemed to only track back as far as 2011; surely I've been poking longer than that)
security: The date and time of every time you've logged into Facebook from a different IP address
survey_responses: Responses to, uh, surveys, presumably from Facebook (this page was blank for me)
synced_photos: A now-defunct feature, this allowed you to save photos privately to Facebook, then select which you'd like to share publicly at a later date. So, if you ever did this, those photos will presumably show up here.
timeline: Any and all timeline activity since the day you signed up for Facebook, including your status updates
videos: Any videos you've uploaded
Hopefully if you're a nice, clean, decent human being, you'll walk away saying, "Oh, what a lovely little time capsule!" As for the rest of you, try not to stew too long in your shame and embarrassment. It can't be any worse than your old Myspace photos.

Sign up here for our daily Thrillist email, and get your fix of the best in food/drink/fun.
Joe McGauley is a senior writer for Thrillist with a rather prolific poke history.