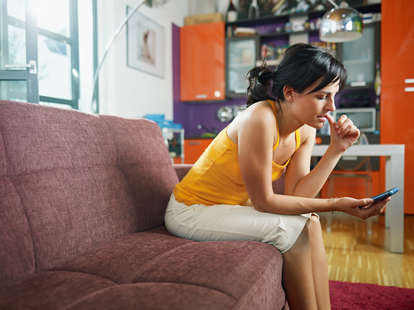 Shutterstock
Shutterstock
Most people don't want to admit how often they creep on strangers' Instagram accounts, but let's face it: everybody does it. Especially when it comes to vetting potential Tinder or OKCupid dates, you can't be too careful these days. But if all they choose to reveal are a few select head shots, you should be suspicious... but not discouraged. There's an easy trick to track down your Tinder match on social media. It might not work 100% of the time, but hell, you're on a dating app. You'll try anything.
Step 1: Ask for their number
If you're too shy to suggest taking the conversation with your potential date to text, this may be a non-starter. But you're going to need their digits to move forward, so be bold, friends!

Step 2: Find them on Snapchat
Once you have their contact info in your phone, open Snapchat and go to the Add Friends menu. "Quick Add" lists your newly added contacts that are using Snapchat, and you'll be able to see their username without actually adding them.

Step 3: Get their username and start digging
This is where luck comes in. Now that you know their Snapchat username, try searching for it on Instagram or Twitter. Unless they're totally oblivious to the whole "personal brand" thing, odds are they use the same username across all platforms.
From there, you'll (most likely) know their full name, which you can use to track them down on Facebook. Now, go forth and never get catfished again!
Sign up here for our daily Thrillist email, and get your fix of the best in food/drink/fun.
Joe McGauley is a senior writer for Thrillist and no, you may not have his phone number.