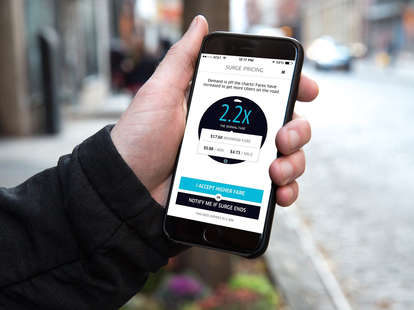 Screenshot via Uber/Cole Saladino
Screenshot via Uber/Cole Saladino
Calling an Uber is so easy and second nature these days (at least for the people the company doesn't randomly ban from the app without explanation) -- but with high demand comes high-priced consequences. Surge pricing during peak travel times can leave you shelling out hundreds of bucks for what would otherwise be a totally reasonable fare. But here's the good news: there are a few handy tricks to get around the price hikes. Keep these in mind next time you're faced with the dreaded 2x.
Walk to a nearby surge-free zone
Seriously, if you get a surge notification, sometimes walking a few blocks and trying again makes all the difference. Every city serviced by Uber is broken up into designated "surge zones," each with its own independent price based on the intensity of demand at a given moment. Manhattan, for example, is broken up into 16 distinct zones, which means that you could easily avoid paying a surge fare by simply walking to a different zone to request your car. That's where the brilliant SurgeProtector app comes into play. It taps into the Uber API to show you where you need to go to cross into a zone with lower surge pricing (or none at all).

Try requesting a fancier vehicle
As the most popular service Uber offers, UberX is especially vulnerable to surges. However, if the surge rate for an UberX is exceptionally high, consider requesting one of the more elite options like Select, Black, or XL. It's very possible that one of those alternates isn't currently surging, so not only will you end up paying less to get where you're going relative to the UberX rate, but you'll look like a baller doing it.
If you're willing to wait a few minutes, tap the Surge Drop feature
To its credit, Uber has at least acknowledged that surge pricing is a pain in the ass and gives you the option to wait out the price hike by tapping "Notify Me If Surge Ends" rather than roll over and accept the higher fare. If you enable it, it will send you a push notification the instant the surge is over, as long as it ends within the next 30 minutes.

Check if Lyft would be cheaper
If you're an equal-opportunity passenger and are signed up for Lyft as well, it's worth investigating whether a ride with the pink mustache crew is a better option. While Lyft rides are generally pricier than UberX, when a surge is in effect all bets are off. What's the Fare is a website whose sole purpose is to estimate and compare the cost of your ride in an Uber, Lyft, or taxi. There's no app version of the site, which is lame, but you can bookmark it on your phone to quickly make the call when a surge strikes.
Sign up here for our daily Thrillist email, and get your fix of the best in food/drink/fun.
Joe McGauley is a senior writer for Thrillist who is still mysteriously banned from Uber.