30 Hacks to Get More Done at Work, in Less Time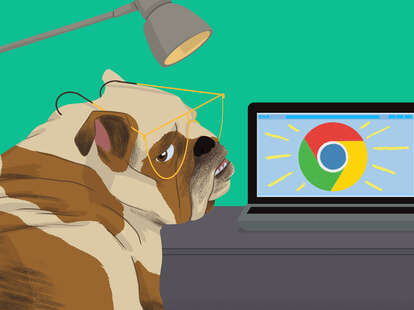 Jason Hoffman & Daniel Fishel/Thrillist
In the ongoing quest to be wildly efficient in every damn thing we do, we're constantly on the hunt for new devices, apps, browser extensions, and overall strategies that'll help free up precious time to watch backlogged episodes of The Great British Bake Off. Are you doing all you can to wrap up your work faster? Here are 30 tips that'll help you check off everything on your to-do list in less time.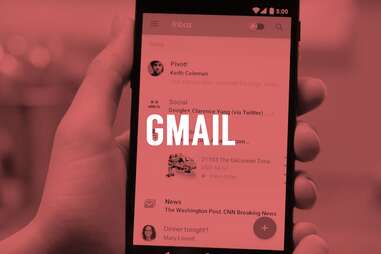 Reach Inbox Zero faster
Inbox by Gmail is by far the greatest email app out there right now, flush with features that make it incredibly easy to manage your deluge of messages on the go. From its automatic bundling of similar missives, to custom filters and the glorious ability to dismiss less-than-urgent stuff en masse, it's worth getting on board.
Schedule emails to send out later
Maybe you had a Eureka moment at 3am and don't want your boss to think you've been out all night, or want to make it look as though you're working while you're actually playing hooky poolside. The Boomerang extension makes it easy to compose messages now, and schedule them to send at a custom date and time in the future.
Organize your Gmail like a boss
Keeping up with emails all day is tough enough, but even worse when your inbox is a goddamn mess. Take some time to tweak your settings so that it looks cleaner, and makes you more efficient.
Assign different colors to Gchat windows
There is no greater horror than realizing you've accidentally Gchatted an incriminating message to the wrong person. Put up some safeguards so you're less likely to confuse your various chat windows by assigning them unique colors -- type "/bikeshed" into any chat window and it'll automatically render it something other than stark white.
Charge your phone faster
We have our fingers crossed that Apple somehow engineers a brilliant method to instantly charge iPhones. In the meantime, here are several surprising tips and tricks to juice up a little bit faster.
Automatically respond to calls you can't pick up
Rather than dodge calls entirely when you're busy during the day, you can fire off an automated text that says you're busy now but will call back later by simply tapping the "Message" button above "Slide To Answer." You can even customize your automated responses via Settings > Phone > Respond with Text.
Take advantage of 3D Touch shortcuts
If you're toting around a 6s or 6s Plus, there are several ways to shave off a few seconds using 3D Touch. For one, the eminently helpful Peek and Pop feature allows you to press down on links and email messages to get a quick look at what's on the other end without actually having to load them, giving you a chance to check whether it's urgent or something you can come back to later. Plus, when you press and hold most of the iPhone's native apps (including Mail, Messages, Notes, and Maps), you can jump directly to their most popular and useful features.
Use little-known keyboard add-ons
Despite what you may think, you're definitely not stuck with your default iPhone keyboard. In fact, there are a number of downloadable and feature-packed alternatives that'll make you a faster, GIF-savvy typer.
TLDR: get a fast summary of any webpage
We're not advocating that you not read stories you find on the internet (also, high-five for getting this far!), but sometimes you just don't have the time to dive into the week's hottest long-form articles. TLDR brilliantly synthesizes the main points of any webpage, laying out the important stuff in a condensed view that you can digest quickly.
Lazarus: save time filling out online forms
Filling out stupidly long online forms with all your personal info sucks, but it sucks even harder when you forget to fill in one small field and you have to start over completely. That's where Lazarus comes in: it auto-saves every form field as you enter it, and will easily retrieve them if the page goes blank on you.
StayFocusd: resist distractions from Facebook and other time-wasters
There's no shame in the occasional Facebook or Reddit check-in, but when you need to buckle down and get shit done, it's good to remove any temptation. StayFocusd restricts access to any number of websites you consider time-wasters, and once you've used up the allotted amount of time on them, it'll restrict access for the rest of the day.
Evernote: stay organized
If you use Evernote to keep yourself hyper-organized, then you'd be a fool not to tack on the Evernote extension, which makes it easy to stash away relevant links and webpages with the click of your mouse.
Clipboard History 2: quickly retrieve links you've copy-pasted
Clipboard History is a must-have for anyone who's copying and pasting on the regular, since it keeps an archive of everything you've ever tossed onto the clipboard so you can quickly retrieve it hours or even days later.
The Great Suspender: put inactive tabs to sleep for a faster computer
If you're a tab-happy Chrome user like me, your insistence of keeping 15+ webpages running at once is most definitely slowing your system down. The Great Suspender gives you the best of both worlds, suspending tabs that've been inactive for an extended amount of time to free up how much memory Chrome is using, preventing that spinning wheel of death from making an appearance.
LastPass: secure all your passwords in one place
Unless you've been blessed with next-level memorization abilities, there's no way you're remembering all of the random passwords you've assigned to your ever-expanding network of online accounts. Enter LastPass, which functions as a super-secure vault for all of 'em, so all you really need to remember is the password you've created for LastPass.
Take advantage of all the great stuff Notes can do
Apple totally overhauled the Notes app in iOS 9, making it an exceptionally useful tool for staying organized. There are a number of standout features, from the ability to create interactive checklists, to the sketchpad, to embedding maps and links in notes and locking sensitive info behind a passcode. If you aren't already using it, you're missing out.
Get up close and personal with the Workflow app
Free apps are our favorite, but occasionally we come across one we consider well worth shelling out for, and Workflow makes the cut. The app makes it easy to streamline your day by automating certain functions in an "if this, then that"-style set-up. For instance, you could create a custom workflow that tethers your calendar with the Uber app such that it automatically requests a car that'll get you to cross-town meetings on time.
Embrace Apple Maps, if only for its incredibly detailed transit directions
Staunch Google Maps users may be wary of switching things up, but Apple's made some serious improvements to Maps. In fact, its intra-city transit directions are incredibly detailed, and arguably even better than Google's -- even providing you underground walking directions so you take the subway exit closest to your destination.
Have particular emails redirected to specific channels
To ensure you and your team are addressing urgent matters as quickly as possible, you might consider having emails that are sent to particular addresses (for example, support@ or tips@) redirected, so that they're received within a specific Slack channel. To set this up, find Email in the App Directory, and click Install. (Note: you need to pay for Slack premium to access this feature.)
Pin important docs to individual channels
Rather than search to retrieve documents you're regularly working off of, you can easily pin them to the top of a channel. To do it, hover over the shared document or item you want to pin, click "Show message actions," and select "pin to this conversation" or "pin to this channel."
Set reminders and automatically create to-do lists
When you star a message in Slack, it gets archived in a section accessible via the star icon in the upper-righthand corner of the app. This is not only a smart way to file away messages you know you'll want to retrieve on a regular basis later, but can also function as a de facto to-do list. And if you want to set a reminder about anything, it's easy: in the Slackbot message box, type "/remind" and include the who, what, and when.
Know how to pull off an advanced search
When you're trying to locate a random message from a while back, poring over thousands of hits via a straightforward search is going to be a pain in the ass. Thankfully, Slack provides a wide swath of advanced search methods.
Know the keyboard shortcuts
Slack can save you tons of time during the day if you're using it properly, but to fully unlock its potential you've gotta master the keyboard shortcuts. Scope out the full lineup by pressing "command /" with the desktop app window.
Sync your calendar with Alexa
Once Amazon's super-friendly AI personal assistant has access to your Google Calendar, she'll keep you on task, reminding you what you have coming up whenever you ask her.
Scope out your commute before you leave the house or the office
Another one of Alexa's many talents is giving you a heads-up on how traffic is looking along the route(s) you usually take to get to work or home. To make sure you don't get stuck in some bumper-to-bumper mess (or some majorly effed-up subway situation), ask her what's up before you take off.
Keep an ongoing to-do list
Spare yourself the few seconds it'd take to jot down your to-do list and instead just tell Alexa what you need to add to it. You'll be able to scope out the updated version at any time via her companion app.
Master all the general keyboard shortcuts
Knowing how to maneuver without touching your mouse is a critical part of getting more done faster. Mac and PC users, study these.
Automatically split your MacBook screen down the middle
When you need to work in two tabs at once, you can easily divide your screen into two by holding down the green full-screen button in the upper-left corner.
Open your last tab when you accidentally close it
When you panic after accidentally closing out of a tab you were working in, don't: hit command + shift + T and it'll restore your last-closed tab.
Become a Google-search ninja
Brushing up on all the wild and crazy ways you can narrow and refine your search can save you a whole crapload of time scrolling through results pages. Do yourself a favor and get up close and personal with everything on this page.
Sign up here for our daily Thrillist email, and get your fix of the best in food/drink/fun.
Joe McGauley is a senior writer for Thrillist who just can't quit CTRL + T-ing.