10 Easy Ways to Get Your Shit Together in 2017
The dawn of every new year brings with it a load of promises we make to ourselves to be better at this and stop doing that. Oh, and we're definitely going to drop 20lbs and hit the gym four times a week. Then February rolls around, and it's back to Domino's for dinner and half-assed trips to the gym every other week.
Overly ambitious resolutions are easy to break, so we've rounded up a few quick things to do -- and habits to pick up -- that'll help you get organized and meet your goals for 2017.
Use apps that keep your plan to "be healthier" on track
No app can physically deliver you from the bed to the gym every morning, but there are several handy ones that can help you power through your New Year's resolution to get healthier. If exercise is what you're after, apps like Sworkit and 7-Minute Workout will help you squeeze in a legit, personalized workout no matter how jam-packed your schedule may be.
For meal tracking, MyFitnessPal makes it incredibly easy to keep tabs on your nutrition and meal planning, while HealthyOut is a great diet guide for travelers, offering up healthy dish suggestions at nearby restaurants and even fast-food joints in over 500 cities.
Adopt a new morning routine
Since we all operate our best under different conditions, prescribing the same morning routine for everyone makes zero sense. It's important to establish a morning routine that suits you and helps harness your best energy and clearest mind. Maybe it's getting up a half-hour earlier to do yoga or clear your head with a meditation app. Maybe it's a ritualistic coffee brewing/journaling session. Maybe it's "The Seven." Lots of crazy-successful people have quirky routines, and having your own will help set the tone for your day and provide a daily sense of comfort and stability.
Clean up your inbox by unsubscribing from lame lists
Most of us are still subscribed to email newsletters that we haven't actually opened since 2011. Now's the perfect time to cut yourself free from the dead weight clogging up your inbox. Thankfully, the site Unroll.Me makes it incredibly easy to unsubscribe en masse. Just sign up via the affected email address, follow the prompts, and remove your name from any and all lists you no longer want to be on.
Furthermore, if you're curious what random sites, accounts, apps, or services you've randomly signed up for over the years using your Gmail address, deseat.me will do a thorough search, and help you disable any and all you no longer want to have your info.
Take control of your finances with budgeting apps
Whether you're financially illiterate and hurtling toward insolvency or just need to better budget your paycheck, consider securely syncing your bank account to a couple apps that'll help keep you in line. Mint has been around for a while now, and it's a great tool that not only analyzes your spending habits, but helps you stick to a strict budget and stay on top of your bills. Then there's Albert, one of 2016's must-download apps, which keeps tabs on your spending behavior, periodically auditing it to offer actionable advice for a successful financial future (e.g., take out a low-interest loan to pay off credit card debt, rejigger your retirement plan, etc.).
Score more discounts online
Embrace your inner extreme couponer and start actively seeking out better deals online. Whether it's learning to navigate Amazon to unearth that day's crazy discounts or just taking full advantage of your Prime account, there are plenty of clever tricks you could be employing to save some serious scratch online. Consider downloading browser extensions like Honey or PriceBlink, which automatically pull applicable coupon codes for items you're looking at and let you know whether they're available cheaper elsewhere, respectively.
Give your LinkedIn profile a makeover
If you're hoping the new year brings with it an exciting career move, you owe it to yourself to overhaul your LinkedIn profile to improve your chances of being poached or recruited. Specifically, other than a top-notch headshot, you should spruce up your "tagline" and "summary field" and ask around for legit recommendations. There's also a new feature that allows you to slyly indicate (only to recruiters outside your current company) that you're interested in hearing about new opportunities. Get familiar with all the stuff the pros suggest paying close attention to right here.
Update all of your phone and laptop software
Admittedly, we've been enablers when it comes to neglecting your software updates, but you can't ignore them forever. Set aside some time (one to two hours, to be safe) and download the latest version of software on each of your devices, then initiate an install. Keeping current with your software not only grants you access to the latest-and-greatest bells and whistles, but will often ensure your machine is running as efficiently as possible, meaning fewer frozen screens and stalled apps. And hey, if you're feeling really ambitious, why not do some extra work to keep your old MacBook in tip-top shape.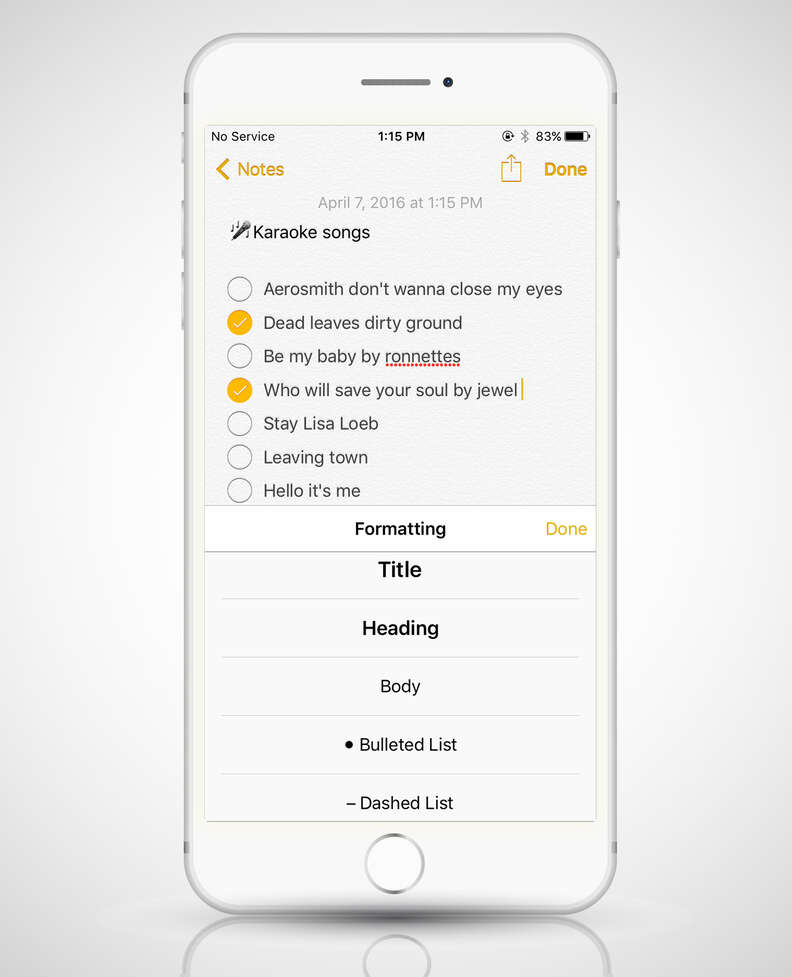 Start taking advantage of surprisingly helpful apps you already have
While there are some pretty nifty underrated apps to check out this year, take some time to acquaint yourself with the surprisingly useful ones that are already on your phone. More specifically, embrace the Notes app and all its helpful features that'll assist you in being better organized (interactive checklists!), more creative (sketchpads!), and protected from privacy issues (lockable notes!) .
Install browser extensions that limit your time on social media
Not only could Facebook be ruining your life, but fiendishly checking out your various other social media accounts during the day is most definitely eating into your productivity. Consider downloading a browser extension like Work Mode, which restricts any and all access to eight popular time-wasting sites, including FB, Twitter, Reddit, and YouTube, for as long as it's enabled. Find yourself most productive in the morning? Afternoon? From noon to 1:30pm on Tuesdays? Turn it on when you need to hunker down and you might actually hit your deadlines without freaking out.
Free yourself from obnoxious phone notifications
There are plenty of distractions clamoring for your attention all day long, and the pile-up of random notifications cluttering your phone screen isn't helping. Spare yourself the annoyance and tweak your Push Notification settings. It's easy to customize Facebook alerts so you only see what you actually care about -- not the event your random old roommate is going to nearby. Want to quit getting a notification every time a friend joins Instagram or starts a live video? We've got you covered. And if you're tired of that pesky "Not Enough Storage" alert popping up periodically, you might also consider taking a minute to address your storage woes.
Sign up here for our daily Thrillist email, and get your fix of the best in food/drink/fun.
Joe McGauley is a senior writer for Thrillist. Bring it, '17.