How to Make Your Own Free, Custom iPhone Ringtones
Eric Vilas-Boas/Thrillist
2. Choose the song you'd like to listen to every time someone calls or texts. Pick one with a great chorus or snatches of catchy instrumentation. Ringtones top out at 30 seconds, so don't go over that. Then hit Get Info to get started.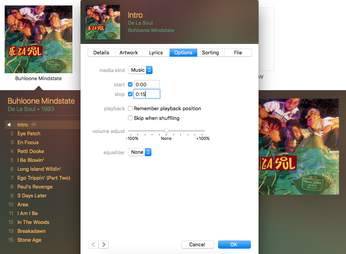 Eric Vilas-Boas/Thrillist
3. In Get Info, navigate over to the Options tab. There you can set how long the song will play for. After some listening and testing, use the Start and Stop timecodes to establish what snippet of the song you want to use. Then hit OK.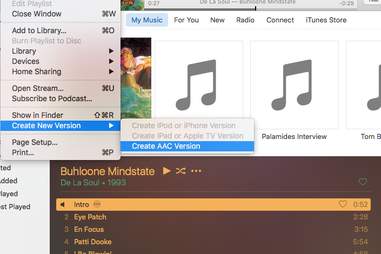 Eric Vilas-Boas/Thrillist
4. From there, you should have a version of the song that only plays for the time-span you've selected. You'll then want to use that to make a new version of the song. Navigate to File, Create New Version, and select Create AAC Version. This will make an AAC copy of the song (with the truncated length you've selected) appear in your iTunes and save a copy of it to the file directory you keep your music in.
Eric Vilas-Boas/Thrillist
5. You need to get to the file itself, so right-click on the truncated song in iTunes and select Show in Finder (Mac) or Show in Windows Explorer (Windows).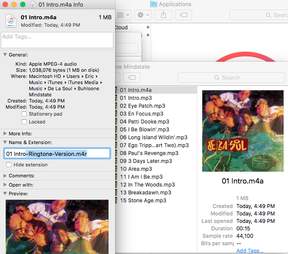 Eric Vilas-Boas/Thrillist
6. In Finder, hit Get Info and rename the file accordingly so you can keep track of it. Also, change the extension from .m4a to .m4r. This is the ringtone extension you'll want to use. A pop-up will appear asking if you're sure you want to do that. You are, so proceed. Drag the file to the Desktop or another folder to set it aside from your other music.
Eric Vilas-Boas/Thrillist
7. Next, delete the 15-second song from iTunes, but select Keep File so that it doesn't disappear from the directory on your machine. (If you don't do this, iTunes prevents you from pulling the 15-second clip into your Tones folder.)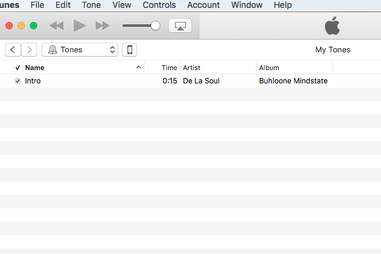 Eric Vilas-Boas/Thrillist
8. In the View drop-down, navigate to Media Kind and select Tones to get to the ringtone list. Drag your selected ringtone snippet from your Desktop (or the folder you selected from step 6) into that list.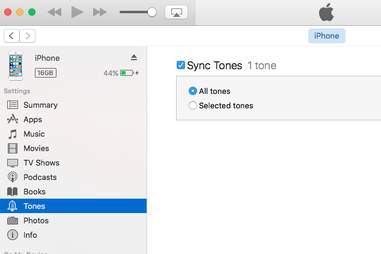 Eric Vilas-Boas/Thrillist
9. With your iPhone connected, select the Tones listing along the left rail, and check off Sync Tones.
10. On your phone, you'll be able to select and use your new ringtone under the Sounds option in Settings. Happy listening!
Eric Vilas-Boas knows the intro to De La Soul's
Buhloone Mindstate
blows most other ringtones out of the water. Follow him @e_vb_.