Tricks to Save Money On Your Phone Bill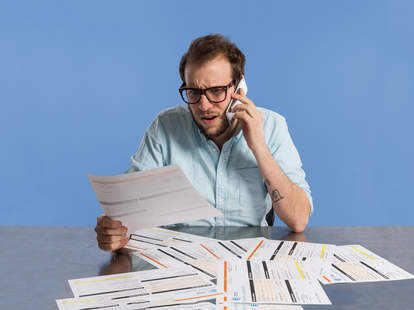 Unless you're one of the lucky ones still reaping the benefits of your parents' family cellphone plan, you're probably all-too-familiar with the semi-annual annoyance that comes with renewing your cellphone contract. If you're not careful, it's easy to fall for flashy promotional deals that lock you into paying way more than you should for what you really need. We asked some industry insiders for tips on how to score a better deal, or how to wiggle your way out of your current one -- all without leaving the comfort of your couch.
Cole Saladino/Thrillist
Do your negotiating over the phone
According to BGR, your chances of scoring a better deal with your current carrier are much better when you negotiate over the phone or online, rather than in person. In their research, in-store reps weren't as eager as social media teams and call center customer service reps to offer special discounts. And while the evidence is largely anecdotal, you can feel confident that it's in their best interest to do anything and everything (within reason) to keep you from leaving: the economic and social cost of losing an existing customer is enormous.
 
First ask to cancel your service (even if you don't really want to)
To get things rolling, get on the phone with a customer service rep and tell them you're looking to cancel, says Plan Panda's Oliver McKean. "This will get you transferred to their customer retention team. The retention team has a lot of flexibility to provide recurring discounts to retain existing customers, as well as access to some rate plans that aren't publicly advertised, designed for low-usage and high-usage customers who want to save on their bills."
Cole Saladino/Thrillist
If you don't get what you want, try again at the end of the month
If you strike out over the phone, don't settle for defeat. Give it a week or so and try again -- the rep you get this time around may be easier to crack. Also, if it's inching closer to the end of the month, they may be feeling the heat to reach a certain quota and be more willing to give you an especially good deal.
 
Tweet your way to a better deal
Even if you don't have Kardashian-caliber social media leverage, starting a conversation with a company's customer service account over Twitter can light a fire under their ass to address an issue pronto. For example, you may consider tweeting that a competitor is offering you a particular amount to switch, along with a question about what they're willing to do to keep you as a customer. 
Cole Saladino/Thrillist
Use your employee discount as a bargaining chip
Depending on where you work, you may be entitled to a special employee or corporate discount when you sign up with a major carrier -- all you have to do is ask. If you are, it's worth using it as leverage to land an even better deal with a different carrier. Will they do more than match it? Get them to try and entice you to switch. You might find yourself jumping ship when the time comes.
 
Hire someone else to negotiate for you
If you have zero faith in your ability to negotiate a better deal, consider turning to the pros. There are a number of sites, like BillFixers and BillXperts, that will negotiate on your behalf to slash your current phone bill in exchange for a cut of the money you'll save.
Cole Saladino/Thrillist
Keep an eye out for opportunities to break your contract without a penalty
If you've ever attempted to break your two-year phone contract early, you know how stupidly expensive it can be. But of course there are loopholes, and you should do everything you can to exploit them. That's where the site CellBreaker comes in. This startup analyzes your contract and points out any breaches on the part of the carrier that might open up an opportunity for you to legally break free without a pricey penalty.
 
Don't be duped by shady promises to "cut your bill in half"
It's true that many carriers now offer to pay early termination fees on your existing contract to get you to switch, but those deals can be problematic in their own right, according to Todd Kelley, WireSeek.com's sales director, who previously worked for both AT&T and Sprint. "[Sprint's] current 'cut your bill in half' promotion is merely a carrot causing sheep to flock to their stores. Once [the customer is in] the arena of the salesperson, the battle-hardened sales warrior will carefully, and tactfully, disarm and persuade them to abandon the poorly named 'cut your bill in half' benefits for a different plan.
"Even after you sign up, you will receive a bill for your first month's service within a few days, but you will not receive the promised gift card to buyout your previous provider for almost eight to 10 weeks after you turn in your old devices."
 
Consider going with a prepaid plan
Verizon, AT&T, T-Mobile and Sprint (and most discount carriers) offer a variety of ridiculously inexpensive prepaid plans worth exploring when you're eligible to re-up. They don't come with as many perks as the two-year contracts (sorry, no free or discounted iPhone), but most feature unlimited talk and text. If you already have a device or don't mind shelling out $100 for a lesser smartphone, this is an easy way to cut your bill way down without signing up for an annual contract.
Sign up here for our daily Thrillist email, and get your fix of the best in food/drink/fun.
Joe McGauley is a senior writer for Thrillist. His favorite negotiation tactic is crying.