Literally nobody likes paying more in taxes than they have to. Inadvertently, though, plenty of people do; it's just about understanding the system. With that in mind, if you've started your taxes and found yourself owing more money than you have or care to pay, there are solutions. And you won't end up like Al Capone. That is, dying of syphilis. Hopefully. But more importantly, going to jail for tax evasion.
Mostly, owing less comes down to what deductions you qualify for and might not claim. Let's start at the top.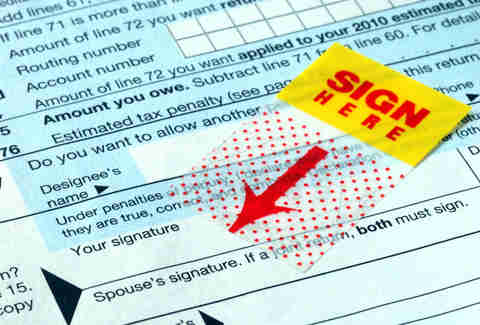 Actually file your taxes... and file early
Under-reporting income is the quickest way to get yourself audited. Granted, the Internal Revenue Service only audits about 3% of all returns... but still, you need to turn something in, and the earlier the better. Just like Uber hitting you with inflated fees on a Saturday night, tax-prep software comes with surge pricing, too. As detailed by Bloomberg, while TurboTax, H&R Block, and TaxAct offer cheap or free filing options for simple returns in January and February, prices rise by 30% or more later in tax season.
So make a note and file earlier next year, dummy.
 
Decide if you need a professional
Using tax software is kinda like rebooting your computer when it has issues; it's a simple fix, but doesn't always get to the heart of the matter. Basically, tax software is designed to eliminate many of the errors you'd otherwise make by running checks on your entries and asking you basic questions (are you married? Do you own a house?) to ensure you're taking your deductions.
"Anyone who has a simple return and is computer literate can use consumer tax preparation software. This includes individuals who own a home and have a mortgage," said Peter W. Ensinger, CPA. "Generally, someone with rental property or who is self-employed or has complicated investments should use a paid preparer." 
If you type in everything and come out ahead, pay whatever the software charges and carry on with your life until you get your refund. If, however, you enter all your information correctly, and you come out behind, there's a good chance you're leaving money on the table. That's when a tax preparer can really help. More on this later.
Account for big life changes
Got married? Your status changed. Had a kid? Your status changed. Bought a house? Do I really need to type this again? OK, your status changed. These all greatly impact what credits and deductions you can claim.
 
Claim your dog as a dependent
Wait, actually, don't do this. A guy my dad worked with did this for the greater part of a decade. Then he got caught. Yeah, the IRS only audits 3% of returns, but it's not worth going to prison or paying a heavy fine just because you think your French bulldog should be pulling more weight. 
 
Contribute to an IRA
Saving for the future sounds boring. Because it is boring. But it can also save you a bunch of money right now. Above-the-line deductions allow you to reduce your adjusted gross income, or AGI, which lowers your tax burden up front. So if you're near a certain threshold that puts you into a different bracket, contributing money into an IRA right now can possibly get you below.
Figure out if you qualify for credits
Students and people earning low wages sometimes don't file their taxes, figuring they'll owe more money. What they don't realize is they might actually be owed money, based on a number of tax credits. If you had a job and had taxes taken out, you might qualify for the earned-income tax credit. "One in five eligible tax payers doesn't claim this tax credit," said Nathan Rigney of The Tax Institute at H&R Block. "Depending on income and children in the household, that can be up to $6,000." 
Other credits apply to students: the American Opportunity Credit, which counts up to $2,500 per student, per year, or the Lifetime Learning Credit, which counts up to $2,000 per student, per year. Even if you don't qualify for either of those, you still might qualify for the tuition and fees deduction credit, up to $4,000.
Figuring out all these credits is daunting. That's why people become accountants -- not because accounting sounds sexy. A paid tax preparer is your friend here.
Itemize. And save those receipts!
Itemization is the key to write-offs and one of the best ways to save money. As Ensinger notes, self-prepared taxes often leave out deductions for:
Automobile mileage to your doctor, dentist, and parking costs
What was paid on April 15th for your final state or city return for the prior year
Credit card debt that can be rolled into a home equity loan to make the interest deductible
Auto mileage doing charity work
Donations of clothing and household items to Goodwill or similar organizations
Tax preparation costs
Investment expenses
Publications

All of this stuff requires receipts. Save your receipts. Or at the very least, have some kind of receipt that could function in this role. As Greg Kyte, a Utah CPA, told the New York Times, if he bought a bunch of stuff at Home Depot, "The I.R.S. would have no idea if I bought that for my house or for my business." Which leads us to this other very effective way to finagle...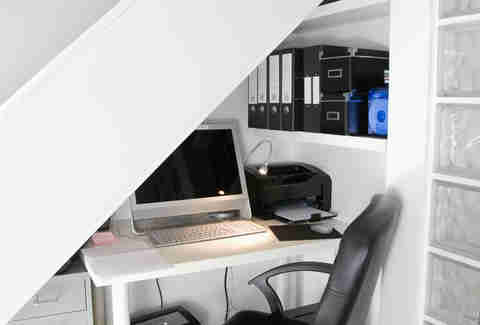 Claim a business
Claiming a business is the easiest way to "cheat" on your taxes. Bought a domain to start a blog? You're a journalist on the side. Advised your friend on a cover letter and resume? You're a consultant. You can even "legally write off payment for office work done by family members, even if they're in middle school."
To be clear, no CPAs I interviewed condoned this sort of move. They did explain, however, the keys to understanding how business expenses play out.
"You'd be surprised the benefits you can get from running a business," said Lisa Greene-Lewis, CPA and TurboTax expert. "If you use your car to see clients, you can deduct the mileage or actual expenses for that car. Startup costs, advertising, legal fees, those would be deductible. If you had a dedicated space in your home you use for a home office, you can deduct a portion of mortgage or rent/property taxes." 
The easiest method is the simplified option for home office deduction, which allows you to deduct $5 per square foot of home office space, up to 300sqft. That's $1,500. Additionally, any equipment you buy -- computers, phones, printers -- can be deducted. 
Again, it's a lot easier to bring this info into an accountant than to try to do it yourself. But think about your daily activities that might be considered business-related, and you can start building a paper trail for your write-offs. Just don't get carried away on claiming vacations, meals, and other dalliances. Oh yeah, and keep your receipts.
Sign up here for our daily Thrillist email, and get your fix of the best in food/drink/fun.
Ryan Craggs is Thrillist's senior news editor. He files his taxes as early as possible. It's not that tough, really. Follow him: @ryanrcraggs.