How to Stream Thursday Night Football for Free
For the cable-averse among us, CBS All Access has been a savior so far this season for allowing people to stream the NFL games they broadcast for a nominal subscription fee. However, since CBS doesn't have the rights to all the games, you're on your own when it comes to finding gratis ways to watch a whole bunch of Thursday night match-ups.
Fret not cord-cutting friend, because there are still plenty of ways to catch 'em all without dropping half your rent on some sports package just for access to the NFL Network.
Become and Amazon Prime subscriber
Two-day free shipping is really just the beginning when it comes to the many, many perks included with being an Amazon Prime subscriber. You also get access to award-winning shows and movies, free monthly e-books, music, exclusive sales, photo storage, and whole lot more. And now, thanks to a partnership with the NFL, it also scores you the ability to watch 11 Thursday night matchups through Christmas for free. Peep the full game lineup here, then log any Thursday night and stream away. If you aren't so sure you're ready to pony up the $99 a year it costs to hang on to a subscription, you can always give it a free test-drive by signing up for a 30-day trial. 
Sign up for a new subscription streaming service
With the debut of Hulu Live TV, YouTube TV, and DirecTV NOW in the last year, there are now several ways to catch the live action without paying for a proper cable subscription. All of these services will grant you access to most of the networks broadcasting games on Thursday night this season, but you'll also have to pay a monthly subscription fee for access. Then again, they each have their own 3-day free trial programs, which means you could theoretically get through the next three months watching without paying.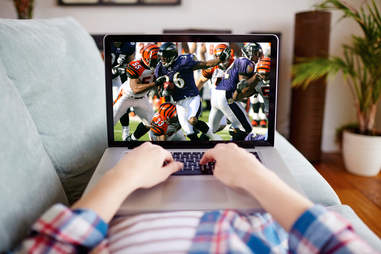 ISTOCK/NEUSTOCKIMAGES/<a href="https://www.flickr.com/photos/keithallison/2310848997/in/photostream/" target="_blank">FLICKR/KEITH ALLISON</a>&nbsp;(EDITED)
Switch to Verizon Wireless
Verizon is being great this year by providing a free stream of Sunday, Monday night, and Thursday night games for its mobile customers via its dedicated app. And if you have a Roku, Chromecast, or Apple TV, you can easily beam that baby onto the big screen.
Try looking through Periscope
Not the best option if quality is of utmost importance, but odds are good you'll find some saintly soul broadcasting a live stream of the game you're looking for on Periscope. Just cross your fingers they don't get bored at halftime and decide to stop.
Scour the vaguely legal sites
We can't condone piracy, but when you're desperate, you're desperate. Sites like FirstRow and ATDHE have each proven fruitful in the past, so poke around and you might very well find a semi-decent stream. Just be prepared for a deluge of janky pop-ups and some serious sub-HD quality.
Browse Reddit
Reddit's full of helpful advice beyond how to urinate like a pro or score free in-flight Wi-Fi. In fact there are entire sub-Reddits that dedicate themselves to maintaining a real-time list of quality (and free) NFL streams. Do yourself a favor and bookmark this one.
Sign up here for our daily Thrillist email and subscribe here for our YouTube channel to get your fix of the best in food/drink/fun.