Sponsored By
How to Transform Your Laptop Into the Ultimate Home Theatre System
Sponsored By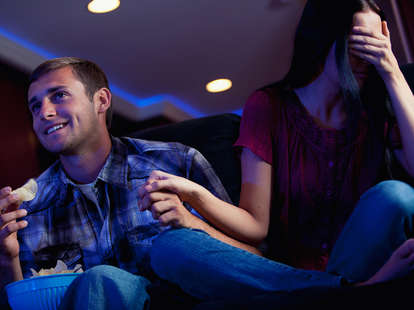 Back in the day, before smartphones and smart TVs and smartwatches revolutionized the electronics industry, building a home theatre system meant dropping thousands on fancy equipment. After the initial spend, setting the dang thing up was just as daunting: tangled cables, confusing speaker setups, multiple remote controls.
The good news? Today, transforming your laptop into a killer home theatre system is easier than ever -- and cheaper than it's ever been. The 12 components below will put you on the path to a better DIY viewing experience in no time.
Upgraded memory and a bigger hard drive
What's the point in setting up an awesome home theatre system if your computer can't handle an HD stream (or you can't find that show you REALLY want to watch right this very minute). So consider the system requirements above just a baseline: increasing your laptop's memory from 1 or 2GB to 3 or 4GB, which runs around $100, will lead to exponentially enhanced video playback quality and a leaner, meaner machine than most new computers. Ditto for a juiced-up hard drive (think 2 or 3TB for around $150-$200), which can store a lifetime's worth of movies and TV shows AND make things run faster.
A DVD and/or Blu-Ray drive
Believe it or not, disk drives are becoming scarce in laptops, especially as manufacturers race to make the lightest, thinnest devices they can. But never fear! A good external drive can be had for $50, which is a small price to pay to breathe new life into your epic DVD and Blu-Ray collection.
A version of Windows or Mac OS
Wiping your old laptop clean before converting it into a home theatre system is smart. Erasing the OS that comes built into it is not. If you live and die by Apple, you're in luck: Mac operating systems always offer free upgrades. But if you swear by Windows and that old laptop is still running XP or Vista, get yourself out of the Stone Age with Windows 7, 8.1, or 10. You can use an existing license key from another computer -- or cough up $100 to purchase a stand-alone version. Experts swear that a bare-bones Linux platform is best for home theatre systems, but we're not trying to reinvent the wheel here -- just watch movies and TV from the comfort of our couch.
VGA, DVI, or HDMI cables
The other benefit of using a TV? It will have both digital HDMI and analog VGA hook-ups, giving you prime flexibility for connecting a laptop to a bigger screen. HDMI provides the sharpest picture and sound, so it's worth looking into a VGA-HDMI, DVI-HDMI, or USB-HDMI adapter if your laptop is a little older. With a good cable, you'll be singing "I can see clearly now…" in no time.
A good soundbar with a wireless subwoofer
Those six-piece speaker sets you grew up on do sound good -- but in today's downsized world, who's got room for so many components (or time to set them all up)? Instead, keep it simple with a soundbar/wireless subwoofer combo, which delivers booming bass and crystal-clear high ends in an affordable two-piece setup (think $75 - $200) that makes all those complicated surround sound systems seem straight-up silly.
A Wi-Fi enabled 4K HD TV
Want to see a bigger picture than just what's on your 11" or 13" laptop screen? Consider adding a good TV to the mix. The good news? It's never been cheaper or easier to find a solid Wi-Fi-enabled smart HDR or HD TV for a few hundred dollars. A little extra cash here = watching your favorite shows and movies in glorious high definition, just the way you want. Which is the whole point of bootstrapping your own system, right?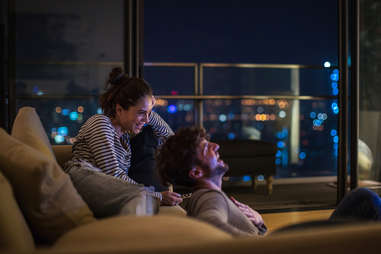 A universal remote control
Speaking of watching in comfort, there's nothing like a good all-in-one remote control to serve as an easy button. But for many of us, this is the most puzzling piece of personal technology ever created. Using remote to control your decked-out home theatre system doesn't have to result in hair pulling and teeth grinding, though. Instead, browse your preferred app store for a thousand different downloadable mobile remote controls, or check out online reviews to find a favorite. Your remote control soulmate is out there -- we just know it.
A copy of XMBC or Plex
Media center software options run the gamut from user-friendly to intensely technical, but two standouts are XBMC or Plex. Both of these applications organize your movies, TV shows, and other content into a neatly organized structure that makes it easy to search, select, and stream, even from portable devices like an Amazon Fire, Roku, or Chromecast stick. XBMC is a bit more intricate, but its customization possibilities make it a favorite of in-the-know tech geeks.
Xbox 360 controllers if you're going the gaming route
To game or not to game -- that is the question. And it's one that most of us will answer with a strong "yes" or "no" from the get-go. If you are going to download and play games through your media center, Xbox 360 controllers are the best for universal use across different consoles. Sadly, it won't work for is Duck Hunt, but it will help you ace all those other vintage Nintendo favorites.
A second screen for multitasking
We say take a break and leave it for tomorrow, but if you must keep up with emails and social media while you're enjoying your favorite show, there's a simple solution: set up a second small monitor next to your main TV and keep your desktop viewable there. Set your home theatre system up with a TV tuner to stream live sports or news events and you can even Tweet up a storm while you watch.
Any other software plug-ins or add-ons
iTunes, Hulu, Netflix, Amazon Prime, HBO Go, Picasa, Google Chrome… as anyone who's ever browsed an Apple TV menu can tell you, the number of software plugins and add-ons for entertainment purposes is infinite. Find the ones you can't live without, download them to your new system, and savor the fact that you built it yourself, exactly the way you wanted, for a fraction of the price you would have paid a few years ago. High five!