Oren Aks/Thrillist
Oren Aks/Thrillist
Facebook has become a bit overzealous with what it deems worthy of notifying us about. Sure, gentle reminders about friends' birthdays are always welcome, but do I care when a random person I went to college with attends a poetry slam somewhere in my general vicinity? No, no I do not.
The deluge of notifications has rendered them not only meaningless, but downright obnoxious. But fret not, fellow Facebookers: there's an easy way to set things up so you're only receiving the alerts you actually care about. Here's how.
Within Facebook
To keep those little red numbers in check, tap the globe icon where all your notifications pile up, and click Settings. Here, you can tweak your settings to reflect what you do and don't care about. Don't give a crap about Live videos? Turn those notifications off completely.
However, if you want to do this on a case-by-case basis (i.e., you don't care about certain friends, but you want to keep tabs on others... not in a creepy stalker way, right?), go to the notification drop-down menu, hover over the notification in question, and click the three-dot icon that appears on the right. You'll have the option to "turn off notifications" from that specific friend or page.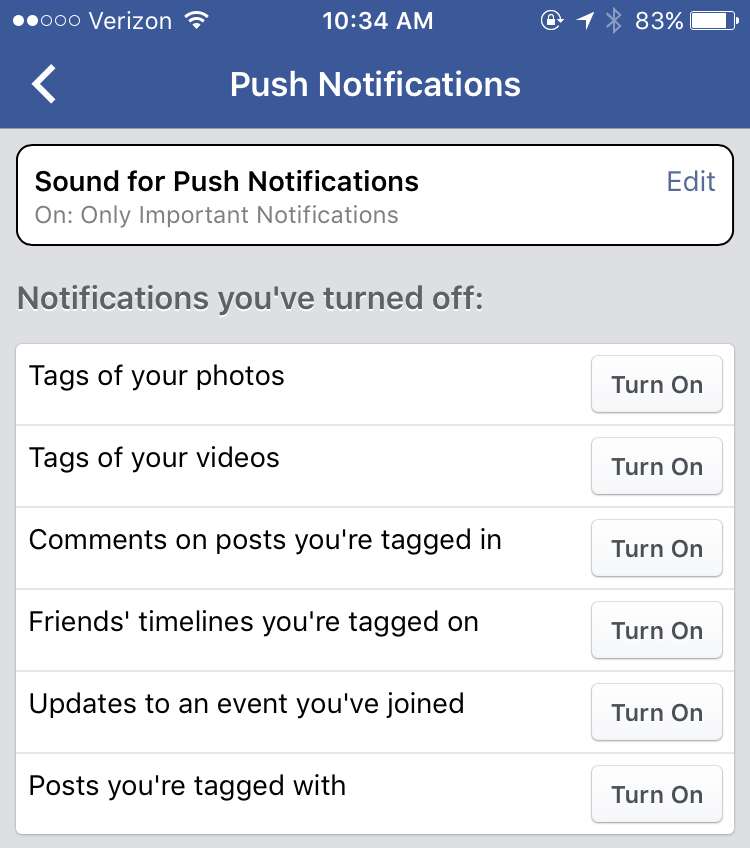 On mobile
To switch up what notifications show up on your phone, head to the settings sections within your Facebook mobile app. Go to Settings > Account Settings > Notifications > Mobile, then go through and turn on or off the ones that do and don't matter to you.
On desktop
Are notifications interrupting you all damn day in the corner of your computer screen, even when Facebook isn't open? This means you've enabled notifications within whatever browser you're using. Open your Facebook settings in a browser window, and go to Notifications > Desktop and Mobile. Under the section labeled "Desktop," turn them off -- or, if you'd rather they just cool it for a bit (say, you'll be doing a presentation using your computer), you can "Mute" desktop notifications for up to 24 hours.
Sign up here for our daily Thrillist email, and get your fix of the best in food/drink/fun.
Joe McGauley is a senior writer for Thrillist and just tagged you in a photo.