Screenshot via iOS 9/Shutterstock/<a href="http://www.shutterstock.com/pic-328551176.html?src=download_history" target="_blank">blackzheep</a>
iPhones come stuffed with a ton of baked-in apps that most people won't open, even once. Like that damn stock ticker, or Health (Health is actually very useful though, guys). Up until recently, I would have lumped the Notes app into that category as well, but thanks to the lovely nerds at Apple who went ahead and overhauled the app for iOS 9, it's now one of the most useful features on the phone. Here's all the new and cool stuff you can do with it to achieve Type A levels of organization.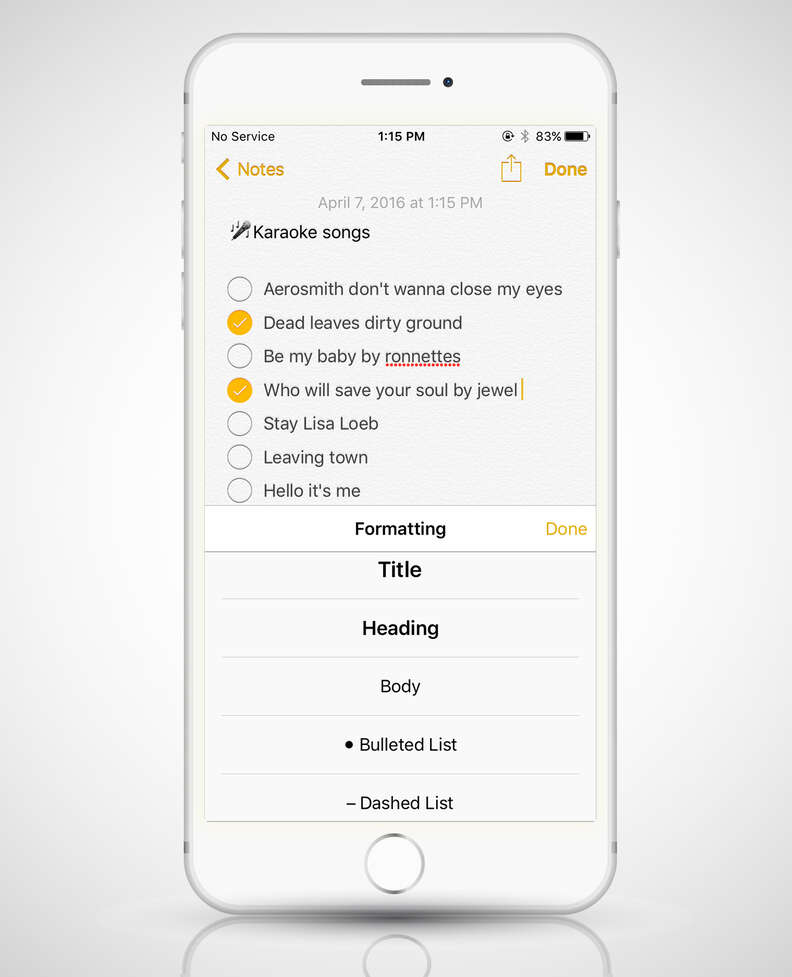 Create more comprehensive lists thanks to fresh formatting options
It's easy to add emphasis to particular sections or words since Notes comes stocked with a suite of fresh formatting options that may sound hilariously basic, but truly make a big difference. Now you can change font size, italicize/bold/underline, add different-sized headers, or create lists with bullet points, dashes, or numbers. To access the formatting menu, tap in the body of the note, hit the plus-sign button that pops up at the bottom left of the screen, and select the "Aa" option.

Track your progress with interactive checklists
Again, this may sound primitive, but dammit it's a game-changer. You now have the ability to transform an entire note into a checklist format (complete with interactive checkmarks), or simply add a checklist bubble to individual items. Not only does it help keep you on task, but there's something oddly gratifying (and motivating) about watching as you slowly chip away at the shit you need to get done (or, in our case, the songs you absolutely must sing at karaoke before the night ends).
Add detailed sketches from within the app
One of the most fun additions to Notes is a fully fleshed-out sketchbook feature. You can scrawl colorful doodles as part of any note -- which is useful for designers or artists who're feeling inspired, but also for us less talented folk who need to illustrate an idea to coworkers in an email.
Tap the squiggly line along the bottom rail of any existing note and it'll generate a blank canvas for you to draw upon, complete with a full set of tools and utensils including a pencil, marker, pen, eraser, ruler, and color selector. Once you're finished drawing, tap Done and it'll drop your sketch in line with whatever was in the note before you started sketching. (For all you old-school iPhoners out there, this feature only works on the iPhone 5 or newer.)

Add maps and links with just a few taps
Let's say, for instance, you're using Notes to brainstorm an itinerary for a big summer trip. You can save important info from around the web in a note by embedding links and maps you come across on other built-in apps like Safari or Maps. Simply pull up the share tools while on the particular page you're interested in, tap the Notes icon, and select the note it belongs in.
Lock access to sensitive information
This latest and potentially most important Notes feature only recently became available as part of the handy iOS 9.3 rollout. It allows you to protect individual notes with a unique passcode or your Touch ID. So, if you've scrawled out all your passwords or your checking account routing number on a single note (or if you keep a digital Burn Book a la Regina George), there's a secure way to keep it from prying eyes. With the note open, tap the share button in the top-right corner, select "Lock Note," and follow the prompts.

Add photos or video without leaving the app
Notes has always allowed you to attach existing photos, but now you can seamlessly shoot a pic or video from within the app, which is particularly handy if the grocery list or meeting agenda you're throwing together warrants a specific visual aid.
Sign up here for our daily Thrillist email, and get your fix of the best in food/drink/fun.
Joe McGauley is a senior writer for Thrillist and wrote most of this in Notes.