17 Things You Can Do With Google's New Chromecast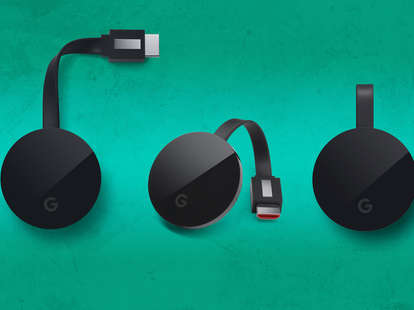 Google Chromecast is certainly not the only streaming device out there, so what makes it a top contender compared to, say, the Apple TV? Besides delivering tons of content from all the usual suspects (Netflix, Hulu, etc.), it's super cheap, conveniently portable, and has a slick, inconspicuous design. Now, along with a slew of other new products, Google just dropped the updated version, Chromecast Ultra, which ups the bingeing ante with even cooler features and better streaming quality for just 69 bucks.
Here are tips and tricks to get the most out of Chromecast. Say goodbye to your social life.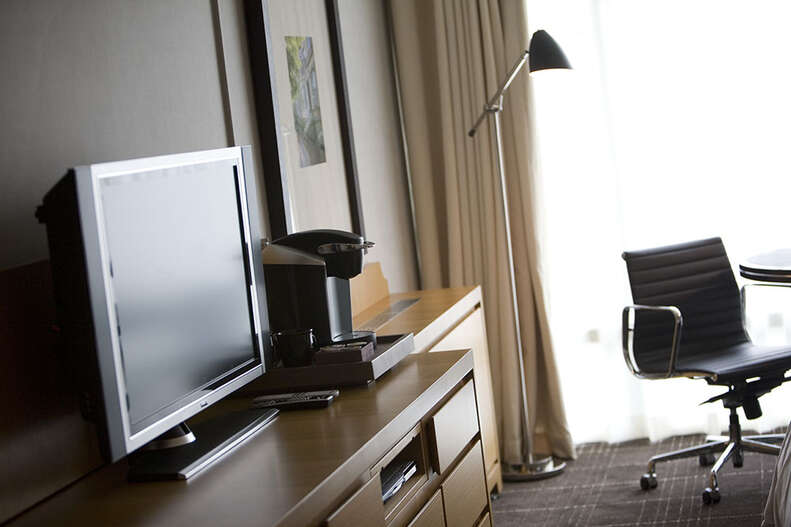 Stream in your hotel room
I think we can all agree that the limited channel selection and overpriced PPV at most hotels are garbage. Come prepared next business trip with your own digital room service. Chromecast will work on any hotel TV with an HDMI port. There is just one catch: you need a portable wireless router. Purchase something affordable (and portable) like the Satechi Smart Travel router/adapter and plug the room's Ethernet port in. Then connect the Chromecast to your media device and stream away.
Score free content from popular streaming services
Chances are you already have a Netflix subscription, but Google gifts cord-cutters with special deals on apps like Hulu and Google Play, promoting free movies and extended streaming trials. Just keep tabs on the Chromecast offer page and occasionally you'll snag a free new release to entertain Tinder dates on Friday nights.
Stream Facebook videos to your TV
Over 100 million hours of video are consumed daily on the world's largest social network. Now Facebook lets you share the same social experience in your living room with a brand-new feature that casts videos from your Newsfeed. Open the Facebook app on your phone and select the clip from your Newsfeed. Tap on the new TV logo that appears on the top right of the chosen video. Then select your Chromecast device. From there you can check out live feeds, as well as real-time reactions or comments on that same Facebook video you're watching.
Cast news headlines instead of wallpapers
If you're more for keeping up with the latest sports scores rather than a fancy display backdrop, Chromecast tunes you into current affairs from across the globe. Enter the Edit Backdrops screen and choose between Curated News, which is curated by Google, or Play Newsstand to gather social updates that cater to your taste. You can then edit the sites you want to follow directly from the Play Newsstand app.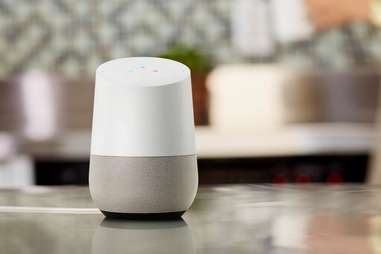 Use Google Home to cast all programming with the Ultra...
Google's brand-new home assistant is programmed to work seamlessly with Chromecast Ultra, so you can start watching movies and shows using just your voice. Simply say commands like, "OK, Google. Play Narcos on my TV" or whatever Netflix original floats your boat, and it'll instantly be pulled up.
.... and play Google playlists, too
Google Home extends its functionality to Google's music platform as well. The speaker will automatically pick up that you're a subscriber to Google Play, as well as your playlists. Request the artist or genre of music you want to rock out to in the living room and Google Home will cast it through Chromecast Ultra.
Watch content that's stored on all your other devices
Wouldn't it be cool to cast files from the cloud or your other devices onto the TV? Google doesn't think so, hence why Chromecast doesn't officially support this feature. However, with Android being an open-source platform, there are third-party apps out there that bring this fantasy to reality. Enter the Plex app. This media-management program organizes all movies, music, and photos stored on your laptop, smartphone, or tablet and can mirror the content onto Chromecast.
Find free content fast via the Rabbit TV Plus app
Chromecast pretty much works like any other media streamer, in that there is no real shortcut to discovering new content fast. This is where Rabbit TV becomes a time-saver. It aggregates free content available online by pulling from over 750 streaming channels, while organizing everything for faster discovery. Press the Cast icon at the top right of the app and mirror whatever videos you please from any iOS or Android device.
Add emojis to your Chromecast name
For those who can't resist slapping an emoji on literally everything, use the Google Cast extension to access the Chromecast options > click on the device name > select edit. From here you'll copy/paste the new emoji-filled moniker from the browser into the name field. Save some time by doing it directly from the Android or iOS Chromecast mobile app, using symbols from your phone or tablet's keyboard.
Change the resolution to improve picture quality
A lot of videos just look shitty online. One reason is most streaming services set their content to broadcast at a default resolution, but you can enhance visuals by going into the Chromecast settings. Start by installing the Chromecast extension, which is essential for most of the device's low-key operations. Hit the Cast icon on the browser bar > select Option > choose the Tab casting quality you want: standard (480p), high (720p), extreme (720p high bitrate), or auto (1080p).
Boost streaming speeds with the Ethernet port
Most streaming sticks don't feature Ethernet ports. Chromecast Ultra does. This is huge because if 4K streaming is your modus operandi, this provides the fastest, most stable connection. Plug your Ethernet cable into the port found on the power brick and make sure the other end is connected to a functioning router. You should be Gucci from there.
Give houseguests access
Playing host means opening your home and amenities to all welcomed visitors. So whether it's friends or the in-laws, keep them entertained by granting them guest access to your media streamer. Open the Chromecast app, select the correct Chromecast model, if you own more than one, and enable Guest Mode. This lets them Netflix and chill without leeching onto your Wi-Fi. If that doesn't work, just have them enter the four-digit PIN that appears on the screen into the app's settings.
Enjoy virtual reality without a VR headset
Virtual reality is already changing the way we consume our entertainment. If all goes right, then we might not have to drop $600 on an Oculus Rift to enjoy it in our living room. According to Ryan Martin, if you own a 3D television you can actually cast VR content onto your set. He recommends downloading the Google Cardboard app and enabling the SBS mode in the TV settings. Try putting on the 3D glasses that came packaged with your TV and this should turn your humble abode into an immersive virtual world. Guess there is only one way to find out.

Control Chromecast with your regular TV remote
Most modern TV sets support a technology called HDMI-CEC that can be activated in the settings. And since Chromecast recently added support for "Deck Control" commands (play, pause, etc.), these playback options will be passed on to the remote to pause and play videos on apps like HBO GO, AllCast, iPlayer, Plex, YouTube, and more. Save your phone's measly battery life for Snapchat.
Use this keyboard shortcut to stream video from your drive
Shortcuts make life easier -- here's one to speed up the streaming process by accessing your local media library for instant casting. Open the Chrome browser, press Control+O on your Mac, Windows, or Chromebook, and select a video from the pop-up box. This opens the gateway to stream media files from your local drive, connected external drive, or network location onto the browser. Click on the Cast icon on the browser bar and select your Chromecast name. Just keep in mind not all file types will work.

Redirect the sound to your headphones
If you've got Walking Dead cued up while your spouse is in a sleep coma, this certainly isn't conducive to either party. The LocalCast app lets you pair headphones with your smartphone or iPad so you can enjoy all the blood splatter and zombie chomping you want without disturbing others. Select the Route Audio to Phone option on the Now Playing screen, then pair some wireless sound cans via Bluetooth to your phone. Note: all content must be streamed directly from the app.

Transform an old monitor into a wireless one
Somewhere in the attic lies a Dell computer monitor you've been hoarding for the past decade. If it has an HDMI port, you can modify the display into a secondary screen. Though instead of casting movies, we recommend using it to increase productivity. Try beaming Google Docs, program scripts, or web pages and take full advantage of the extra screen real estate.
Sign up here for our daily Thrillist email, and get your fix of the best in food/drink/fun.
Alex Bracetti is a contributor to Thrillist, Complex, HOOP, Man of Many, and several others. Follow him on Twitter: @AlexBracetti.