RIO 2016! It's a showcase for the triumph of the human spirit, opportunity for the world's top athletes to have all the sex, and a possible looming health disaster of epic proportions. High jump over here for all of Thrillist's coverage of the games, and the games beyond the games.
Unless you've somehow managed to set aside 6,755 hours to watch the entirety of NBC's Olympics coverage, you need to find some other way to keep tabs on what's going on in Rio. You don't need to be a slave to your DVR for the next two weeks; here's how to catch up on the action from just about any device you own, even when you're shackled to your desk. Because just like Steven Tyler, you don't wanna miss a thing.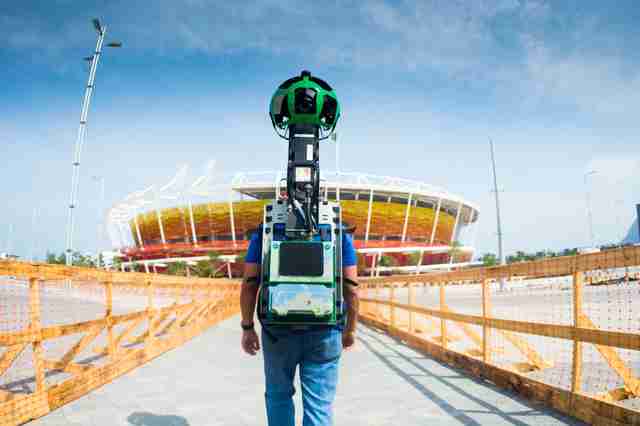 Google's got you covered from every angle... literally
Google wants to be your hub for every tidbit of Olympics-related info you could conceivably want. It's announced a slew of special features including detailed event schedules, medal counts, and athlete info in search, along with TV schedules in 30+ countries. Plus, it's added brand-new options to Rio's Street View selection and produced some exceptional 360-degree POV tours of the favelas so you can explore all the sites -- including the new sports stadiums -- all from the comfort of your computer or phone.
Download the free must-have apps
Your social media feeds will be inundated with Olympics-related coverage for the next two weeks, but in order to catch all the up-to-the-minute action, arm yourself with a couple specific apps. First up: the NBC Olympics app (for iOS and Android). This is a must for cord cutters, since it's useful without a cable subscription -- providing real-time results and medal standings, up-to-date TV and live-streaming schedules, video highlights and expert analysis, athlete bios, and even sport "101" primers, for the athletically challenged amongst us. 
Also consider downloading the Google search app (for iOS and Android). Not only is it flush with all the athlete details, medal counts, and event schedules, but you also get the option to turn on automatic updates which will ping you with alerts about top event and medal wins, so you're always in the know.
Go behind the scenes on YouTube
YouTube teamed up with 60 global broadcasters -- including the BBC, America Movil, and NHK -- and will be showing official highlights from them for all events. Plus, it's dispatched 15 of its most popular original content creators to the streets of Rio and beyond, where they'll be capturing more behind-the-scenes action, including 360-degree video. 
Follow your favorite athletes' social media accounts
It's easy to be overwhelmed by the sea of fresh-faced athletes who invade our livelihoods every two years. Thanks to social media's good graces, it's easy to send personalities with chiseled six-packs diving, gliding, and whirring across our screens. Even better? The International Olympic Committee built an app (for Android only) that functions as the social media hub for athletes you want to know more about, aggregating the verified Instagram, Facebook, and Twitter accounts for every competing Olympian. You don't even have to know a particular athlete's name -- you can simply search by team, sport, or game.
See what you missed in virtual reality
Nothing compares to seeing the games up close and in person. That said, there are plenty of reasons to not feel bad about missing this year. Besides, it's 2016 dammit, and you better believe there's some virtual reality to be had. If you've got a Samsung Galaxy and Gear VR (and a cable subscription), NBC is producing over 100 hours of exclusive VR programming via its app, including the opening and closing ceremonies, the men's basketball final, gymnastics, track and field, beach volleyball, diving, boxing, and fencing. Donning a VR headset at the office isn't the greatest look, so if you can't wait, be stealth and book a private conference room or something. 
Sign up here for our daily Thrillist email, and get your fix of the best in food/drink/fun.