12 Tips Everyone With Hulu Should Know
With tons of cable exclusives and network programming, Hulu has become the streamer of choice for cord-cutters who want to tell Comcast and Time Warner to pack up all their crap and get out. But underneath that gorgeous, shiny interface are some features that might be unbeknownst to current users. Put these 12 tips and tricks to good use. Happy Hulu-ing!
Watch Hulu and do other work simultaneously on your desktop
You can only squeeze in so many Mr. Robot scenes during bathroom breaks before your boss catches on. Here's one way to feed your addiction while at the desk. It's called Helium and the app makes Hulu available to watch on your computer screen via a floatable, resizable window with opacity settings. Watch shows on the player in espionage fashion as it blends into the background of your virtual workstation. Transparency is a beautiful thing.
Let the Magic Cube pick something for you to watch
Weaving through Hulu's entire catalog ain't all that fun. Let the Magic Cube do all the searching for you. The feature basically rolls the dice for viewers based on words they select that reflect their mood. From there it provides the best recommendations. You can also let the cube randomly spin to pick a show. Just pray it doesn't land on Lucifer. Or Rush Hour. Or Fear the Walking Dead.
Get alerts when your favorite shows are leaving
With so many shows to tap into, it's easy to fall victim to binge-watcher's remorse. Movies on Netflix come and go, and stuff on Hulu also has an expiration date. So if you're too busy watching Hulu exclusives, but worry that the first season of Broad City might be gone before you get to it, select the Account tab, click Queue, and head to Expiration Alerts. Once you favorite certain shows or movies, you'll receive email alerts in advance when they are leaving.

Stream during off-peak times for better picture quality
Jumping on any streaming service during peak hours is like entering your mobile carrier's best coverage area with other subscribers. Technical difficulties are bound to occur. The increased traffic in viewership will affect the picture quality, so save all your binge sessions for the daytime when everyone is slaving at their 9-to-5, as it will make for better visuals.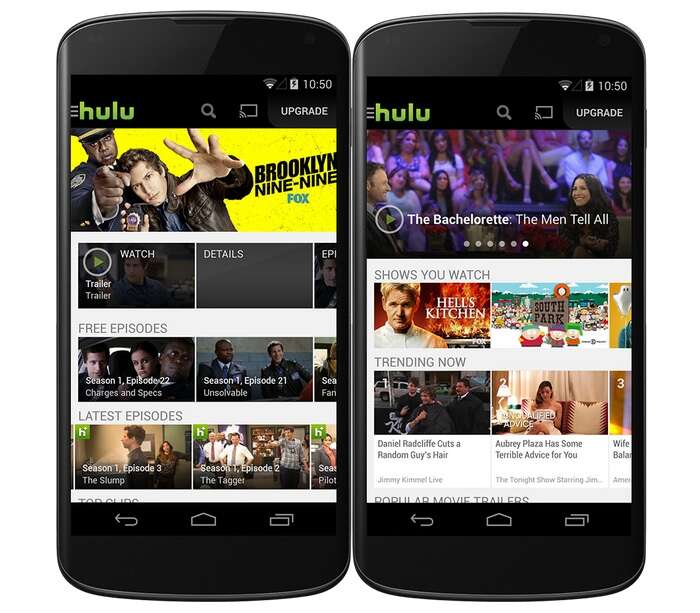 Ditch the remote and control Hulu from your smartphone
Your iPhone is surgically connected to your palm at all times, so why not make the most of the situation and use it to play, pause, and navigate through the Hulu app? It beats digging through the couch for your Apple TV remote, plus does a better job of searching for content. Go to the App Store, download the app, and reserve a spot for it somewhere on your home screen.

Get it in HD, every time
Every streaming service sets its video content to play at a default setting, especially when watching on a mobile device. Hulu is no different. There's a quick fix though. Click the gear icon on the Hulu player and you can choose to switch the setting from low to high to HD. Bump it to the max and even hit the "automatic" setting to make HR the norm for future streaming sessions.
Freeze your account so you don't pay for it when traveling
Hulu only has streaming rights for its content in certain regions. In other words, you're shit out of luck if you're trying to catch up on the latest episodes of Scandal on international grounds. So rather than pay for unused service during that time, head into your Hulu account options and put a hold on it from anywhere between one to 12 weeks. Just know you can't do this if your Hulu account is billed through Amazon, iTunes, or Roku.

Or download a VPN to watch content internationally
Where there's a will, there's a way. Your best bet to access Hulu content outside of the country is paying for a virtual private network (VPN), which manipulates the service into thinking you're still in the States. Consider a program like NordVPN that's super easy to set up and allows up to six simultaneous connections for $6 a month. But if you're feeling cheap, you can't go wrong with CyberGhost VPN, though it only allows you up to three hours per session.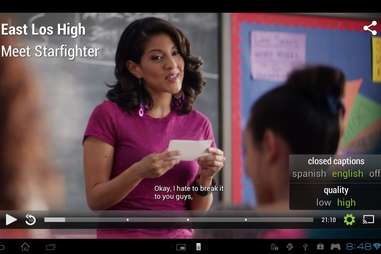 Change up the subtitles so you can read them better
If you're trying to make sense of what Kenny's mouthing off in South Park or have trouble following the plot points of 11.22.63, this is where captions come into play. Hulu lets you adjust them in a number of ways including the font, transparency, size, opacity, and more for better readability. You can put those bifocals back in the kitchen cabinet.

Update your Flash player. Seriously, just do it.
I always download the latest version of Adobe Flash, said no one ever. If you're trying to watch Hulu videos without any lag, quit ignoring the pop-up updates appearing on your MacBook screen. Download the latest version, but first go into your player's settings and see which version is currently installed. You want to aim for anything 11.1 or higher. If that doesn't work, make sure your computer meets Hulu's system requirements to run 480p and 720p videos.
Use your Plenti rewards to pay for subscriptions
Multi-store rewards are big right now, especially since they earn you free swag. Enter Plenti. The company has a partnership with the service that allows subscribers to earn points when watching qualified shows, registering their card on Hulu, referring a friend, or buying a $100 Hulu gift card that's redeemed in six months. Those with an American Express Membership Rewards account can convert their Plenti points into Member Rewards points and apply them to eligible credit card charges. Or they can pick up an AMEX gift card and pay for their Hulu subscription.

Avoid extra Apple fees by recreating an account online
Signed up for Hulu's No Commercials plan through Apple? In the words of the immortal Biggie Smalls: "You been robbed!" Just so happens Tim Cook & Co. charge an extra fee ($2 more) to your bill due to "transaction costs associated with Apple." One way around this is by going into the settings and canceling your account, then go on to the web and create another one. You'll be able to log into your iTunes devices without any issues.
Sign up here for our daily Thrillist email, and get your fix of the best in food/drink/fun.
Alex Bracetti is a contributor to Thrillist, Complex, HOOP, Man of Many, and several others. Follow him on Twitter: @AlexBracetti.