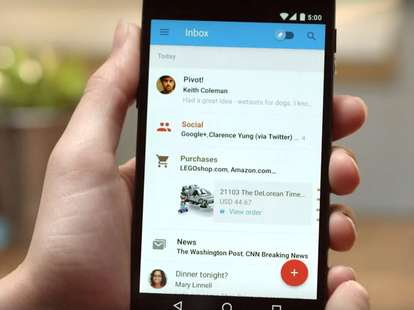 Everybody has their own unique strategy when it comes to managing their deluge of daily emails, but we can all agree on one thing: it's a soul-crushing time-suck. Take some comfort in knowing there's an easier, faster way to slay your inbox all day everyday. It's called Inbox by Gmail.
It's been around since 2014, but a recent app update that makes project managing your inbox even easier proves once again that it's the only email client you should be using. If you're not currently on board with Inbox, here's why you should make the switch.
It automatically organizes your emails together by type
One of Inbox's hallmark features is how it can sort your various emails into "bundles" by category. For example, it'll sort any email with travel confirmation details into a "Trips" bundle, receipts into the "Purchases" bundle, daily J.Crew/Amazon/Kayak emails into a "Promos" bundle, and back-and-forths from certain listservs into a "Forums" bundle. This makes it easy to find what you're looking for in a flash, and also neatly tucks away all the unimportant junk or otherwise non-urgent messages until you decide to look at them. You can also create custom Bundles that collect incoming emails from specific email addresses or with certain keywords in the subject line.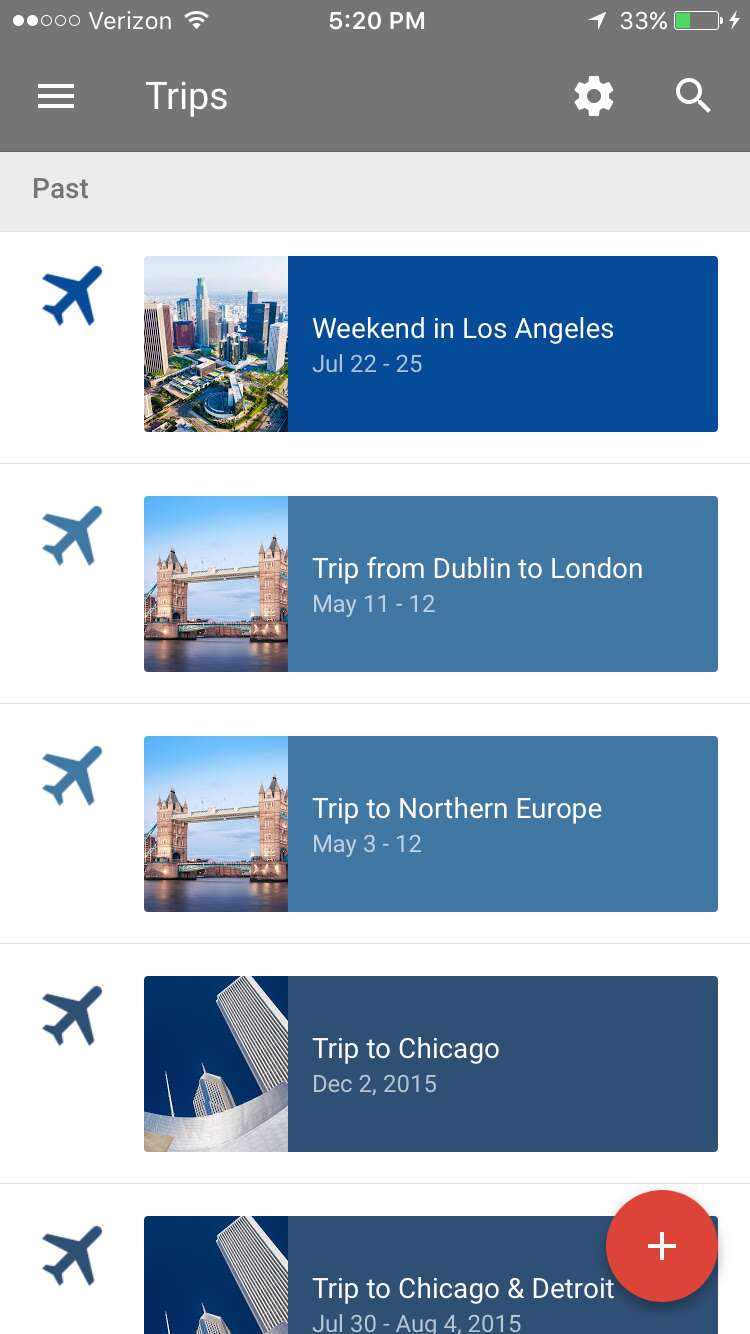 It surfaces the most important stuff to the top
Once you've trained your bounty of bundles to sort the bulk of what you receive, you'll notice the most important messages are surfaced to the top. These include messages sent directly to you, as well as others that may not otherwise fall into a Bundle-worthy category. You also have the ability to pin specific messages, which keeps them at the top of your Inbox until you unpin it or mark it as "done," which essentially archives it and removes it from view.
Reaching Inbox Zero has never been faster
With bundles you also have the option to mark emails as "done" en masse, which can save you a ton of time in your quest to reach that elusive Inbox Zero. Rather than deal with every individual message in, say, your Promos bundle, you can open it up and scroll to preview whether there are any messages you actually want to read or respond to. When you're done, if you want 'em all to disappear, you can clear them in one fell swoop by tapping the "Sweep" icon. Also, one of the changes with the latest app update allows you to delete emails with one tap straight from your inbox, whereas before you could only archive or snooze them.
Hit snooze on emails you don't need to deal with until later
This may be the greatest individual feature of the app. You can hit snooze on any message if you'd rather not deal with it in the moment, and get a reminder about it later. When you swipe left to snooze, you have options to re-see the email later that day or week, set a custom date and time for a reminder, or give it access to your location data and have it remind you when it recognizes you're in a certain place (for example, when you get home or to the office).
Preview attachments and newsletters without opening them
Your inbox is set up to give you sneak peeks of what's in certain emails to save you time. When you receive an email with an attachment, image, or link, Inbox conveniently lets you see a preview so you don't even have to open the message to get an idea of its contents. Similarly, when you receive certain newsletters or daily digests, Inbox will give you a preview of the headlines people are sharing from that email.
It makes quickly composing messages easy
The interface is set up in a way that makes it incredibly easy create, compose, and send new messages in a flash. And rather than fumble with typing out specific email addresses, you can simply drag and drop them into the "to," "cc," and "bcc" fields.
It might take you a while to catch on
As convenient and useful as Inbox can be, it will take some time to initially to set things up (customize your bundles, etc.) and navigate the app as a whole. You might also find it frustrating having to re-train your brain how to manage all of your messages, but once you're in the swing of things (and keeping your inbox as clean as ever), you won't want to use anything else.
Sign up here for our daily Thrillist email, and get your fix of the best in food/drink/fun.
Joe McGauley is a senior writer for Thrillist who is so incredibly thankful for Slack.