There's a Massive Privacy Problem With the iOS 10 Lock Screen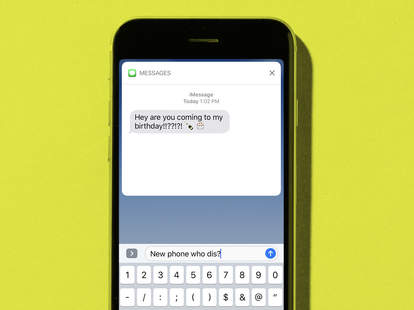 Screenshot via iOS 10/Oren Aks/Thrillist
The new iOS 10 is packed with dozens of features meant to make your iPhone even more useful, but alas, we recently discovered that one of the new things it can do is set you up for an enormous breach of privacy.
Unlike previous versions of iOS that would allow you to respond to text messages directly from the lock screen after entering a passcode, iOS 10 now allows anyone to reply to texts directly from the lock screen without entering a passcode or Touch ID. If, like me, you have friends with dick-ish tendencies, this is hugely problematic. 
Here's what you need to know.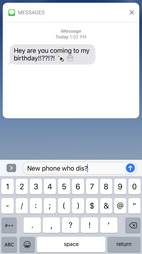 Screenshot via iOS 10
When an incoming text message notification pops up on your lock screen, giving it a hard press launches a preview of the message window and a keyboard for you to respond then and there, passcode-free. This allows anyone within an arm's length of your phone to reply to your Tinder date on your behalf while you're taking a leak.
We certainly weren't the first people to discover this glaring oversight on Apple's part. Some people on Twitter voiced their concern (and excitement) about it shortly after iOS 10 dropped.
RED ALERT: you can text without unlocking your phone with iOS 10❗️❗️❗️❗️❗️❗️❗️❗️❗️❗️

— keylimepie (@keylincruz5) September 15, 2016
Soo you can reply to a text without unlocking the phone with iOS 10

— isaac isaac (@erzamiIIers) September 16, 2016
replying to a text without unlocking your phone is kinda tight, props iOS 10

— Scott Horlbeck (@scott_horlbeck) September 13, 2016
There's no telling whether Apple will put a stop to this loophole in a forthcoming update to iOS 10, but the good news is you can manually disable it in your settings.
Screenshot via iOS 10
Head to Settings > Touch ID & Passcode, scroll down, and disable "Reply with Message." This will still give you the option to press and preview incoming texts from the lock screen, but it will prevent you -- or anyone else -- from replying without entering a passcode. 

Sign up here for our daily Thrillist email, and get your fix of the best in food/drink/fun.
Joe McGauley is a senior writer for Thrillist. He'll show you his texts if you show him yours.