Update Your iPhone Right Now or Risk Getting Hacked
Unlike most intermittent and boring iOS software updates Apple deploys, you shouldn't wait around to install the latest one it just released. That's because it includes a critical patch the company rushed out after discovering some troubling security flaws that Israeli hackers were exploiting to gain access to iPhone users' text messages, emails, and contacts, record sounds, collect passwords, and even trace the devices' locations.
It's being reported that the flaw is specific to the iPhone 6, but it'd be wise to update any device you use pronto, including your iPad. To upgrade to iOS 9.3.5 right now, go to Settings > General > Software Update and click "Download Now."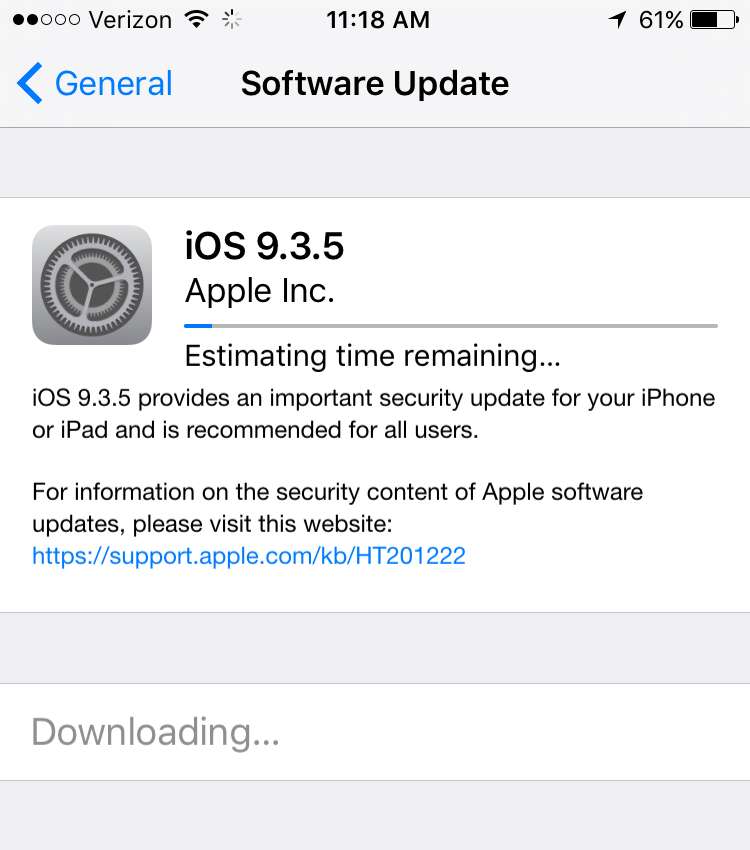 Screenshot via iOS 9
Apple was first alerted of the issue over a week ago, when two security researchers tipped it off after hearing from human rights lawyer Ahmed Mansoor, who'd received some suspicious text messages promising "secrets" about torture happening in prisons in the UAE if he clicked a particular link. After some digging, the researchers determined that the malware had been created by an Israeli outfit known as the NSO Group who used it to target and intimidate dissidents. It has previously gotten heat for allegedly selling similar software to foreign governments,
Mansoor didn't click the link, but if he had, it would have been big trouble according to a report released Thursday by the University of Toronto's Citizen Lab, where Mansoor initially forwarded his suspicious messages. "Once infected, Mansoor's phone would have become a digital spy in his pocket, capable of employing his iPhone's camera and microphone to snoop on activity in the vicinity of the device, recording his WhatsApp and Viber calls, logging messages sent in mobile chat apps, and tracking his movements."
Bottom line: even if you aren't at all worried some repressive regime would go out of its way to track you 24/7, who knows who else might want to peek at your private stuff. Get thee to your settings!
Sign up here for our daily Thrillist email, and get your fix of the best in food/drink/fun.
Joe McGauley is a senior writer for Thrillist and wishes hacking were still as quaint and simple as it seemed in
The Net
.