The Black-Market Netflix Is the Ultimate Streaming Hack
Kodi/Thrillist/Jennifer Bui
Kodi/Thrillist/Jennifer Bui
Everyone loves Netflix -- at $9.99 a month, what's not to love? True, Netflix doesn't have Seinfeld, and a bunch of other goodies that Hulu has. But $11.99 a month (commercial-free!) sounds doable, so go ahead and add Hulu to the mix. And obviously you've gotta get your Game of Thrones on -- that's $14.99 a pop for HBO NOW. Um, totally worth it. Now throw in the money you pay for your Spotify subscription. Add up what you've spent on tickets to all those kick-ass movies in theaters so far this year. Big sports fan? What's cable going for these days?
It costs a lot to get great content. And yes, it's worth it -- there's a lot of great content out there to be got. But the cord-cutter movement is in full swing, and if we've learned anything from the Napsters and Pirate Bays of the world, it's that people will always find clever ways to score stuff for free that suckers like us will otherwise pay for.
Enter Kodi, the cord-cutter's paradise. Formally known as XBMC, Kodi is a buzzword amongst fanatic binge-watchers, evoking a magical portal that opens up a seemingly endless universe of content and broadcasts it to your HDTV or laptop screen, without any restrictions, and without any payment. Yeah. It's totally free. It's not exactly mainstream -- downloading and using Kodi takes a bit more effort and technical skill than other streaming services -- but Kodi has a tight-knit community of users who freely circulate tips and tricks.
But is it illegal? Technically, no. There's nothing actually on it. Technically.
Ed. note: Thrillist does not condone piracy or support the use of third-party applications that enable pirated material to stream on Kodi.
What is Kodi?
Kodi is just a media player. Anyone can head over to the Kodi website and download this sucker right now. It's also available in the Google Play store for Android devices. But you don't need an Android to use it -- the software runs on multiple operating systems (iOS, Android, Windows, Mac OS X, Linux) and can be downloaded onto computers, smartphones, and streaming boxes.
Here's the kicker: Kodi doesn't come pre-installed with any content. Think of it like browsing the app store for your smartphone; developers create an app, that app sounds good to you, and you download it. Similarly, developers create add-ons and content packages for Kodi that users download and install separately -- like recently aired TV shows, sports games, live events, podcasts, slideshows, and games. Browse the "Add-ons" section of the website and you'll see some of the usual suspects from your Apple TV or Roku, including NBC Sports Live, Twitch.tv, and YouTube, just to name a few.
So what's the beef? The beef is the other add-ons, the add-ons not found on the Kodi website that can be downloaded elsewhere. Kodi is open-source software (like Android), so developers have creative freedom to build and share add-ons without restrictions -- including unsupported third-party plug-ins that pull pirated content from services like Netflix, Hulu, HBO NOW, and Amazon Prime Video (and I guess Showtime has a streaming thing now?). Then come the plug-ins that expand beyond video and get music from Pandora or Spotify, bypassing the agreements that artists signed with those services and streaming it all for free. Then you've got plug-ins with new or unreleased movies. And, surprising no one, there's also porn.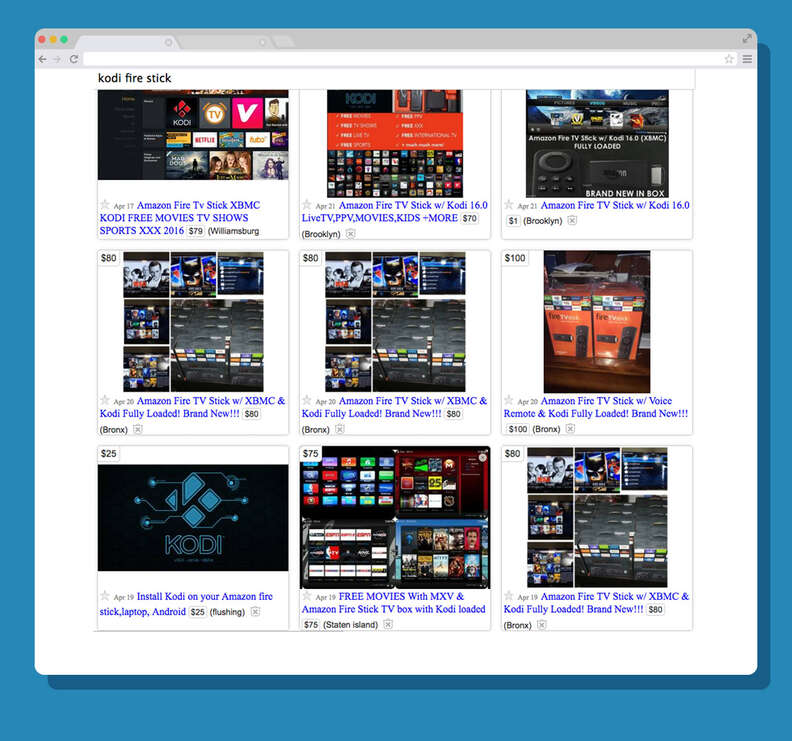 "Jailbroken" devices sell on Craigslist and the black market
Once all this Kodi software gets downloaded, how do people actually watch pirated content? One option is to mirror it onto a TV using an HDMI adapter or Google Chromecast. Another is to actually hack a streaming player and program Kodi onto it. The Amazon Fire Stick is currently the most popular option, since the Fire OS is based on Android (like Kodi) and lets programmers easily manipulate the interface to create the ultimate streaming setup. It's pretty complicated stuff, although there are plenty of YouTube videos to help school intrepid programmers.
For the less tech savvy who don't want to deal with a mess of sketchy downloads, there's another method of distribution: let a hacker do it all for you. Clever programmers looking to make an extra buck will pre-install a "fully loaded" Kodi onto an Amazon Fire Stick and then sell it on the black market for $50 to $100. Craigslist and eBay are flooded with jailbroken Fire Sticks. Others will simply sell them locally via word of mouth as a profitable side hustle. You might even discover some mom-and-pop electronics stores carrying these devices on the down-low.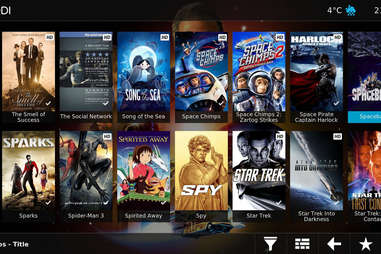 What's it like? Well, I tried it.
Being able to watch whatever you want, whenever you want, for free, is both liberating and amazingly overwhelming. Practically everything in cyberspace is at your disposal. The interface has a futuristic vibe, and its customizable with different wallpapers and skins just like an old-school media player (anybody remember Winamp?).
But it's not without its faults. It sure as hell doesn't run as smoothly as Netflix or a Roku player. For starters, it's not an app that's accessible via the home screen, unless you're running on the latest Amazon Fire OS version (which in that case, you'll find the Kodi shortcut on the Recent Tab.) Those who aren't must dig around in Settings to find it, and select the add-on to watch from there.
Navigating through Kodi can be cumbersome because you're stuck searching for content using the streaming player's controller. It's nowhere near as intuitive as a gamepad, keyboard, or smartphone. Luckily, developers have rolled out new programs that make Kodi more conducive to the user. The Yatste app, for example, grants full control of Kodi directly from your smartphone with offline library synchronization, voice commands, and a virtual keyboard to search content faster. Then there's Trakt, which keeps a comprehensive history of what you watch by "scrobbling" all films and shows to your personal profile, which is then linked to your favorite add-ons like Exodus or Phoenix for instant access. Both make for some pretty sweet Kodi hacks for your Amazon Fire TV.
Videos are hit or miss -- it wholly depends on what media pirates upload. For flicks that just hit theaters, expect a lot of links to shitty bootlegged footage. Most other movies and TV shows look alright since they are either ripped from DVDs or DVR'd and uploaded.
Live programming isn't so great, with streams constantly freezing and looking blurry. Selecting the best-looking streams is really a game of chance since most file hosts don't have the bandwidth to support thousands of viewers at once, therefore diminishing picture quality. So watching a UFC fight isn't very exciting -- that being said, if someone's willing to go through all these technical loopholes, it stands to reason they can figure out how to boost their Wi-Fi connection and up the picture quality.
Kodi is making moves to disassociate itself from piracy
Again, Kodi itself doesn't break any laws -- it's no more illegal than a computer, iPhone, or any free movie-streaming site out there. It's just being used in illegal ways.
Kodi doesn't want to be associated with piracy. One of the ways it takes a stand is by refusing to provide software support or bug fixes for third-party add-ons. As a result, many plug-ins are prone to break or quickly become incompatible with Kodi's software. It's even gone as far to remove discussions about "pirated content" and add-ons promoting such illegalities from its message board.
But Kodi still struggles to keep its perfectly legal platform distinguished from the unauthorized buggy content people are consuming on it. "Every day a new user shows up on the Kodi forum, totally unaware that the free movies they're watching have been pirated and surprised to discover that Kodi itself isn't providing those movies," Nathan Betzen, XBMC Foundation president and Kodi product manager, told TorrentFreak in February.
Then again, Kodi adamantly supports its open-source policy and maintains a "neutral stance" on how developers use its software. Kodi recently wrote in a blog post, "Users, you are welcome to keep doing whatever you want with Kodi. Devs of all stripes, feel free to keep developing whatever you want. This is an open, free platform, developed under the GPL, and always will be."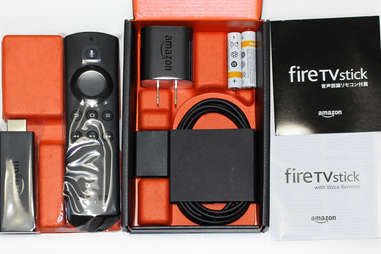 How long will Kodi last?
Kodi's getting a bad rap with big streamers -- Amazon removed the software from its app store for "facilitating piracy," angering plenty who use Kodi to play back files they obtained legally. Even so, banning the app doesn't stop unethical programmers from finding workarounds, and for many, the question of dropping cash on Prime Video versus getting it for free on Kodi is all too obvious.
No lawful action has been taken against Kodi... yet. But the UK government is starting its crackdown on the Kodi "epidemic", and the Federation Against Copyright Theft (FACT) confirmed that half of its investigations are based around streaming devices using third-party piracy software. Additionally, recent reports indicate that Internet service providers could be next to attack Kodi; Cisco claims to have developed a system that automatically prevents pirated streams from being viewed.
For the moment, though, Kodi looks to be protected by the same legal loopholes that keep other off-the-grid streaming sites up and operating. The Kodi team indicates in its Repository Submission Guidelines that all add-ons must "be free and legal to distribute" and "not violate any known copyright laws." But Kodi's laissez-faire open-source policy places it under the judiciary microscope, and unofficial plug-ins put Kodi at risk of violating the US' Digital Millennium Copyright Act.
Predicting Kodi's shelf life depends on how long it can continue to defend itself as a standard video player. Look back at other infamous peer-to-peer file-sharing staples -- LimeWire hung on for a full decade before losing a four-year legal battle over copyright infringement; and it took six years before the Pirate Bay's founders were found guilty of infringement in 2009. Only time will tell if and when Kodi is brought to the chopping block.
Sign up here for our daily Thrillist email, and get your fix of the best in food/drink/fun.
Alex Bracetti is a contributor to Thrillist, Complex, HOOP, Man of Many, and several others. Follow him on Twitter: @AlexBracetti.