Actually Great Last-Minute Gifts You Don't Need to Ship
Generally, waiting until the last minute to buy Christmas gifts for the people on your list is a terrible idea -- but a terrible idea most of us repeat each December! But a last-minute gift doesn't need to be crappy and thoughtless, even if you're only getting around to it at the last literal minute.
Here are nine legitimately cool gifts you and all the other procrastinators out there might want to consider.
Screenshot via MasterClass
A MasterClass course
$99 each
MasterClass is a relatively new platform where exceptionally successful (and famous) artists, athletes, and chefs virtually "teach" a masterclass in what they do. There's a class on screenwriting taught by Aaron Sorkin, an acting course from Kevin Spacey, a filmmaking class with Werner Herzog, electronic music production with Deadmau5, plus more. Each class is packaged in a series of videos featuring lessons or lectures, as well as course materials and some even facilitate feedback between the instructor and students. Since all courses cost the same, you can either gift a specific class, or leave it up to the recipient to choose.
A Netflix subscription
Any amount
Although pretty much everyone and their great-grandparents have signed up for Netflix by now, it'd be a pretty nice move to pick up the tab for a few months (or if you're feeling particularly generous, a full year) of some of the best original bingeable programming out there. 
An Airbnb gift card
Any amount
Gifting people a trip to a specific location can be risky if you don't know what's on their travel bucket list, which is why an Airbnb gift card is a perfect option for the adventurous trekker on your list. Simply pick an amount and Airbnb will deliver a splashy email with a redemption code for them to apply it to any future bookings made through the site.
A New York Times subscription
$143 and up
With steaming-hot piles of fake news stories abounding and a seemingly post-truth president about to take office, it's more important than ever to support quality journalism, and that means *gasp* paying for it. Gift a digital subscription to grant a news junkie access to some of the best-reported and most insightful stories of the day, and fill the coffers of an increasingly cash-strapped company so it can keep doing the good work we all rely on.
Bloomberg/Getty Images
An Uber gift card
$15-$100
Uber may not be perfect, but it's still one of the most popular transportation options. While the ride-sharing company does offer physical gift cards, there's also the option to purchase an e-card via PayPal, which'll send your recipient a redemption code they can load to their Uber app and use on future ride fares. 
A Spotify Premium subscription
$9.99 and up
Although the free version of Spotify is fine if you don't mind sitting through obnoxious ads and aren't interested in listening offline, a Premium subscription makes a big difference. You can gift anywhere from a single month's to a full year's worth of access to Premium, which includes ad-free higher-quality audio streaming, as well as offline playback (which allows you to save entire albums or playlists to your device) and a handful of other nifty features.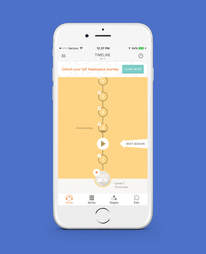 Nina Gonzales/Thrillist
A Headspace subscription
$12.99 and up
For the anxious stress-balls on your list (and really, after this year, who doesn't fit that profile?), consider signing them up for a subscription to the incredibly popular mindfulness app, which not only introduces users to meditation in easy 10-minute programs, but offers an extensive collection of hundreds of hours of additional content designed to help users stay centered and mentally fit to better handle the world around them.
A Skype gift card
$10-$60
Perfect for a college student headed abroad, or anyone else on your list who's living outside the country, gift a Skype gift card to load up their account so they can make calls to landlines back home for free for a few months.
Sign up here for our daily Thrillist email, and get your fix of the best in food/drink/fun.
Joe McGauley is a notably terrible gift-wrapper and senior writer for Thrillist.