I'll admit it, I was pretty pumped the first time I got to fly a drone. Granted, it was indoors with a dinky little quadcopter some company sent us to review, but it felt cool, like the first time I giddily grabbed ahold of a remote-controlled car as a kid. It's no wonder they're so damn popular. They're fun as hell.
But the honeymoon phase swiftly faded, and it wasn't just because I was viciously dive-bombed by one in broad daylight at the park. Let me just say what everyone else has been thinking: toy drones are really, really dumb. Maybe you disagree -- hell, you might even be one of the million people who got one for Christmas last year, but hear me out.
They're just very, very uncool
There's a reason kids (and full-grown kids alike) love remote-controlled cars. Who doesn't want to drive a race car when they grow up? A fast car, even when it's smaller than your forearm, is sexy. But what childlike whimsy are you channeling when you fire up your mini drone? Drones are basically the bridge clubs of the remote-control world, a hobby you wouldn't necessarily brag about to your friends unless you're old enough to qualify for an AARP membership.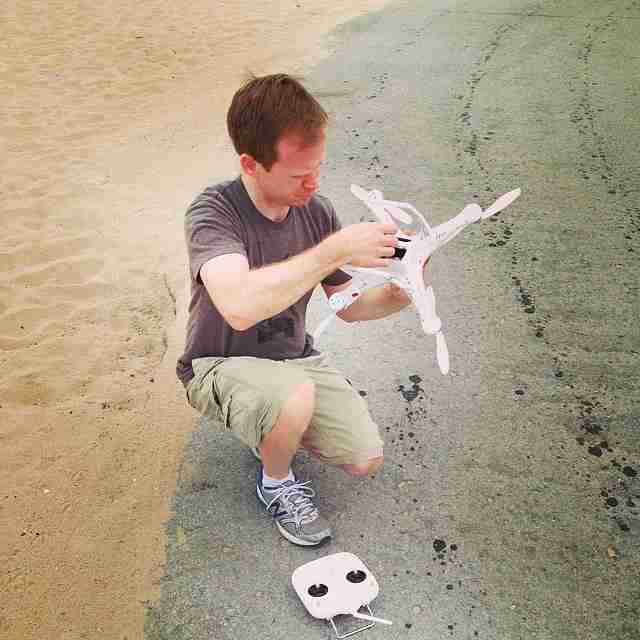 Nobody really knows how to fly them. NOBODY.
Even if you haven't been goosed by a rogue recreational drone like me, you've seen them invade the skies of public parks and crowded streets, erratically whirring above like mutant bees. They're impossibly tricky to fly, and nobody seems to have any idea how to actually control them, resulting in the sort of dangerously unexpected dips and swerves that you'd expect from a bird of prey who'd taken some bad Molly. There's also the issue of noise pollution -- individually, they're not a total nuisance, but get a couple in the same general vicinity and it's like lounging at the edge of an airport tarmac.
 
They're inevitably ending up in your next garage sale
Be honest, the drone you got for Christmas is still in its box, stashed away on a shelf, gathering dust. Much like the Talkboy you got in fourth grade, you'll probably take it out once or twice, give it a half-hearted whirl, think "man, does anybody really know how to fly these things?," and go make a sandwich. It's one of those flash-in-the-pan impulse buys inevitably bound for the yard sale stockpile.
Lest we forget, drones are wartime weapons
Forget the flashy marketing stunts and proclamations of wholesome family fun to be had piloting your toy quadcopter. Drones have one hell of an evil origin story -- from the get-go, they were designed to destroy things. In fact, the earliest recorded use of them in the late 19th century was in an Austrian air raid against the city of Venice. In WWI they were used as "aerial torpedoes," and they've played a huge role in military reconnaissance.
And sure, they've helped spare the lives of countless soldiers on the ground, but their pilots -- who control them with joysticks from windowless cubicles, continents from any real war zone -- have also accidentally blown up hospitals and apartment buildings. Some experts even argue that drone warfare is compelling people to join ISIS. The sub-$100 toy drones aren't built to kill, clearly, but we wouldn't have the advanced technology that's made them so cheap to produce without the excessive military R&D.
Just something to think about when you're out in the backyard trying not to crash your little plastic toy into the power lines.
They are actually a huge security risk and screw with air traffic
As if air travel weren't stressful enough, in the last few years, rogue drones have been caught flying dangerously close to thousands of planes, sometimes at heights higher than 10,000ft, which is absolutely terrifying. Let's be clear, you guys: it's illegal to fly your drones around an airport. Then you have geniuses flying their drones into wildfires, interfering with firefighters' efforts, or crashing them into buildings, or landing them on the White House lawn.
For their part, the FAA has at least begun mandating drone registration, putting guidelines in place to help prevent these jackasses from flying near sensitive sites (sports stadiums, high-security events, etc.) but we're talking about amateur hobbyists here. They're amateurs; what do you expect?
 
And they're a huge potential threat to our privacy
Drones have long been conducting all manner of military reconnaissance abroad, but it's becoming more and more apparent that they pose a serious threat to our domestic privacy. Last year, a dude in Kentucky shot a drone out of the sky in his backyard after suspecting it was creepily filming his daughter, who was sunbathing at the time. A mother in California freaked out over a similar encounter at a public beach. The FBI has even admitted to using drones to spy on US citizens.
It's becoming such an issue, both the Electronic Frontier Foundation and the ACLU have dedicated a good deal of resources to raise awareness and explore ways to prevent a potential dystopian surveillance state. "I'm sorry, what was that?" POTENTIAL DYSTOPIAN SURVEILLANCE STATE. 
Sign up here for our daily Thrillist email, and get your fix of the best in food/drink/fun.
Joe McGauley is a senior writer for Thrillist and will admit not ALL drones are bad.