How to Score Your Dream Job on LinkedIn
Courtesy of Homepolish/Tessa Neustadt
You may know it as the website you never check that deluges you with spammy emails, but LinkedIn is still one of the first places recruiters hit to find new talent. If you're crossing your fingers that you'll get recruited for a sweet new gig, you have no choice but to tailor your profile so it gets in front of the right eyeballs. Here are eight verified ways to get noticed on LinkedIn so your next job comes to you.
Upload a professional headshot
You know that one selfie you use for every single profile picture? Opt for something a little more sophisticated. If you can swing it, hire a photographer to snap some professional headshots, or at the very least, get a friend to take a pic of your best business face. Statistics show that having a professional-grade headshot in your profile makes you 21 times more likely to be viewed by other users. 
Take full advantage of your tagline
Instead of simply filling the field out with your current title, use the "professional headline" space to say something more exciting about your talents. For instance, if your official title is Marketing Manager, you could enhance it by tacking on several relevant (and legitimate) skills: "Marketing Manager, social media whiz kid, brand-builder."
Incorporate industry-specific buzzwords too, since that will help you show up in more searches. Recruiters rely on hyper-specific search strategies to narrow the field, according to Samantha Maldonado, manager of talent acquisition here at Thrillist. "Some people say that your profile should look like your resume. Whether it looks like your resume or it's short and sweet, I'm fine with it, [but] for me, more is better because I'm looking for keywords."
Don't forget to fill out the summary field 
Many people just brush past the "summary" field -- why bother, that's what your resume's for, right? Bad move. Other than your headline, the summary section is your first big opportunity to sell yourself, and according to LinkedIn's own research, 87% of recruiters are looking for it. Take the space to tell why you do what you do, and touch on a few accomplishments you're particularly proud of. Make sure you're writing in the first person and that your voice comes through.
Maldonado considers this section particularly important for people whose backgrounds are especially diverse. "The summary is a way to really showcase and brand yourself, so you're not overlooked for any opportunity. Highlight the skills you have that might not be portrayed in your resume," she said. If you need some help getting started, here are a few excellent templates to explore.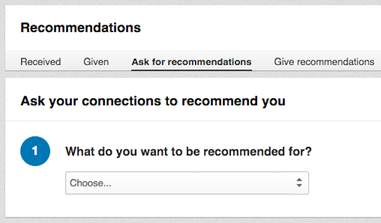 Screenshot via LinkedIN
Ask around for recommendations
Remember having to ask teachers for recommendations to send in with your college apps? It sucked. Sorry to say, but you should be doing the same for your LinkedIn page. You'll want to court the most high-profile people you've worked with, and preferably superiors. Make it easy on them by submitting a short pre-written draft of a recommendation for them to amend or use as they see fit. 
Adjust your settings to let recruiters know you're interested
LinkedIn is currently testing out a new feature that discreetly lets recruiters know if you're interested in exploring a new opportunity. On the desktop version of your profile, go to the Job tab, click Preferences, and scroll down to the section titled "Career interests for recruiters." If you're open to recruiters reaching out, turn it on and fill out the questionnaire as fully as you feel comfortable. The setting is only visible to recruiters outside of your current company, so it won't get you in hot water either way.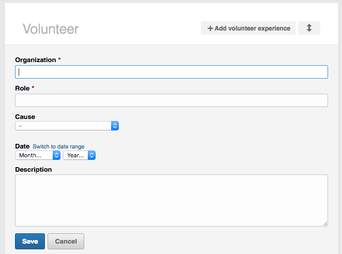 Screenshot via LinkedIn
Showcase your good deeds
Proving you're an all-around do-gooder can give you a leg up on the competition, which is why you should take full advantage of the "Volunteering Experience" and "Supported Organizations" sections. According to LinkedIn, 42% of hiring managers consider time spent volunteering as relevant work experience, and one out of five hiring managers says they've made hiring decisions based on a candidate's volunteer experience. That's not to mention that profiles that include causes and volunteer experience receive six times more views than those without. For Maldonado, this is particularly relevant for people applying to entry-level positions. "Even if your volunteer work isn't related to the field that you're going into, it could potentially describe your character. Volunteering your time to do something for the community -- that really speaks volumes about you as a person," she said.
Include examples of your work, especially if you're in a creative field
This may sound like a no-brainer, but if you work in video, design, journalism, or any other visually skewed industry in which what you do is best showcased in its native format, find a way to include it as such. Otherwise, be as specific and precise as possible. "If you are in editorial obviously we want to see samples of your work, but if you are in finance, there's really nothing for you to show other than what you're responsible for and your current and previous positions," said Maldonado.
Post regular updates
If you commit to posting an update or sharing a story via LinkedIn once a week, your odds of being noticed go up significantly, as your posts can be seen far beyond your first-degree connections and catch the eye of recruiters. Also, if you're regularly posting stories about your industry, it's a good sign that you're fully engaged and passionate about your work. 
Sign up here for our daily Thrillist email, and get your fix of the best in food/drink/fun.
Joe McGauley is a senior writer for Thrillist and probably received at least one LinkedIn email while writing this sentence.