The spread of "smart" technology has been almost comically rapid, as we've gone from, "It's a vacuum and you don't even have to push it!" to full-on "There Will Come Soft Rains" in the span of a few years. But while it's great to know that a tiny computer is handling everything that used to force us to, ugh, get off the couch, it also makes us wonder if we're missing out on something -- something that's a little more enjoyable and a little less pricey than controlling everything in your house with an app.
So, we're going to help you take the enlightened, and much more affordable, approach to the smart home. With these items and tips, you'll no longer have to worry about ponying up seven grand for the latest device that will be outdated by next Wednesday. But you'll still reap their benefits. Now that's smart.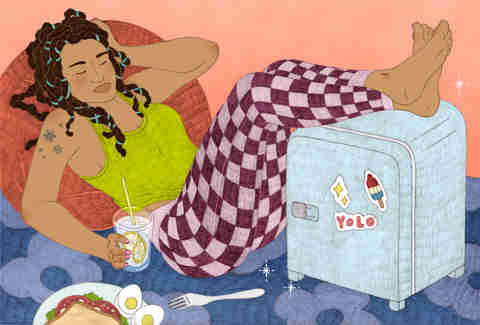 Paying for a smart fridge is a stupid idea
The smart refrigerator concept fills your brain with needs you never considered, because you've already been responding to those needs in much simpler ways for years. Smart fridges keep a certain food located at a certain spot a certain temperature and will tell you the certain date that the food might be spoiling? Didn't that used to be the job of your eyes and nose?
That might be great for someone that's never seen food before and has a lifetime to manually scan every perishable item into their food system, but for us, we'd much rather just say, "Oh, this shouldn't be brown. Time to throw it out," than pay a lot to have an appliance fridgesplain it to us.
Try this instead: get a smaller fridge to limit the amount of perishables. Not only will you use the food at hand before you buy more, you're less likely to overlook anything in its hidden depths. Oh, and you're saving electricity.
You don't need to travel from department store to department store surveying mini fridges, either. Instead, just go to your local college at the end of May when everyone is moving out. College kids, realizing that they can't fit their glorified beer coolers in the trunk of their subcompact, often give those things away. Heck, grab a couple and sell the extra one back to the freshmen in August at a markup. Boom, you just got paid $50 to own a fridge.
You don't need an integrated trigger to turn on the lights
Smart lights are pricey and unnecessary. (Does anybody need 256 colors flashing at 11 variable, seizure-inducing pulse cycles?) Sure, you'll be able to turn them on automatically instead of reaching all the way over to the switch by the door, but that's like putting wheels on a horse. You have something that already works, so why decide that a huge network has to get involved?
Instead, buy motion detector lamps for areas you won't linger in: closets, bathrooms, hallways, foyers. They're $20, and you'll never have to worry about forgetting the password to them. Also, if everything starts going haywire (as technology is prone to do… well, whenever it wants to), you'll be glad that you only sank one Andrew Jackson into it.
You're going to make like, three espressos in your life, tops
We're sure your fancy home baristabot produces a fine latte, a better cappuccino, and oddly misguided hot cocoa. We're sure that it even makes a solid cup of coffee. But those of us that just want to wake up in the morning feeling like our body loves us back don't need a bunch of touchscreens. We just want a cup of coffee to pep up so that we don't walk into our office screaming at everyone.
This Black & Decker Coffee Maker looks like the monolith from 2001: A Space Odyssey, and will last just as long. It's so simple, it should be required by law. Also, that's a 15oz mug, meaning that you don't have to deal with the dainty rations that Keurigs produce at their largest settings. And hey! No wasteful K-cups!
Forget the massive media center and just get these two things
We get it. You want a thing that will fit all of your video game systems, and all of your video games, and all of your video game accessories, so that you don't blindly wander your house at night, begging your copy of Call of Duty: Infinite Warfare to come out and play. But those things are remarkably heavy and even more remarkably costly.
So, in lieu of finding something that will hold all of your games, just buy these little boxes. They're transparent so you can easily see everything inside, and they're durable. And instead of needing one huge drawer to shove your controllers into, just buy a few screws, some wall clips, and hang them up. Boom. You've found a safe place for your gaming tools AND you've decorated the house. Two birds. One impossibly nerdy stone.
A giant smart grill is not the answer
When you're grilling steaks, your goal should be to learn more about how to properly grill steaks. But smart grills treat cooking meat like they expect you to throw the beef on and then go on vacation. It's not like you're grilling remotely anyway; you still have to put the steaks on the grill and they cook within minutes. So, since you shouldn't let the Grill 1000 treat you like a fool, get one of these $25 thermometers instead. If it's your first few times grilling, they'll let you know when your entrée is ready -- which is much better than the grill gauging itself while guessing at your meat. Do this enough and you'll train yourself how long it will usually take to cook that delicious meat -- rendering a voice-activation grill or app useless. You can leave school behind, my friend. You're about to get a REAL education.
Smart earphones are a waste
If you would never shell out $200 for fitness software, you shouldn't throw away money on a pair of high-performance headphones, either. The first pair of "smart earphones" that you'll find on the internet probably cost around $250, and they'll give you a bunch of fitness-related stuff that you'll never dream of using. For 99% of humanity, simply the fact that you're eating right and exercising is more than enough; leave the strange metrics for the elite athletes trying to burn off 99% of their body fat. Rather than owning the world's most expensive "GYM JAMZ 2004 PLAYLIST" dispenser, just buy this pair for $32 and use the fitness app that comes on most phones, or the many free apps that will track your activities. All your headphones need to do is stay in place and remain audible. Everything else, you're just paying for the brand name.
Any TV can be smart with the right mediacaster
HDMI has been standard on TVs for a decade now, so there's no need to buy a smart TV. You can connect to all your streaming services way, way cheaper than the four-figure sticker of a new smart screen. Okay, so you have an HDMI port. Buy a Roku. Or a Chromecast. Or an Amazon Fire TV Stick. They're pretty cheap, and they make streaming ludicrously easy. Heck, if you don't have a TV, go buy one from 2007 on a resale site like Letgo or eBay for less than the cost of dinner. (Let's be honest, any improvement in graphics since 2007 is negligible, and still light years ahead of what you grew up with.) Plug in your streaming widget, and watch Hulu, Netflix, Amazon Prime, and more on your fancy viewing machine. Even if you don't subscribe to any streaming services, you can still run free channels like YouTube, Crackle, PBS, and music services like Pandora and Spotify. It's the internet: on your TV!