Get Better Netflix Recommendations With This New App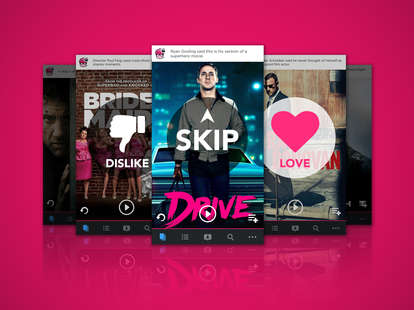 Screenshots via MightyTV/Jennifer Bui
MightyTV provides personalized movie and TV show recommendations that you swipe through, Tinder-style
As long as you know what you want to watch and keep up with all the new movies and shows being added every month, Netflix and Hulu are freaking great. But once you start scrolling from genre to genre trying to decide what you're in the mood for, the whole process turns into a drag. Add to that a room full of friends with different tastes and weirdly strong reactions to Keira Knightley and you might as well be moderating Middle East peace talks.
That's the genius behind the new app MightyTV. It's basically Tinder for movies and TV shows, providing ultra-personalized recommendations for what to watch on a slew of streaming services. It even has a specific functionality that caters to group hangouts, helping you and your friends find common ground and pick something you'll all like.
Who should download it right now: Anyone with a Netflix, Hulu, Amazon Prime, or HBO GO/HBO NOW account
Where to get it:iTunes App Store
The breakdown: If you've ever used Tinder, you'll immediately get the hang of MightyTV. Rather than a potential hookup, it shows you the promo poster for a particular film or series, and you swipe right if you like it, left if you don't. If you absolutely love something, swiping and holding right signals to the app that it's one of your all-time favorites.
The end game? The more you swipe, the more data MightyTV collects on your preferences. The app compares your tastes with other users in the system, and tailors your feed to recommend flicks it thinks you'll like. With enough fine tuning, the app can predict what you'll want to watch next.
As you build up a profile, you'll be presented with a slew of different titles -- some stuff you've already seen, some stuff you haven't but obviously won't be into (looking at you, Disney's Invisible Sister), and some stuff you're unsure of. You have the option to swipe upwards to skip; I swiped up whenever I stumbled across something I hadn't heard of, but didn't know enough to dislike it. The algorithm just gets smarter and smarter about what you like, so it might float the skipees back by you at a later time.
When you sign up for the app, you select which streaming services you're subscribed to, and MightyTV only recommends titles from the services you're signed up for. It currently supports Netflix, Amazon Prime, Hulu, HBO GO, HBO NOW, Showtime, and Cinemax. You can also choose to see stuff that's available to rent or buy on iTunes, if you're into that. Add titles to your Watchlist as you swipe through -- it's an easy way to create a queue to revisit, and everything you toss in there factors into the algorithm (along with your likes, dislikes, and loves).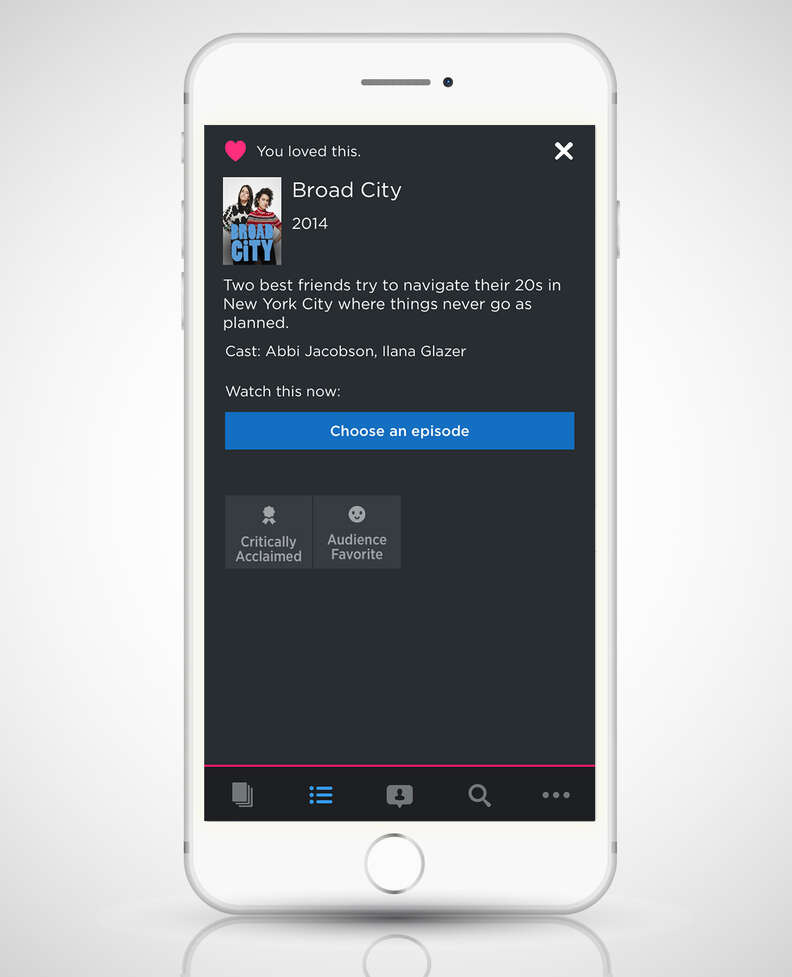 For stuff you haven't heard of, the app gives you additional info so you can decide if you're into it. Tap a title, and you'll see the log line for the film or series, cast and director details, a trailer (if there is one), and whether it fits into any or all of the following categories: critical favorite, audience favorite, award winner, or box-office hit.
If you accidentally dislike something and change your mind, and you want to watch Invisible Sister after all, it's easy to go back and change your vote. Your history of likes, loves, dislikes, and skips is easily accessible.
The most innovative feature: So what about the whole group-hang conundrum I alluded to earlier? One of the coolest features on MightyTV with the most potential is called Mashup, and the goal is to surface titles that you and your friends or significant other can all agree on (assuming they have MightyTV accounts too). Once you're in the same room, you can sync your accounts up -- the app goes through and looks at everyone's individual preferences, then makes suggestions that appeal to everyone.
What it's missing: Building up MightyTV's algorithm takes time and a lot of swiping, and it would be helpful to add a counterweight to the "love" option -- what if you really, really detest something? Another no-brainer would be to provide the Rotten Tomatoes rating for movies, a slick detail you can get with the Netflix Enhancement Suite. But the biggest drawback here is that you can't sort recommendations by specific genre -- i.e., if you only wanted to see new releases -- which might be a deal breaker for hardcore film buffs.
Similar apps you might like:
Reelgood: Lets you keep track of your watchlist, see movie reviews from other users, and figure out which movies you and your friends both want to see
IMDb: A streamlined version of the website where you can find loads of information and random trivia about any movie or TV show
go90: Allows Verizon Wireless customers to stream NFL and NBA games (and some other content) for free

Sign up here for our daily Thrillist email, and get your fix of the best in food/drink/fun.
Joe McGauley is a senior writer for Thrillist and isn't entirely convinced he wouldn't like Invisible Sister.